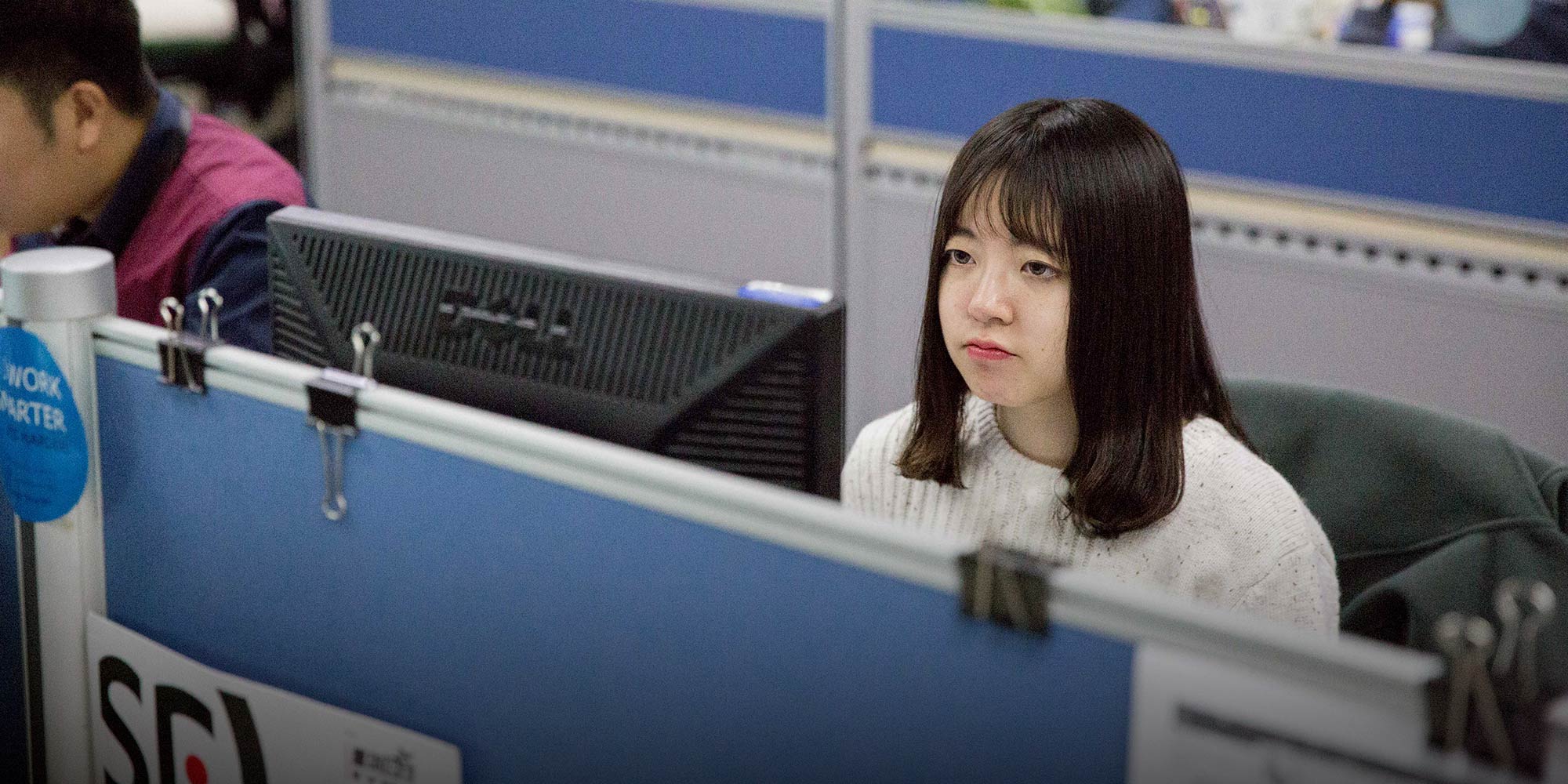 VOICES & OPINION
In Workplace Rights Debate, Who's Looking Out for China's Interns?
Fueled by pandemic restrictions and a glut of qualified applicants, competition for internship slots is growing fiercer all the time.
Last month, a Peking University student published a cry for help online in which she claimed she was trapped in her internship with ByteDance, the China-based tech giant and owner of TikTok. She said her superior was refusing to accept her letter of resignation unless she found two people to replace her.
Her post attracted the attention of lawyers, with whose help she was ultimately able to quit. In a subsequent statement, ByteDance asserted that the company had never and would never make a resignation request conditional upon finding a replacement.
Although far from the biggest ongoing scandal afflicting China's tech industry, this student's experience reflects the chaotic side of China's booming internship sector. Internships at some big tech companies are not only unpaid: They often require the candidates to pay for a spot. Job search training organizations and agents contact company employees authorized to recruit interns, then work together with them to sell coveted internship slots to students. The market rates for remote internships range from 8,000 yuan to 20,000 yuan ($1,250 to $3,100), while field placements can cost 20,000 to 50,000 yuan — figures that far exceed the average monthly salary in Shanghai and Beijing.
Then there are the xiaoheigong, college students who "intern" as informal workers. Having bypassed the hiring process, they are not officially interns and don't receive a paycheck. In the absence of formal internship arrangements or contracts, they are especially vulnerable to exploitation.
Companies' ability to exploit interns is rooted in China's work environment, legal system, and education policies. Most of all, however, it is the product of an imbalance between supply and demand in the job market. The 2019 National Employment Survey of College Graduates found that one in five graduates that year felt directionless after college. Figures from the Ministry of Education showed that the number of graduates from Chinese colleges and universities in 2021 topped 9 million for the first time — and that the pandemic had caused a spike in the number of people returning to China in search of work. The MOE has taken steps to buffer the pandemic's impact on employment by expanding admissions to graduate schools, but sooner or later all these college graduates will need to be absorbed into an increasingly tight labor market.
The tough job market is already having an impact on how college students prepare to look for work. According to the "Fall 2020 Job Report for College Students" produced by the online recruitment site Zhaopin.com, 75% of companies surveyed thought internship experiences were a net positive. Some students have started looking for internships as early as their freshmen year in order to get a leg up on the competition. A news report pointed to a college senior in a sought-after major at Renmin University of China who already had five internships under her belt, but still wasn't satisfied. "I'm trying to get to seven," she was quoted as saying.
Legal protections for interns have lagged behind their growing numbers. Already more vulnerable and less empowered than formal employees, interns are all but sitting ducks on the labor market. The MOE regulates internships for vocational school students, work-study programs (a class of employment distinct from internships), and internships required for undergraduate programs. However, those regulations cover only a narrow subset of interns and fail to include common scenarios like college students who take internships of their own accord. Even where protections do exist, enforcement is largely toothless. For instance, rather than outline compensation rules for interns who work overtime, the MOE has stated that "interns are prohibited from working overtime." As a result, when interns are inevitably pressured into working late, they have no recourse for collecting overtime wages.
On the legal front, local courts have generally ruled that internships are not considered labor relations, which means that most interns are not covered by China's Labor Law. The few exceptions, including scattered court rulings saying interns count as "work-study students" and are therefore entitled to minimum wage, only highlight the inconsistencies in the law's application.
Universities, too, bear responsibility for the failure to take care of their students on the internship market. Some criticize the disconnect between Chinese universities' teaching plans and the job market: As students struggle to turn classroom knowledge into the technical skills that employers need, oftentimes the only way to bridge the disconnect is through intensive internships. One student told China Youth Daily, "Nowadays, almost all internships are at least three months, and then they want you to work longer and longer workdays and work hours. Students want to have three internships, but that's tough to do unless you ditch class."
But universities are largely blind to these realities, and rarely provide guidance to students about how to use the law to safeguard their rights and interests as workers. Most students have never been systematically taught about their workplace rights, including those in the Labor Law. University-based career and development centers see their role as connecting the university with employers, organizing job fairs, and coordinating internships and formal employment, not training students or arming them with the information they need to avoid being exploited on the job market. Few college graduates have participated in — or even heard of — trainings on workers' rights organized by their universities. That further erodes their awareness of their rights, making unfair treatment seem like an inevitable sacrifice on the road to a fulfilling career.
Wu Aihua, deputy director of the College Student Affairs department under the Ministry of Education, predicts that in 10 years, China will be home to more than 300 million college graduates. That suggests China's already tough job market is only going to get tougher, but it could also provide the impetus for change. As intern numbers increase, there's reason to hope that universities and regulators will wake up to the need to safeguard their rights and transform China's work culture, starting from a person's very first job.
Translator: Katherine Tse; editors: Cai Yineng and Kilian O'Donnell.

(Header image: An intern at work in Beijing, 2017. Duan Jingkun/People Visual)