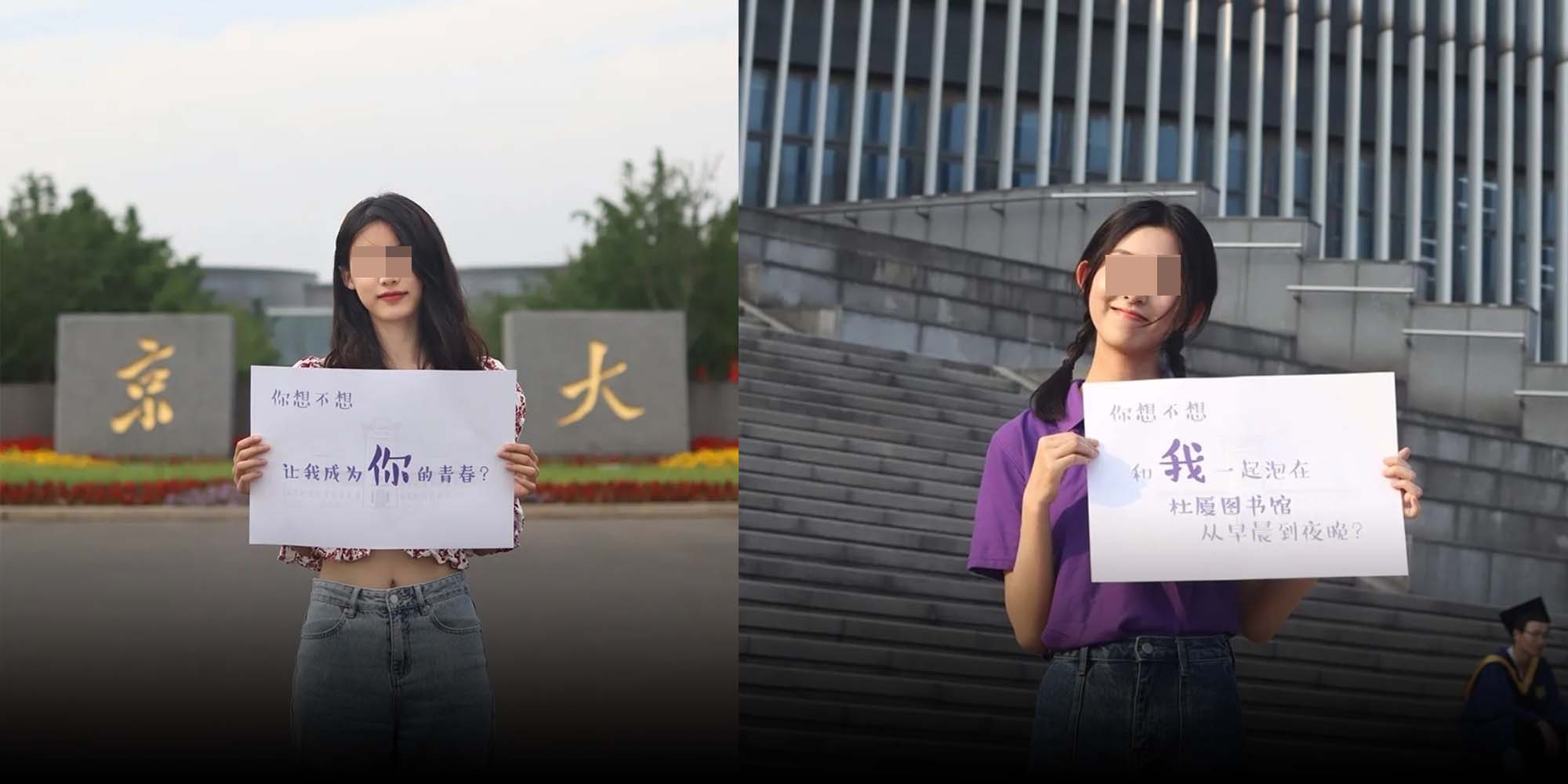 NEWS
University Called Out for Typecasting Women in 'Gaokao' Campaign
Nanjing University has deleted the photo series, including the image with a female student holding an innuendo-laden placard.
A university campaign to cheer on high school students taking the grueling college-entrance examination has backfired after many social media users slammed the school for objectifying women.
On Monday, Nanjing University in the eastern Jiangsu province posted photos on its microblog Weibo account of a group of students holding placards decorated with encouraging messages for those taking the gaokao. But one particular female student and her message — which many users said didn't come across as intended — ignited a social media storm.
"Will you make me your memories?" read the displayed message from a woman in a crop top and jeans.
The photo quickly went viral on Chinese social media, with many accusing the university of using its female students as props to attract incoming male students. While some users said the sign implies promiscuity, others argued that its meaning is up to interpretation.
"Even if the sign wasn't ill-intended, it still speaks to society's entrenched, almost unconscious objectification of women" wrote one comment under a related post. "Why should female students become others' memories while male students hold signs about academics and their future ambitions?"
Some noted that the critics had overreacted, arguing that the photo series wasn't problematic when viewed in its entirety.
"Taking that one photo out of context and propagating it on the internet skews the original meaning of the post," one user said in defense of the campaign.
Nanjing University has since deleted the photos from Weibo. Sixth Tone's phone calls to the school went unanswered by time of publication.
Chen Yaya, a gender researcher at the Shanghai Academy of Social Sciences, told Sixth Tone that the photo does play into certain stereotypical portrayals of women that could be deemed sexist. However, she added that there could also be another side to the story.
"If the female student willingly participated in the campaign, it's a reflection of her own autonomy," Chen said.
Editor: Bibek Bhandari.
(Header image: Photos posted by Nanjing University show a group of students holding placards with encouraging messages for those taking the gaokao." From Weibo)