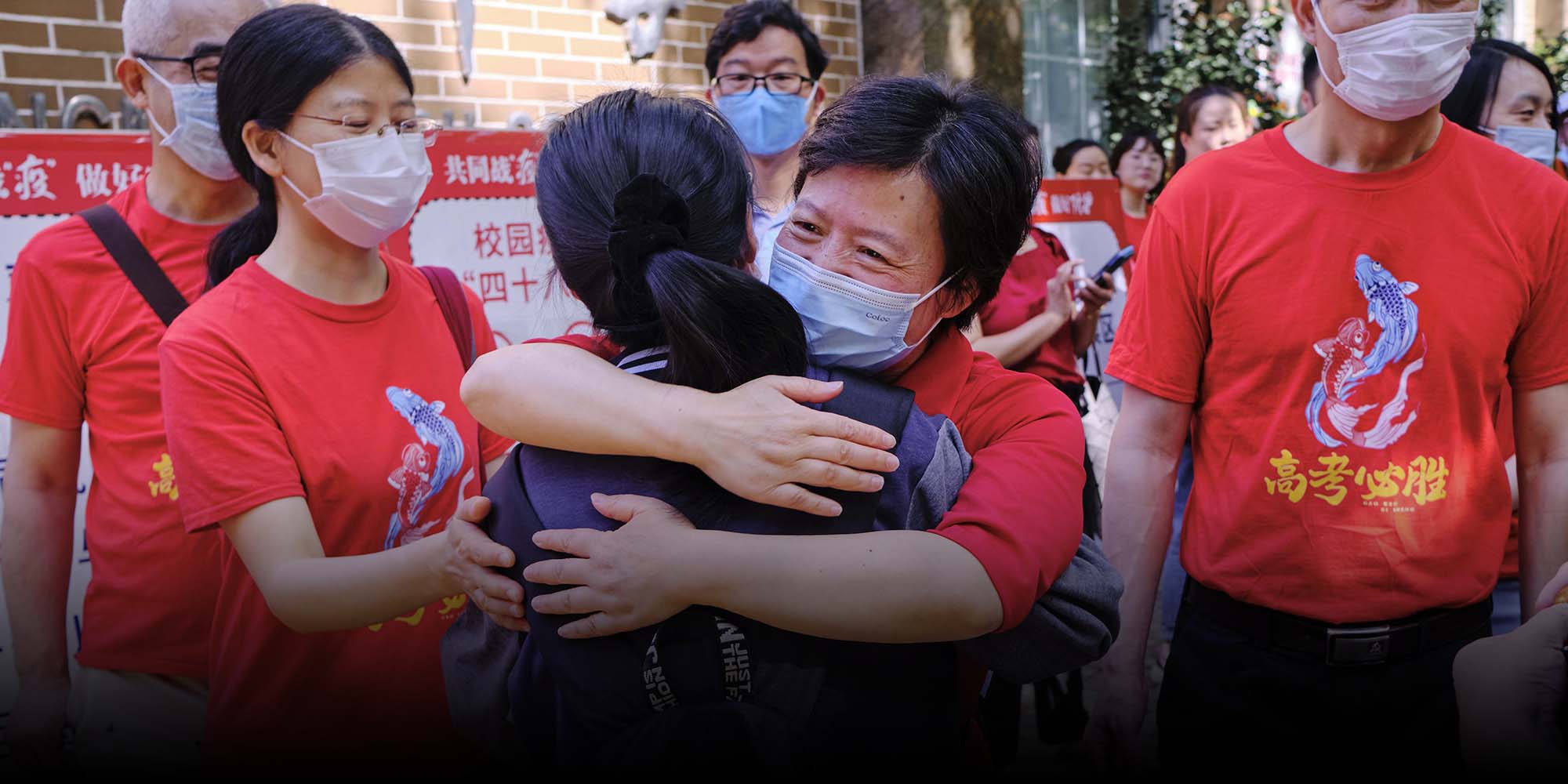 NEWS
Guangdong Students Take Crucial 'Gaokao' Amid COVID-19 Outbreak
A record 10.78 million high school students have appeared for this year's college-entrance examinations, which determine their higher education goals.
SHANGHAI — Thousands of students in the southern Guangdong province have an additional test to take before the grueling college-entrance exams this year: a COVID-19 test.
Amid a sporadic outbreak that has put the province on high alert, some 54,900 students in provincial capital Guangzhou had undergone two tests for the coronavirus before they sat the gaokao Monday, according to the local education authority. Meanwhile, all staff involved with the examinations had been vaccinated, while examination sites had been inspected to ensure there were no contaminants.
On Monday, a record 10.78 million high school students showed up to take the gaokao, which is considered key for accessing some of the country's elite higher education institutions. Though last year's exam was postponed by a month until early July due to the pandemic, authorities have taken heightened measures to go ahead as planned this year, despite sporadic local infections in the country, including in Guangdong.
As of Sunday, Guangzhou had reported 98 locally transmitted cases — including both confirmed and asymptomatic ones — while the province had identified more than a dozen cases outside the city since this outbreak's first infection was confirmed May 21.
According to the provincial educational examinations authority, the over 30 students in Guangzhou deemed close contacts of confirmed COVID-19 patients will sit the exam on their own in separate locations, while contacts of the close contacts will be placed in groups of four in an exam room. Meanwhile, two test-takers are appearing for their exams from special, first-of-their-kind hospital rooms set up for students under medical observation.
But for many students, the virus fears have only exacerbated their stress from the gaokao reforms being implemented this year in eight provinces — including Guangdong. According to the new model, students can pick three of the six mandatory courses instead of doing a prescribed set, which some parents and teens say has been causing uncertainty on how such changes might play out.
"It's still too early to tell how the new reforms might impact my child," Zhu Ying, whose son is appearing for the exam this year in Guangzhou, told Sixth Tone. "I just pray he hasn't been distracted by outbreak-related rule adjustments and returns home healthy and happy."
By contrast, such reforms have been implemented in Shanghai since 2017, leading parents in the city to feel more confident, as it has helped relieve their children's pressure. As part of the changes, students can take certain exams a year before they sit for the gaokao.
At 9 a.m. Monday, only a few parents stood outside Shanghai Nanyang High School, one of the examination venues in the city. Usually, hundreds of equally anxious parents wait to retrieve their children after the exams.
"Unlike in the past when a student needed to prepare for up to nine subjects, the reforms mean you can basically focus on fewer subjects, four or five in the last year ahead of the gaokao," said a father outside the school. "It's a big relief for many."
Contributions: Rayna Song; editor: Bibek Bhandari.

(Header image: A woman hugs a student as they enter an examination room for China's national college-entrance exam, or "gaokao," at Xiangming High School in Shanghai, June 7, 2021. Wu Huiyuan/Sixth Tone)