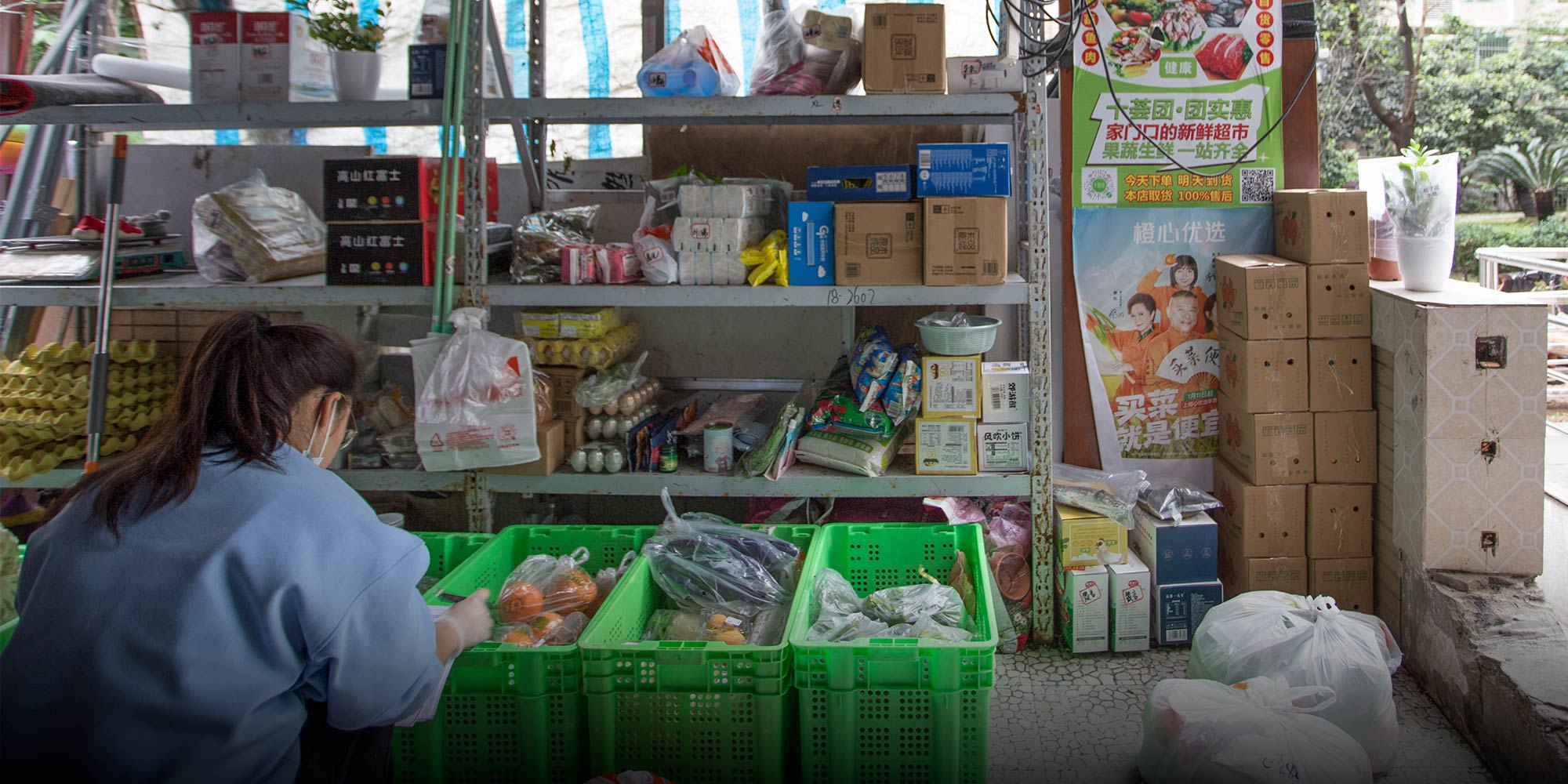 FEATURES
The Small Businesses Trampled in Big Tech's Groceries Tug-of-War
Shop owners in Wuhan thought community group buying would help them earn more money. Instead, it's putting them out of business.
HUBEI, Central China — For 15 years, Zhang Yunhua has run her convenience store in Changqing Garden, a collection of gated communities in northern Wuhan home to migrant workers and low-income families. Despite long hours and hard work, she relished being her own boss, earning for her family, and bonding with her regulars.
But after a roller coaster year, Zhang, 33, has seen her income drop, her customers abandon her, and her future evaporate.
The headwinds started with the outbreak of COVID-19, during which Zhang's was among the many businesses closed down as the central city endured its 76 days of total lockdown. Afterward, the city became ground zero for yet another kind of upheaval: community group buying, a form of online grocery shopping where neighbors place and receive their orders together. This simplifies logistics — with just one bulk delivery needed to move groceries from a depot to customers' cupboards — and allows for low prices. 
The suddenly popular business model has enticed not just supermarket chains but also China's biggest tech companies to join what would become a multibillion-yuan market. In the months since it first took off in Wuhan, community group buying platforms targeted more and more price-conscious customers in other cities, becoming a countrywide revolution in the way people buy their daily necessities.
It might spell the end for countless suburban brick-and-mortar shops. As community group buying platforms duked it out for dominance, they first co-opted local business owners like Zhang. But now that the market is barely growing and 10 or so competitors are desperately holding on to their slice of the pie, small-time entrepreneurs complain they are being pushed aside and outcompeted at the same time.
"The bread is only so big. If you cut it into too many pieces, most people just get crumbs," Zhang tells Sixth Tone.
Lockdown's legacy
Community group buying first emerged in 2014, but never found critical mass. During the pandemic, however, people were forced to experience something nearly identical. With neighborhoods sealed off and residents forced to stay inside, the government told people to organize in chat groups, arranged for groceries to be delivered in bulk, and appointed coordinators to distribute items to individual households.
"The business model is excellent, but had been cast into doubt after several startups went bankrupt in 2019," says Yan Dengfeng, an associate professor of digital marketing at New York University Shanghai. "Community group buying wasn't ripe for expansion until COVID-19 kicked this industry into high gear."
After Wuhan's COVID-19 outbreak was brought under control, community group buying continued where lockdown logistics had left off. In some cases, the same people who had coordinated lockdown deliveries were recruited by tech companies to become so-called community leaders. Others were shop owners. For a fee, they started organizing orders, sorting out deliveries, and recruiting more customers. They were key to community group buying's growth.
Zhang fell into both categories. She didn't have to think long when, three weeks into Wuhan's lockdown, she was contacted by an area manager of Meituan, a giant of China's tech industry that specializes in online-to-offline services. As a lockdown coordinator, she had built up chat groups on social app WeChat that could be repurposed. And she didn't have much to do at the time, as she couldn't easily find supplies for her convenience store. "The main attraction was not the commission fees but keeping myself busy and distracted," says Zhang.
But the money helped, too. Zhang would receive Meituan's once-daily bulk deliveries and sort every customer's purchases into their own bag. When they came to pick up their groceries, they might buy something from her convenience store, too. In the first couple of months after the lockdown, when demand for community group buying surged and the platforms paid out generous commissions, Zhang was able to make around 4,000 yuan ($600) a month, about half the pre-pandemic earnings from her shop. It was a welcome source of income while Wuhan slowly got back on its feet.
Slowing orders
Even after Changqing Garden's brick-and-mortar shops reopened, community group buying continued to be favored by local customers because of its convenience and low prices, including items discounted to 0.01 yuan (one-sixth of a cent). Several residents tell Sixth Tone that although they eventually switched back to fresh markets for their vegetables, they continued to order anything from toilet paper to eggs, dairy, and fruit via community group buying.
Zhang figured being a community leader could be a long-term solution to her flagging convenience store sales, which were still way below pre-pandemic levels. But that vision soon proved naive. With the community group buying market predicted to reach 102 billion yuan by 2022, according to consultancy iiMedia research, more and more companies joined the fray.
Besides Meituan, which in August renamed its group buying service Meituan Select, e-commerce platform Pinduoduo launched a competing service that same month, called Duo Duo Grocery. Later the same year, e-commerce leader Alibaba and ride-hailing firm Didi Chuxing jumped into the market, with services called Hema Jishi and Chengxin Youxuan, respectively.
They all hired as many community leaders as possible, enticing them with high commission fees. Before long, hundreds of the various platforms' area managers roamed all corners of Wuhan, going door to door to recruit community leaders. About 10 companies in total made it to Changqing Garden, a neighborhood of some 3,000 households, dispersing orders across more than 100 community leaders.
According to Yan, the Shanghai scholar, hiring more than the needed number of community leaders is a necessary process for tech giants to compete for market share and talent. The companies had used similar money-burning strategies during the expansion phases of other online-to-offline business models, subsidizing ride hailing and food delivery to gain both customers and drivers. "From 100 community leaders you can at least find one talented salesperson," says Yan. "Slowly, the orders will concentrate in the hands of a small number of players."
Toward the end of 2020, almost all the convenient shops, courier stations, butcher shops, and fruit and vegetable shops along the street outside the apartment complex where Zhang's store is located had put up posters promoting different platforms, Zhang says. Customers, meanwhile, were becoming familiar enough with community group buying to place orders themselves. In tandem, platforms began cutting commissions.
The result was too many community leaders handling too few orders, causing them to frequently miss the sales threshold set by their platforms. Zhang and others say they were temporarily suspended several times as punishment for low sales.
Zhang now simultaneously serves as a community leader for three platforms: Meituan Select, Duo Duo Grocery, and Chengxin Youxuan. But she rarely receives more than five packages a day. From the start of the year, commission fees have dropped from 15% to 5%, she says. "I can only earn several cents for each grocery parcel I pack," says Zhang. "Seeking orders for those platforms isn't worth my time anymore." Meanwhile, customers are still spending noticeably less money at her convenience store.
A Pinduoduo spokesperson tells Sixth Tone that Duo Duo Grocery doesn't rely on community leaders to attract new customers, and as such shouldn't be considered community group buying. He also sent an earlier statement from the company's CEO that emphasizes Duo Duo Grocery has created "millions of jobs." Representatives for Meituan Youxuan and Chengxin Youxuan did not respond to Sixth Tone's requests for comment.
Price war
Stores like Zhang's are competing against tech giants burning through millions. In March, Meituan reported heavy losses for the last quarter of 2020 as it subsidized its community group buying business. According to Yan, the current decreased commission fees suggest a similar financial situation shared by some tech giants. "The battle is so long, now everyone is tired," he says. "But there will be one major player eventually."
In just a few months, community group buying has spread to every Chinese province-level area other than Tibet. Competition has been fierce enough for the government to step in. In March, China's market regulators fined five major companies for using price dumping strategies that were in violation of the country's Pricing Law. Since then, prices on these platforms no longer reach near-free territory but are still heavily discounted. Each day, one or two products might be sold at 0.10 yuan, while other products are discounted by up to 50%.
Jin Liangliang, a Changqing Garden stay-at-home mom who in 2018 signed up with Alibaba-backed startup Nice Tuan, is among the most successful community leaders in the neighborhood. A relative veteran, Jin has felt the competition in the community intensify. Her commission rate hasn't changed much, as Nice Tuan still generously rewards its best-performing community leaders, but Jin says it has become harder to maintain that status.
During the depths of the price war between the various platforms, prices for fruit and vegetables dropped so low they were barely contributing to Jin's sales tally, forcing her to try to convince her group members to buy items with higher profit margins, such as health care products. "I am forcing myself to gain some sales skills that were not necessary before," says Jin. "What I did used to be pretty straightforward, sending out product links in the group and sorting out the packages the next day."
Yan says the expected role of community group leader has changed. Those who have failed to continuously increase their sales or find new customers and now merely serve as pick-up points aren't as valuable to the companies anymore. "The platforms will eventually eliminate those who are not good salespeople," says Yan.
It has left shop owners who became community leaders with a sense of betrayal. Enticed by high earnings, they helped tech companies seize their customers, only to see their commissions evaporate.
Liu Guilan, a vegetable vendor at a wet market inside Changqing Garden, tells Sixth Tone that almost all the vendors in the market are community leaders, and that they all share a feeling of having been fooled. "The area managers convinced me to join by saying the commission fee will be above 10%," says Liu. "On the first day it was as they promised. But afterward it dropped day by day."
After Liu, who is in her 50s, found out community group buying platforms were listing items at half the market price, she realized she wasn't actually making some money on the side. Rather, she was helping the competition. Liu comforted herself that the platform could direct some traffic to her stall. But the fact is most people are merely using her as a collection point, with only a few making additional purchases. She fears for her future.
"I am still on the platform simply because I don't know what else I can do," Liu says. "If it's a trend, I want to be part of it. But to be honest, until now, all I feel is that I've simply been used."
Editor: Kevin Schoenmakers.
(Header image: Jin Liangliang sorts packages of groceries in Wuhan, Hubei province, April 25, 2021. Wu Peiyue for Sixth Tone)