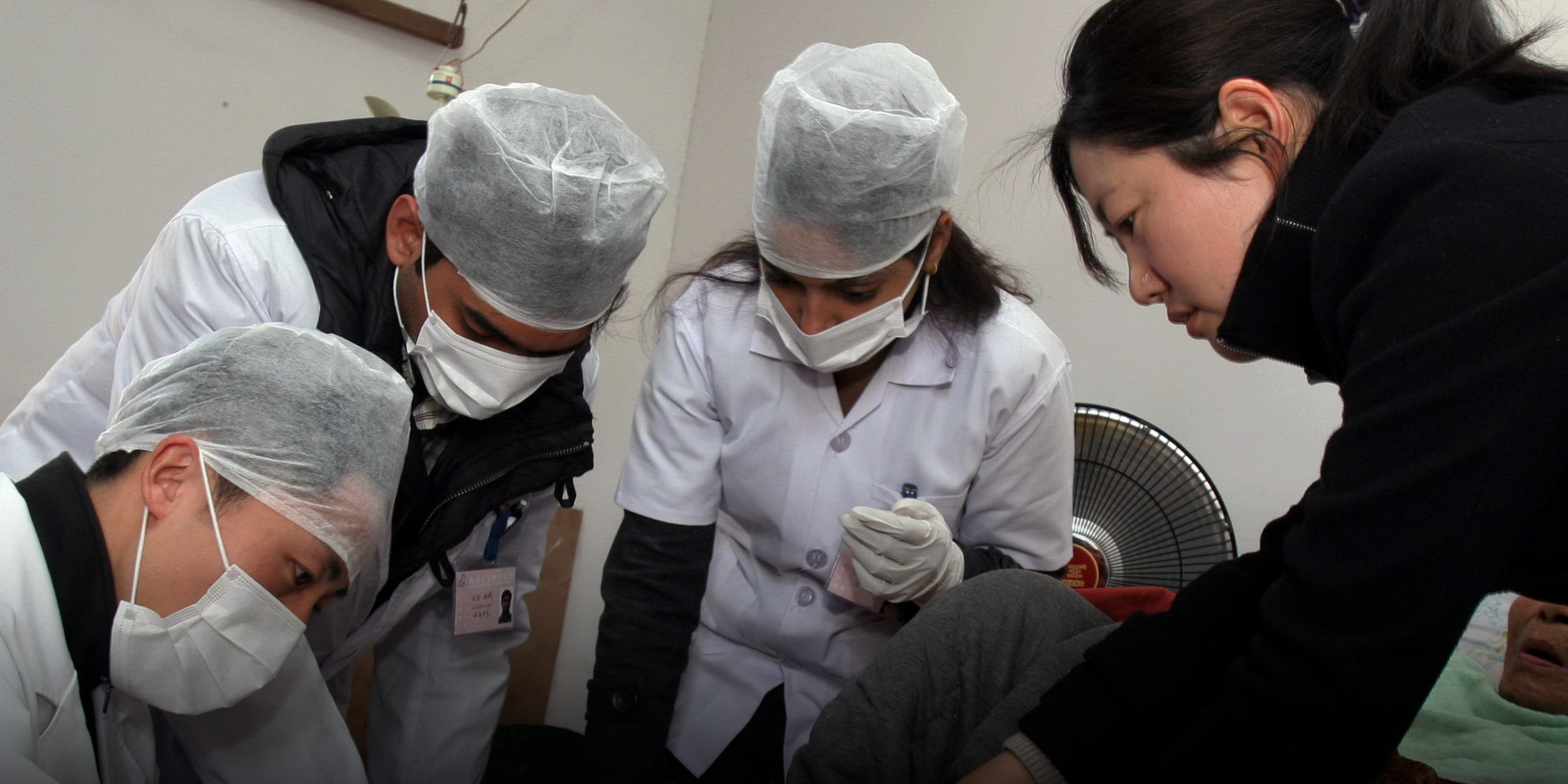 VOICES & OPINION
How Yunnan Is Helping Train the Next Generation of Indian Doctors
Indian medical students in China face challenges in their studies and getting their degrees recognized back home. For many, it's still worth it.
For years, if you saw an international student on a Chinese campus, it was reasonable to assume they were studying Mandarin. More recently, however, China has become a major destination for students in a wide range of fields, and with the exception of Chinese, no program is more popular with international students than a Bachelor of Medicine and Bachelor of Surgery (MBBS) degree.
Internationally, discussions on medical cooperation and aid between China and other developing countries tend to center around the supply of medicine and medical equipment or the construction of hospitals and other facilities. However, my research on Indian medical students in China suggests that training doctors is an important if often overlooked part of the story on medical cooperation in the Global South.
In the southwestern Yunnan province, most medical students from overseas hail from South or Southeast Asia, especially India — a situation mirrored in other Chinese provinces. Indian students have been coming to China to study medicine since the turn of the millennium. In 2018, India was the fourth-largest source of international students in China, and 21,000 of the 23,000 Indian international students in the country the following year were studying for MBBS degrees.
India's medical system is no slouch, so why do so many Indian students choose to study in China? To start, the medical profession in India offers high pay and high status, and the country has a shortage of doctors. The World Health Organization recommends a doctor-to-population ratio of 1:1,000; in India the ratio is 1:1,456. But while private medical education in India has developed rapidly since the 1970s, tuition fees at such institutions are high. The total tuition for a five-and-a-half-year degree program is between 40 and 75 lakhs (around $55,000 and $100,000), along with another potential 25-50 lakhs in fees.
On top of this, admission to India's medical schools is highly competitive, with the pass rate for the National Eligibility cum Entrance Test standing at just 56% in 2020. In short, high tuition fees and fierce competition act as barriers for many aspiring medical students, and even when they are admitted, there is an uneven quality of teaching at some privately run schools.
Beginning in the 2000s, this state of affairs has pushed some Indian students to look for alternative courses of study overseas. Popular destinations include Russia, Bangladesh, Malaysia and, since 2012, China, which has attracted Indian students largely for the quality and reasonable prices of its medical programs.
Take Kunming Medical University in Yunnan province, for example. The school offers one of the 45 MBBS programs in China providing English-language instruction that are accredited by the Medical Council of India (MCI). Six years of tuition comes in at around $39,000 total, which is significantly lower than the fees charged by Indian private medical schools, even after including accommodation, food, and transportation costs. In addition, because there are more places in Chinese medical colleges and universities, the entry requirements are not as high as their Indian counterparts.
As a result, studying medicine in China has become a way for India's lower-middle class and less-privileged families to invest in their children's education and social mobility. Many of the young Indians I spoke to in Yunnan came from farming families. Some took out loans to study medicine in Kunming. One young Indian woman I met in the regional hub of Dali told me that her father had supported her in her medical studies, despite their relatives objecting that it wasn't worth spending so much money on a daughter.
The scholar Yang Peidong has argued that for Indian medical students, studying in China is a compromise: one they're forced to make by their limited economic means. Rather than a way out of poverty, Yang sees Chinese and other low-cost, lower-quality transnational degree programs in the Global South as giving students a sense of false hope, before eventually trapping them in "mediocrity." However, I found that this is not necessarily the case.
It's true that Indian students coming to China face obstacles both academic and professional. For example, the quality of English-language programs for overseas students in China continues to lag. But this doesn't mean that the graduates of these programs are mediocre. Teachers and international student administrators alike have told me that some foreign students work very hard and excel in their studies.
In fact, few students I talked to had complaints about the quality of education. The bigger challenge, in their opinion, was the internship. Clinical experience is vital for MBBS students, and India's Foreign Medical Graduate Examination (FMGE) has high requirements for its clinical assessments. In China, a combination of insufficient internship placements and language barriers makes acquiring needed clinical experience extremely difficult. It simply isn't feasible for many students to reach the level of Chinese required to communicate fluently with patients and medical staff in just a few short years, especially when taking into account their other studies.
The FMGE is the biggest hurdle for Indian students wishing to enter the medical profession after they return home. In 2018, less than 12% of Indian MBBS graduates with degrees from China passed the exam. That doesn't necessarily mean they received a mediocre education. Part of the problem is that international medical education is not well integrated with India's medical system, and FMGE pass rates for international students are generally low across the board. At the other end of the spectrum, there are students who graduate from medical schools in Yunnan and then go on to obtain a master's degree in medicine in North America or a medical certification in Europe.
Then there are Indian students who choose to stay on in China for postgraduate or even doctoral study, even though advanced medical degrees offered by universities on the Chinese mainland are not currently recognized by Indian medical authorities. Some simply hope that they can improve their professional skills through further study; others believe their higher degrees will eventually be recognized when India finally adjusts how it accredits medical students who studied abroad. A few even hope doing so will act as a stepping-stone to employment in China. One Indian student I met graduated with a Ph.D. from a medical school in the central city of Wuhan before going on to become the first foreign professor to teach international medical students at Dali University in Yunnan.
Indian MBBS students in China are not doomed to mediocrity, as some might have it. For many, the choice to study abroad really is a path to social mobility, especially for those from lower- or middle-class families. Even those who struggle enjoy a higher likelihood of escaping the low-skilled labor force while picking up a potentially useful secondary skill in the Chinese language.
The ongoing pandemic has spotlighted the importance of cooperation between countries in public health. The flow of aspiring medical professionals between countries in the Global South presents an alternative to the northward flow of elite professionals from Global South countries to the developed world. Meanwhile, more affordable trainings — inclusive of more classes and social groups — can help strengthen cooperation, communications, and ties between neighboring countries and regions.
However, there is still much to be done to improve transnational medical systems and exchanges. Despite an acute shortage of doctors in India during the pandemic, some Indian medical students who returned to the country from programs abroad were prevented from working on the front lines. Going forward, China and other developing countries should improve their degree and licensing programs and establish a unified multilateral certification system that can be used across national borders. Doing so will not only open new channels for career development among medical students in the Global South, but also ensure a high standard of care for billions of currently underserved people around the world.
With contributions from Zhang Chang and Ji Junqi.
Translator: David Ball; editors: Cai Yiwen and Kilian O'Donnell.
(Header image: International students under the supervision of a mentor check on the condition of a senior citizen at a nursing home in Nantong, Jiangsu province, 2010. Xu Congjun/People Visual)