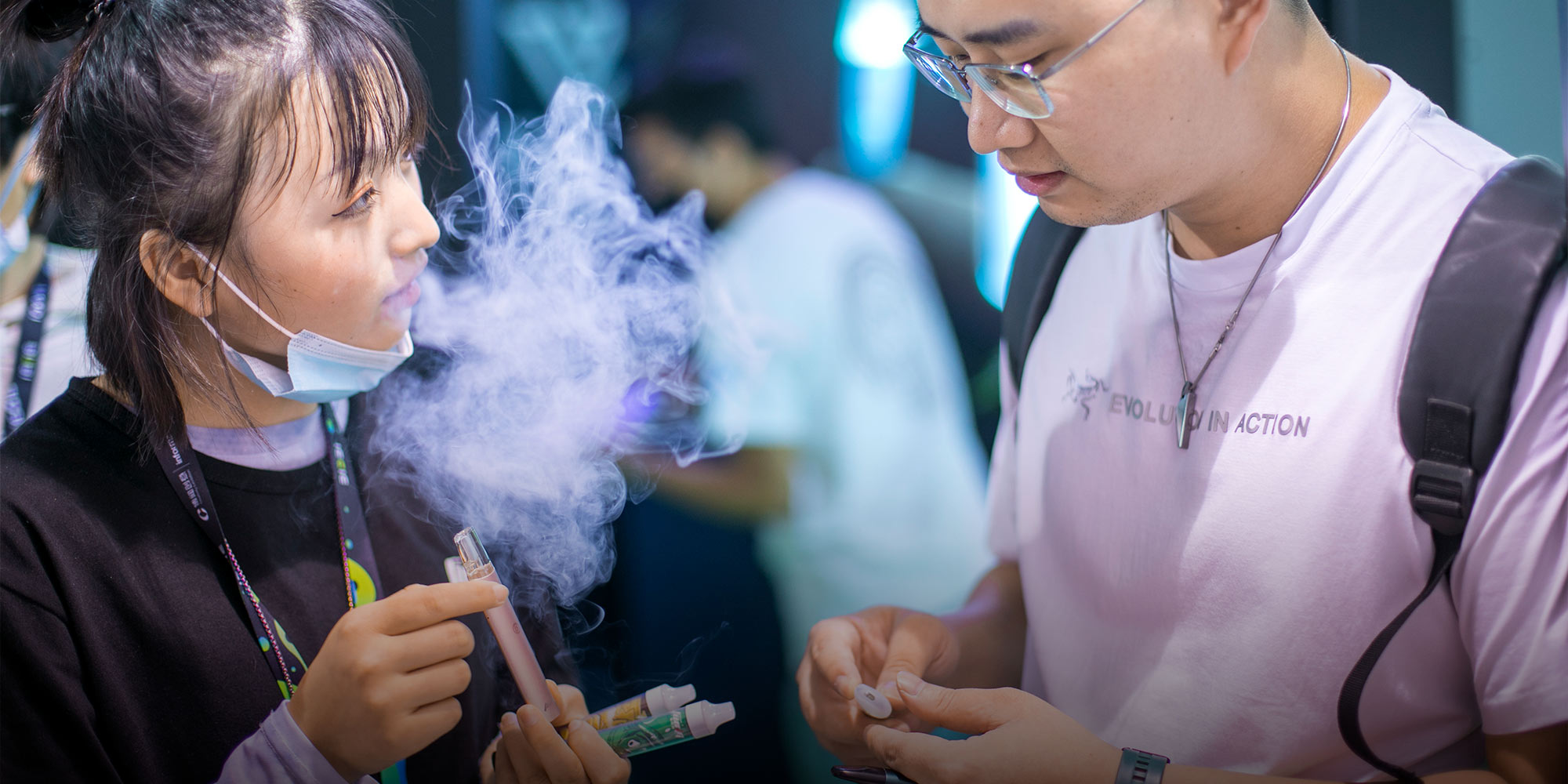 NEWS
For the First Time, China Says Vaping Is a Health Risk
Previously, some cities had set their own policies limiting how e-cigarettes could be used and sold.
China's central authorities have warned the public of the health risks associated with e-cigarettes, a first from the country's highest level of government.
A joint report Wednesday from the National Health Commission and the China office of the World Health Organization said there is "sufficient evidence" that vaping is "unsafe" and "harmful to health."
Since Chinese authorities began tightening supervision of e-cigarettes in March, the vigorous vaping industry has seen its stock prices plunge. Following Wednesday's official warning, several Hong Kong-listed vaping companies including Smoore International Holdings, one of the world's largest manufacturers of e-cigarettes, saw their shares sink.
With e-cigarettes widely advertised as tobacco alternatives that can limit the user's exposure to harmful substances like tar, the industry has seen breakneck development since 2018. According to figures from Qichacha, China's leading corporate information database, there were over 4,600 newly registered e-cigarette companies in 2019. The following year, that number more than tripled to nearly 18,000.
The industry's boom has coincided with minors becoming more exposed to the addictive chemical nicotine. In a 2019 survey, the Chinese Center for Disease Control and Prevention found that, while fewer middle school students were using tobacco than five years prior, more had turned to e-cigarettes.
Wednesday's report also warned that tobacco, which can lead to cancer as well as respiratory and cardiovascular diseases, is responsible for killing more than 1 million people in China each year. Without further anti-smoking policies, that number could double by 2030 or even triple by 2050.
According to the report, over 300 million Chinese people smoke — 26.6% of all people 15 or older. Moreover, half of all males in this age group are smokers.
To reduce smoking prevalence, the Chinese CDC has developed a new mini program accessible within the multipurpose app WeChat. The "China Cessation Platform" gives users access to smoking cessation hotlines, special clinics, and support chat groups.
Wu Xiangtian, a top official with the NHC, said during a press conference Wednesday that he hoped the report would be an effective tool for informing the public about the dangers of tobacco and e-cigarettes. "We hope it will increase smokers' willingness to quit and help more of them find scientific methods to quit," Wu said.
In 2016, the State Council, China's Cabinet, set a goal of reducing the smoking rate in people aged 15 and up to 20% by 2030. A nationwide campaign also instituted a smoking ban at schools, government buildings, and public spaces. According to official figures, the rate of smoking in government buildings has dropped significantly, from nearly 60% in 2010 to 31% in 2018.
A Shanghai-based primary school teacher surnamed Chen told Sixth Tone that he quit smoking in 2016 after a local ban was introduced. "If any students' parents caught me smoking on campus, they might report it to the school, and I could face a harsh punishment," he said.
An NHC spokesperson told Sixth Tone's sister publication The Paper that an inaugural list of smoke-free party and government offices will be released to coincide with World No Tobacco Day next Monday.
Editor: David Paulk.
(Header image: A vendor promotes an e-cigarette during IECIE Shanghai Vape Culture Week, May 18, 2021. People Visual)