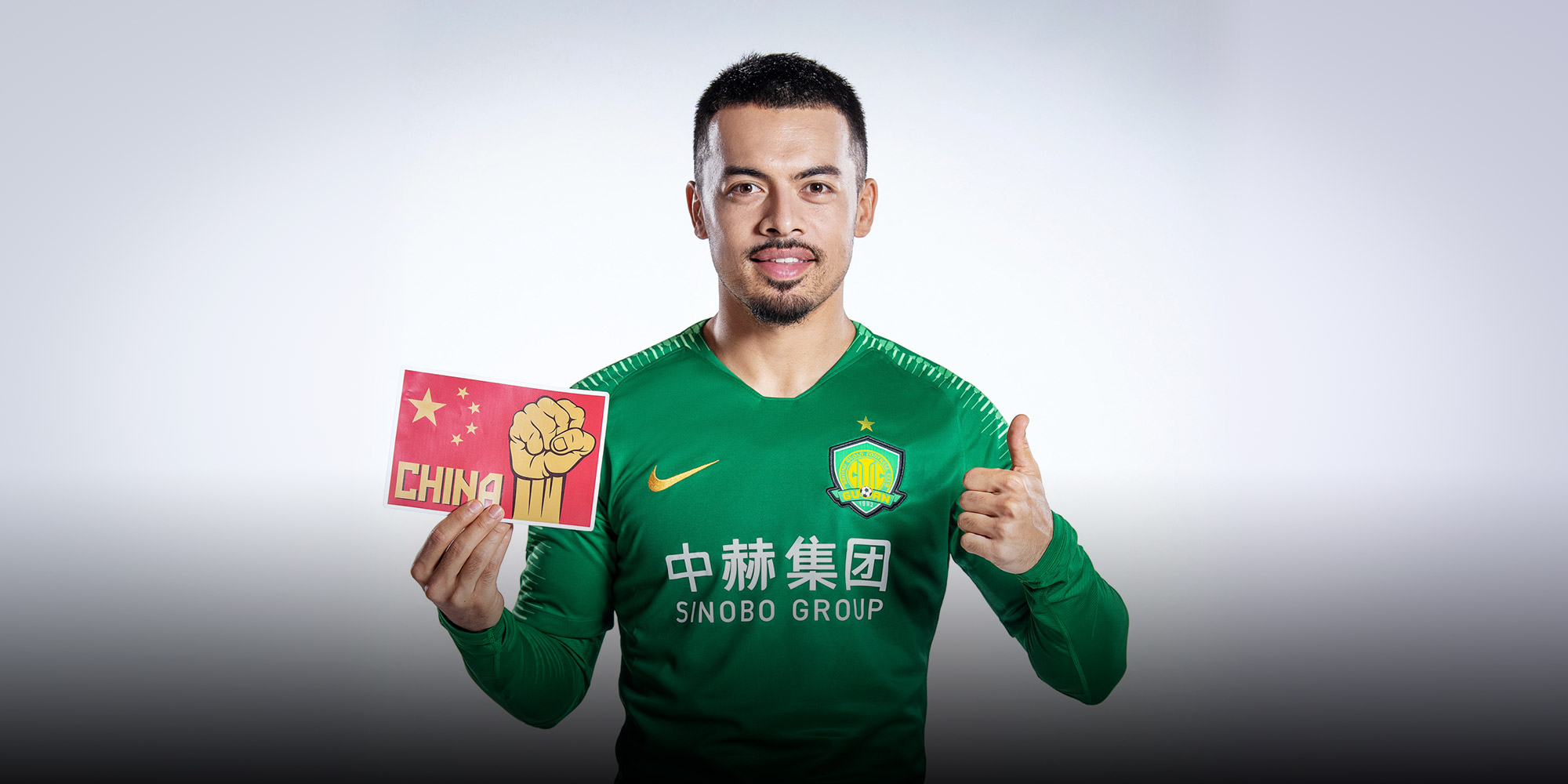 VOICES & OPINION
Can Naturalized Athletes Save China's Sporting Dreams?
With the 2022 Winter Olympics and World Cup looming, China is welcoming naturalized athletes — for now.
As China prepares to take the field for a crucial stretch of 2022 FIFA World Cup qualifiers against Guam, the Maldives, the Philippines, and Syria, national team head coach Li Tie is carrying an unprecedented five naturalized players on his squad. The 26 players currently training at a camp in the eastern city of Suzhou include the Brazilian-born Elkeson, Alan Carvalho, and Fernandinho — all naturalized through residency — and the British-born Nico Yennaris and Tyias Browning, who are of Chinese descent.
The five are the result of a wider state program initiated in 2015 to help the country qualify for its first World Cup since 2002. But with the Beijing 2022 Winter Olympic Games just around the corner, soccer is not the only sport taking advantage of naturalization to boost the nation's trophy hopes.
With only about 1 million foreign residents in a nation of 1.4 billion, China is not considered an immigrant country. Naturalization is heavily restricted, and China has some of the toughest immigration laws in the world. In 2016, the Ministry of Public Security approved permanent residence for just 1,576 foreigners.
The first club-driven efforts to naturalize foreign players date back to the early years of Chinese professional soccer in the late 1990s. Of these, Dalian Shide's "Lion Cub Project" is arguably the best-known example. In 2001, at the peak of their success, the club introduced 23 teenagers from Cameroon to train in China and develop into players for the club's first team, and maybe one day even join the Chinese national team. The project was plagued by numerous incidents — including a large-scale player strike — and only four of the 23 players stayed longer than three years in the country. None were ever naturalized.
But naturalization persisted in the public consciousness, not least due to the professional leagues' limitations on foreign players. It reappeared on the government agenda in 2015, when a member of the People's Political Consultative Conference proposed amending Chinese immigration law to support the naturalization of athletes and revitalize Chinese soccer. Parallel to the national soccer development program initiated that same year, the Chinese Football Association (CFA) chose three of its most reputable clubs at the time — Beijing Guoan FC, Guangzhou Evergrande Taobao FC, and Shandong Luneng Taishan FC — to pilot a naturalization program.
This program has produced a total of 11 naturalized players to date. In June 2019, Nico Yennaris became the first naturalized player to start an official game as a member of the Chinese national team with a 2-0 victory over the Philippines in Guangzhou. Ever since, naturalization has been a hot topic among fans, media, and sports officials, who have subjected naturalized players to special scrutiny, exemplified by public complaints over players' misbehavior and new rules meant to teach them patriotism, the Chinese language, and Chinese culture.
China's naturalization strategy is part of a global trend, as a globalized economy and migration patterns have seen numerous nations attract foreign athletes in both commercialized sports like soccer and Olympic disciplines. Of the 32 nations that competed in the 2018 FIFA World Cup in Russia, 22 had a total of 82 foreign-born players in their squads. Morocco led the list with 17 foreign-born players on its team. At the 2016 Summer Olympics, 22 national table tennis teams had at least one Chinese-born player. But the most extensive use of naturalization may have been Qatar's handball squad at the 2015 World Championship, which featured only a handful of non-naturalized players, sparking controversy and leading many to question the sport's regulations.
Soccer's rules governing naturalized players are relatively strict. According to global governing body FIFA, a naturalized player is only eligible to play for a new association if their biological parents or grandparents were born on the territory of the relevant association or — depending on their age — if they have lived on the territory for an extended period of time, usually between three and five years. Furthermore, players are only allowed to switch associations if they have played no more than three competitive matches at the senior level prior to turning 21, not including global or continental tournaments. (Games at the youth level are not counted.) This regulation limits China's pool of potential naturalized players, especially as most foreign players on Chinese teams stay for fewer than three seasons.
In many other sports, however, regulations are less restrictive, leading to situations like those seen in handball, ice skating, track and field, or, until recently, table tennis. The talent hunt sometimes goes so far that athletes may represent more than two countries in their career, switching nations between Olympic Games.
In an effort to boost the chances of China's winter sports teams ahead of the upcoming Olympics — the country's nine medals ranked just 14th at the last Winter Olympics — China has naturalized four athletes with realistic medal hopes. The group is led by Eileen Gu, an American-born freestyle skier of Chinese descent who is probably the country's best prospect for bringing home multiple medals. South Korea-born short-track speed skater and previous gold-medal winner Lim Hyo-jun — who fell out with the Korean skate federation after a 2020 sexual harassment case and became a Chinese citizen about a year later — is still awaiting final approval to switch teams.
Similar efforts by the Chinese ice hockey association did not produce the desired results. Starting several years ago, the association partnered with the country's most prominent ice hockey club, Kunlun Red Star, to recruit ethnically Chinese athletes from established ice hockey nations, but due to conflicts between the team and association, the strategy has yet to produce any naturalized players.
With two major sporting events lined up for 2022, China's naturalization efforts can be interpreted as a temporary quick fix for sports where homegrown talent is scarce or not yet strong enough to compete on the global stage. That's how CFA president Chen Xuyuan explained the tactic in an interview this March: "The development of Chinese soccer depends on our own. We cannot rely on naturalized players. Naturalization is a supplement, not a main road."
The current head coach of China's national Under-16 team, Yang Chen, agreed, saying, "Chinese soccer should be done by the Chinese. If the youth training is better, you don't need to take this step (of naturalizing foreign-born players). If it is for the current national team level, you may have to accept it, because the personnel are not very good." The results of the upcoming World Cup qualifiers and Winter Olympic Games will show whether China's naturalization gambit has paid off. It may also determine the direction of its naturalization strategy for years to come.
Editors: Cai Yineng and Kilian O'Donnell.
(Header image: Nico Yennaris poses for a photo in Haikou, Hainan province, Feb. 14, 2019. IC)