More than half of the families of 21 runners who died of exposure and hypothermia while competing in a recent ultramarathon in northwestern China's Gansu province have agreed to a compensation plan offered by the race organizers, the mayor of Baiyin, where the event was held, said at a press conference Tuesday.
Representatives from the provincial discipline inspection office, public prosecutor, emergency response bureau, law enforcement, and athletics and meteorology departments are conducting a joint investigation into what went wrong at the Yellow River Shilin 100km Cross-Country Race. They have been tasked with ascertaining the direct and indirect causes as well as assigning blame to those responsible, authorities said at the conference.
Guo Jian, a photographer hired to work the event, recalled that as it started to rain and became very cold around 11 a.m., his team asked the organizers at what point they would call off the race, only to receive no response.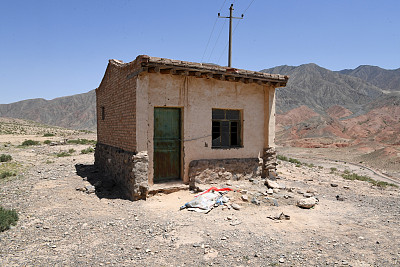 An exterior view of a mountain shack where some participants in the Yellow River Shilin 100km Cross-Country Race took shelter from extreme weather that claimed the lives of 21 of their fellow runners, Jingtai County, Gansu province, May 24, 2021. Xinhua
A 69-year-old race participant told domestic media that, as he passed through the second checkpoint at around 1 p.m., he heard a rescue team member on standby calling the organizers and telling them they should stop the race immediately. "But the organizers must have hesitated, because he got very angry," he said.
Another participant who shared her experience said she was running until 8:40 p.m. Saturday, having covered 68 kilometers, because no one informed her that the race had been called off.
According to the victims' family members, the race organizers offered each bereaved family 950,000 yuan ($148,000) in compensation, just over half of which will be covered by an insurance provider.
Some families have refused these terms, the Shandong Business Daily reported.
"We believe this disaster was human-caused rather than natural," the newspaper quoted one relative as saying. "Many of the 21 runners were their families' primary breadwinners."
According to the Chinese magazine Renwu, Liang Jing, a top ultramarathon runner who holds several domestic endurance records, was earning between 40,000 and 50,000 yuan a month in competition prizes, plus additional income from sponsors. He was among those who died Saturday, leaving behind his wife — a stay-at-home mom — and their 2-year-old daughter.
Following the tragedy, nearly 30 domestic long-distance races have been either canceled or postponed, online media outlet Red Star News reported Tuesday.
Editor: David Paulk.
(Header image: A participant in the Yellow River Shilin 100km Cross-Country Race is treated for hypothermia at a hospital in Jingtai County, Gansu province, May 23, 2021. Gao Zhan/CNS/People Visual)