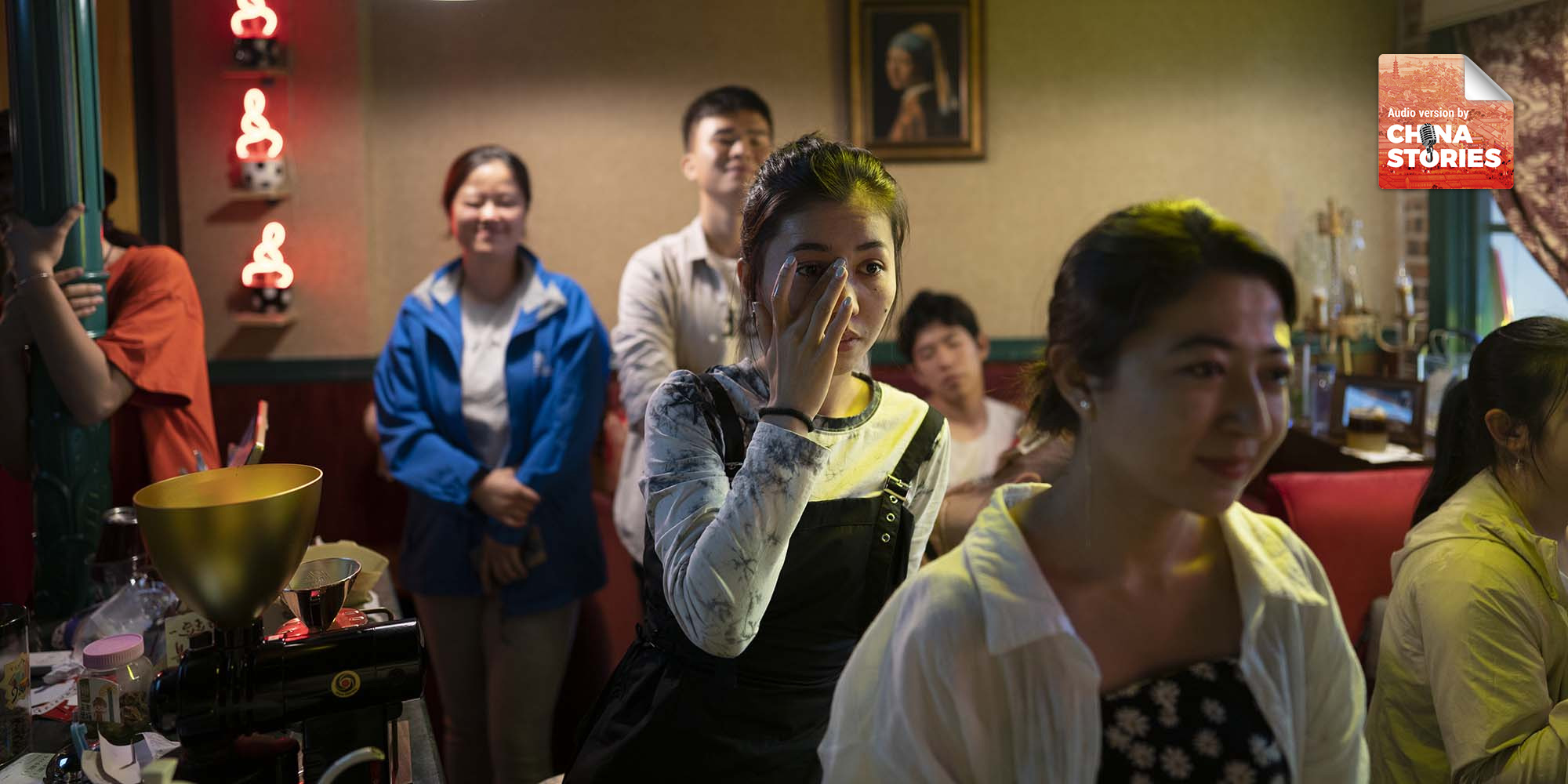 FEATURES
Still There for You: China's Enduring Obsession With 'Friends'
The U.S. and China may be on a break right now, but the American sitcom still holds a special place in the hearts of millions of young Chinese.
ZHEJIANG, East China — On a late May afternoon, the Central Perk café briefly became the hottest spot in the eastern Chinese city of Hangzhou.
People started rushing into the coffee shop at 3 p.m., squeezing onto its plush orange sofa, perching on armrests, and leaning against the bar. Soon, there was barely enough room to stand.
They'd all come to indulge in a shared obsession: the American TV show "Friends."
Nearly 30 years after its first season, the New York-based sitcom still has a huge following around the world. But in China, the passion the show continues to inspire among millions of fans borders on obsession.
For generations of young Chinese, the characters' laid-back, coffee-swilling lifestyle has been a captivating model to aspire to — and an escape from the frustrations of grueling "996" jobs and pushy, overbearing parents. The sitcom has a strong claim to be China's most popular TV import of all time.
On Chinese review site Douban, "Friends" remains the highest-rated American comedy with an average score of 9.8 out of 10, above "Modern Family" (9.5), "The Big Bang Theory" (9.3), and "Sex and the City" (9.0).
The much-anticipated "Friends" reunion, which saw all six main cast members reunite for the first time in years, was a massive event here. Most of China's top streaming platforms — including iQiyi, Tencent Video, and Youku — bought the rights to the one-off special. On May 27, as it was being aired, a related hashtag received over 1 billion views on Weibo, a Twitter-like social app.
In Hangzhou, many locals took time off work to attend the mid-afternoon watch party at Central Perk — a replica of the coffee shop from the show tucked away in a quiet corner of downtown Hangzhou. As the actors walked on set, several fans wept. The café's owner, Du Xin, says he was moved to tears, too.
"I was shocked," Du tells Sixth Tone. "There was no place to sit. Most people just stood there, laughing out loud while watching the show."
For Du, "Friends" is more than entertainment: It's an entire life philosophy. He first started binge-watching the series in the late '00s after a tough breakup. Then, his love for the show — in his words — got "out of control."
Inspired by the character Chandler Bing — who quit his boring, but cushy job at a multinational — Du decided to give up his career in engineering to follow his dreams. He poured his money into building a replica of Central Perk in Beijing, and started referring to himself as Gunther — after the show's lovesick barista.
Now, he owns "Friends" cafés in five Chinese megacities. When he's not running the business, Du enjoys hanging out with his wife, whom he likes to call Rachel, and young son, Joey. He's already taught the boy a few English phrases, including "how you doin'?"
"'Friends' is my religion," Du says, grinning widely.
The show's unique status in China is partly due to its longevity. When Du started college in the early '00s, "Friends" was already massively popular. Though the sitcom had never been broadcast on Chinese TV, it had spread like wildfire on the black market, through bootleg tapes, DVDs, and file-sharing websites.
"If you're a 40-something, you must have seen this show," Du says.
It was far from the only foreign show being distributed, but "Friends" appeared to have a special appeal from the beginning. This was partly because it was so easy to understand. Unlike "Seinfeld," the jokes were accessible even for people who had never experienced life in another country.
"'Friends' is all about humanity," says Wu Hui, a professor at the Communication University of China whose research focuses on Western TV shows. "The American TV industry has worked on producing shows that are adaptable to foreign cultures."
For many early Chinese fans, "Friends" offered a first, beguiling introduction to life in the United States. The show appeared to arrive at the perfect time. It chimed with the upbeat, outward-looking mood in China in the '00s, when the country's emerging middle class was hungry for new ideas and experiences.
"More Chinese started to study abroad following the country's 'reform and opening-up' policies," says Wu, referring to China's economic liberalization that began in the late '70s. "At the same time, people longed for exotic things: Western cars, Western-style clothes."
The show was also very educational. For young Chinese, re-watching "Friends" was a great way to pick up English slang. (To this day, the show is widely used by Chinese universities and high schools during English language lessons.) And, of course, it was a source of useful lessons in other areas, too.
"At that time, discussions around sex and gender were rare (in Chinese media)," says Wu. "The show also acted as a guide to help young Chinese navigate their confusion over relationships, puberty, and maintaining a work-life balance."
Roger S. Christiansen, one of the award-winning directors of "Friends," tells Sixth Tone he was amazed how well-known the show was when he first visited China in 2004. The American had agreed to serve as a jury member alongside nine other well-known directors at the Shanghai Television Festival, but local reporters only wanted to talk about one thing.
"The first eight questions were all to me about 'Friends,'" Christiansen chuckles. "I had to stop the journalists and said, 'hey, I've got nine colleagues here. Please stop asking me questions!'"
Chinese authorities, however, were less amused. From early on, there was fear that "Friends" would corrupt China's youth with its unabashed celebration of individualism and sexual promiscuity. In 2004, state broadcaster China Central Television dropped plans to broadcast the series for this reason.
"We first thought this was a show about friendship, but after we examined the show carefully, we found talk about sex everywhere," Qin Ming, a deputy director at CCTV, told local media at the time.
But over time, regulators gradually — though partially and unevenly — loosened controls on foreign TV imports. By 2010, a number of American shows including "2 Broke Girls" and "Desperate Housewives" were available on China's major video platforms, Du recalls.
More recently, "The Big Bang Theory" has become a big hit in China, with the geeky characters striking a chord with local college students. Shows with strong female protagonists such as "The Queen's Gambit" and "Mrs. America," meanwhile, have received rave reviews amid China's growing feminist awakening.
Yet "Friends" has remained a fan favorite. In 2012, eight years after the final season finished, the show's videos hadreceived 420 million views across Chinese streaming sites. When video platform Sohu dropped the series in 2018, citing unspecified "copyright issues," social media users campaigned for its reinstatement. The hashtag "Friends offline" was viewed millions of times on microblogging site Weibo.
Even today, young Chinese often view "Friends" through the lens of their frustrations with life in China. Ross Geller suffers plenty of setbacks, but he's more concerned with evolution than "involution."
A customer at Hangzhou's Central Perk, surnamed Zhu, tells Sixth Tone she mainly watches "Friends" to switch off from her stressful job in the finance sector.
"I usually watch it after a long, dreadful day at work," the 28-year-old says. "The show always invites us to a happy place, where there's no '996' (working from 9 a.m. to 9 p.m., six days a week) working culture."
"I enjoy the show because it teaches young girls to pursue true love, unbound by … materialistic considerations that are emphasized by some traditional Chinese families," adds another customer, surnamed Wang, a 22-year-old who works in the media.
For Du, the key to the show's attraction is its idealistic message. He plans to start letting his son Joey watch "Friends" once he starts elementary school. Ten years ago, the comedy's sexual content might have made him pause, but nowadays the references don't seem shocking, he adds.
"It tells us how valuable true friendship is and how important it is for us to chase after our dreams," he says. "The morals and values in the show should be passed on from generation to generation."
In the future, however, the Central Perk owner expects the show's influence in China to finally wane. Ahead of "Friends: The Reunion," several Chinese streaming platforms announced they'd rebought the rights to the whole series, but Du says most people these days prefer to watch clips on Douyin, as TikTok is branded in China.
"Chinese millennials are drawn to short videos with rapid tempos and extreme excitement," says Du. "American shows are more like long classic novels. They won't make you laugh every second, but they'll tell you a really thought-provoking story."
Some also predict that American TV shows may also be affected by the tensions between the U.S. and China. A pop culture researcher at a Shanghai-based university, who declined to be named due to the sensitivity of the topic, points out that foreign shows have been affected by political issues before. Though "Friends" is famously apolitical, the shorter-than-expected reunion broadcast in China generated controversy.
"Cultural products are the easiest to eradicate," the researcher says.
Du was disappointed by the domestic version, but he hasn't let it spoil his plans. He's just finished an entire week of daily "Friends: The Reunion" watch parties. As far as he's concerned, Central Perk will still be there for China's "Friends" fans for many years to come.
"I'm not running the chain of cafés as a business, but as a dream-weaving machine," Du says. "People need a place where they can take off their armor after work and unleash their vulnerabilities."
Editor: Dominic Morgan.
(Header image: A customer tears up while watching "Friends: The Reunion" at a watch party at the Central Perk café, in Hangzhou, Zhejiang province, May 27, 2021. Courtesy of @是Anthony)