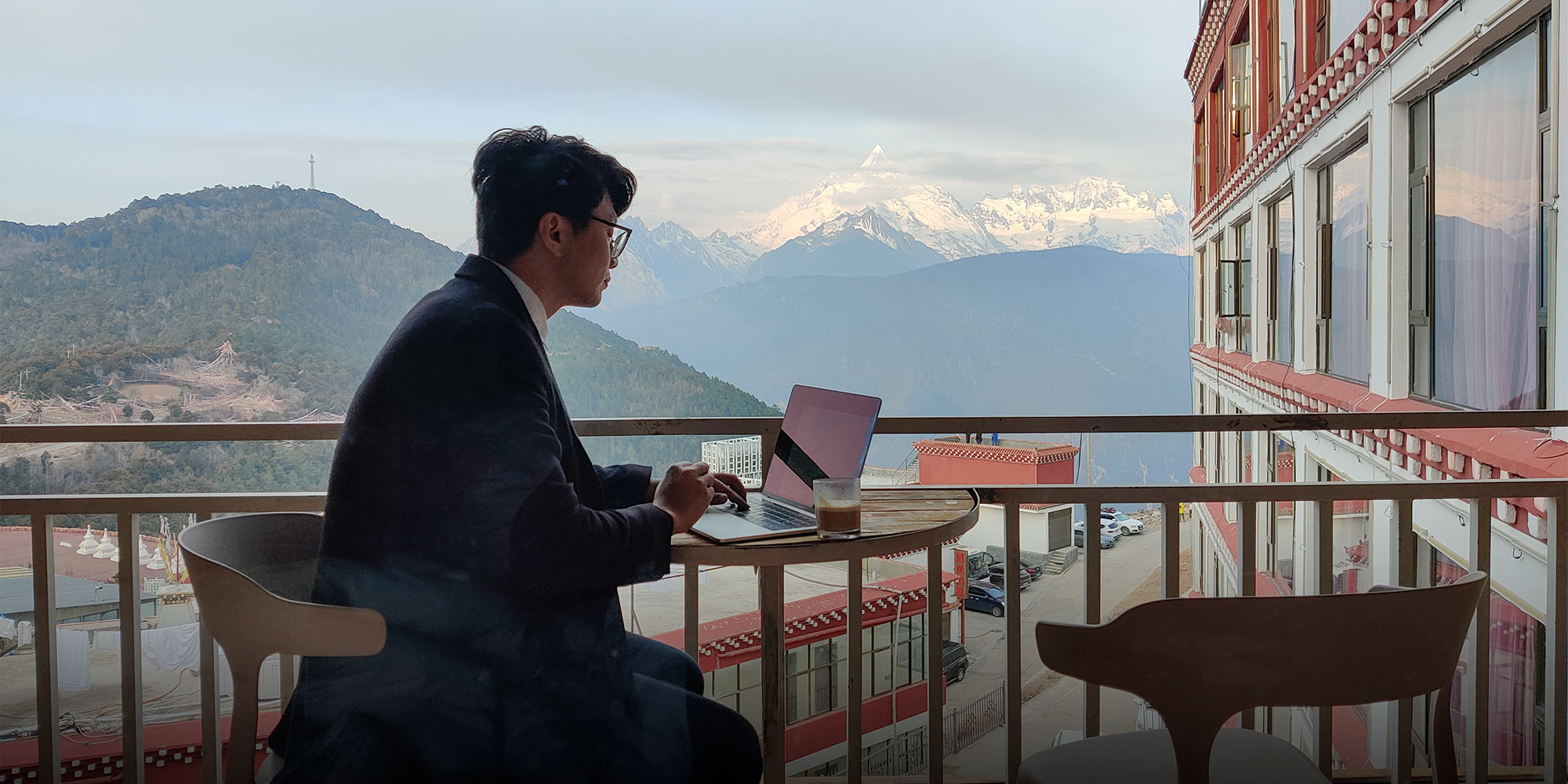 FEATURES
For Young Chinese, 2021 Is the Year of the Digital Nomad
The pandemic sparked a work-from-home revolution in China. Now, a growing number of millennials are taking the next step — and telecommuting from resorts across the country.
YUNNAN, Southwest China — When Hu Shuguang, a 26-year-old software engineer, heard his onboarding process at Google's Tokyo office had been pushed back a year due to COVID-19, he couldn't have been more delighted.
He quickly decided to reject Google's offer to settle down temporarily at its Beijing or Shanghai campus. Instead, he hit the road.
For the past few months, Hu has been working for the company from a series of exotic locations: a beachside bar on the tropical island of Hainan, a café in the ancient city of Zhenyuan, and a mountaintop hostel in the southwestern Yunnan province.
"I always dreamed of traveling while working, and the pandemic gave me a wonderful opportunity to do so," Hu tells Sixth Tone. "As long as the wireless connection is stable, I can work with my colleagues across three continents anytime."
Hu is one of a small, but growing number of Chinese millennials reinventing themselves as "digital nomads," earning a living online while roaming the country.
Before the pandemic, the digital nomad lifestyle was almost unheard of in China. Baidu, the country's most popular search engine, shows only a handful of results related to the term "digital nomads" posted before 2020 — most of them translations of overseas blog posts.
But that's changed rapidly over the past year. Remote working — once frowned upon by most Chinese companies — became normalized amid extended lockdowns, with an estimated 200 million people working from home at the height of the crisis. 
Meanwhile, thousands of young people found themselves unexpectedly stuck in China, but able to book domestic flights and hotel rooms at bargain-basement prices. For those curious about alternative lifestyles, it was a golden opportunity.
"2021 has been a great time to promote digital nomad culture," says Daniel Ng, a pioneer of the nascent movement in China. "A lot of young Chinese who used to work or study overseas had to go back to China to survive the pandemic, and make new plans for the disrupted year."
Ng, a native of the eastern Fujian province, is also a recent returnee. In September 2019, he quit his job as a software engineer in Malaysia and moved back to China, looking to try something new.
Rather than look for another full-time gig, the 29-year-old earned money as an indie developer and founded a coworking space for digital nomads in Dali, a picturesque southwestern city known as China's hippie capital.
The project, named the Dali Hub, has attracted more than 200 members in its first three months, most of them vloggers, programmers, and social entrepreneurs in their 20s and 30s. Ng also plans to open another outlet in the southern beach town Sanya.
"I loved going to coworking spaces and chatting with digital nomads there when I was in Malaysia, but when I came back to China I couldn't find anything like them," says Ng. "I thought, why not create one myself?"
When he's tired of Dali, Ng organizes "coworkations" in which he invites a squad of five or six people to travel with him to another part of China and work there for a few weeks. He just finished his fourth trip to the southwestern Guizhou province, and will drive his squad to Gansu, an arid region in China's northwest, in June.
China's scene remains tiny compared with the United States, where nearly 11 million people identify as digital nomads, according to consulting firm MBO Partners. But there's plenty of potential for growth. Interest in off-beat lifestyles is rising among young Chinese: Growing numbers are choosing to escape the rat race by joining early-retirement movements, organic farms, or even anarchist communes.
Yet life as a digital nomad can be tough in China. Millennials trying out the lifestyle say they've encountered all sorts of issues, from running out of money to losing access to social security after quitting their jobs.
Financing a nomadic existence is the biggest challenge. Veteran digital nomads warn that people living this way without a permanent job need to have a financial cushion, or to develop high levels of self-reliance and self-discipline.
"To make it sustainable, you need to develop passive income, which includes regular earnings from a source other than an employer or contractor," said Fu Ye, an alternative lifestyle advocate, during her recent podcast about how digital nomads make ends meet. "You could achieve this by establishing an information product, like a video course on Coursera, then kicking back while cash rolls in from the sales."
Fu began her digital nomad journey long before the pandemic. The 28-year-old became a backpacker in Argentina after graduating from college, earning money by working on international education projects online.
Over time, Fu was able to generate a stable source of passive income by selling online courses teaching English and on how to start working remotely. When COVID-19 hit Argentina, she moved back to China and met Ng in Dali, where she helped him launch the digital nomad project.
Other digital nomads tell Sixth Tone they earn passive income through rental payments, stock and bond dividends, and ads or sponsorship revenues from their YouTube channels.
Lola Chen, a vlogger whose channel about French language learning has over 50,000 followers on Chinese video platform Bilibili, was one of the first people to join the Dali Hub.
Before COVID-19, Chen worked as a project manager supervising Chinese infrastructure projects in Africa for five years. She moved back to China last year, and started uploading videos to help Chinese students learn French soon after. Her main source of income now comes from an online French language course, which she sells for 98 yuan ($15).
"The pandemic made me rethink how and where I should spend the rest of my life," says Chen, who's currently taking part in one of Ng's "coworkations."  
Many digital nomads, however, know their journeys can only last so long. For Dora Sun, a 29-year-old who took part in one of Ng's recent "coworkations," the trip was only a temporary break from her life in Shenzhen.
"I loved the wonderful time I spent with you guys, but I also know beautiful things don't last forever," Sun told the squad at her farewell party in Dali last month.
For Sun, a social entrepreneur, the benefits of settling down outweigh the freedom of life on the road. She plans to have a child this year, and wants to secure a place for them at one of Shenzhen's elite schools. But to do that, she first needs to buy a house in the city so she can become a permanent resident.
"We Chinese aren't born to be nomads," she sighs. "We have a history of being an agricultural society."
Echo Tang, a gap year student who has been trying out life as a digital nomad, has also had to cut the experiment short. Though she made plenty of money by working remotely for tech giant Tencent, she worried her social security and medical insurance would be withdrawn after her contract with the company ended.
Hu, the Google employee, also plans to go back to big city life once Japan finally relaxes its travel restrictions. "But it was a wonderful memory," he says.
But Chen and Ng, the Dali Hub founders, insist they're in it for the long haul. Chen's Bilibili channel is gaining traction in China, and she hopes to continue living off the income for many years to come.
"I go with the flow," she says. "I'll stay wherever I love."
When the pandemic is over, Ng even plans to start nomading internationally. A number of territories have launched schemes to attract digital nomads by offering preferential visas, including Barbados, Dubai, and Estonia.
"It's already hard for me to imagine going back to an office with a fixed schedule in a big, bustling city," he says.
Editor: Dominic Morgan.
(Header image: Daniel Ng works outside in Dali, Yunnan province, April 2021. Diana Li for Sixth Tone)