Aftershocks from the magnitude 7.4 earthquake that hit the northwestern Qinghai province on Saturday have continued to shake the ground, as thousands of residents camp outside in cold temperatures fearing another jolt.
On Tuesday, a magnitude 4.1 tremor was reported at the earthquake's epicenter in Maduo County, in the Golog Tibetan Autonomous Prefecture, a day after similarly intense aftershocks, according to China Earthquake Networks Center, a monitoring institution under the China Earthquake Administration. Eighteen people have been injured since Saturday.
As the ground continues to shake, thousands of residents in the county have been staying at makeshift shelters, local officials told Sixth Tone. As of Monday, an estimated 1,872 tremors had been reported, with the strongest measuring 5.1 on the Richter scale.
Though officials said the water supply, electricity, and communications in the area have been restored, there is reportedly a shortage of medical supplies and tents, and there are still intermittent power outages. The quake has also damaged several reservoirs and 15 hydropower monitoring stations, as well as a major flood management project in the province — the source of the Yangtze, Yellow, and Lancang rivers.
"We are under a lot of pressure to provide (disaster) relief," said Yang Yihong, deputy chief of the publicity department in Maduo County, adding that the authorities have enforced health and safety guidelines and even set up a COVID-19 vaccination center, given China's recent reports of sporadic infections.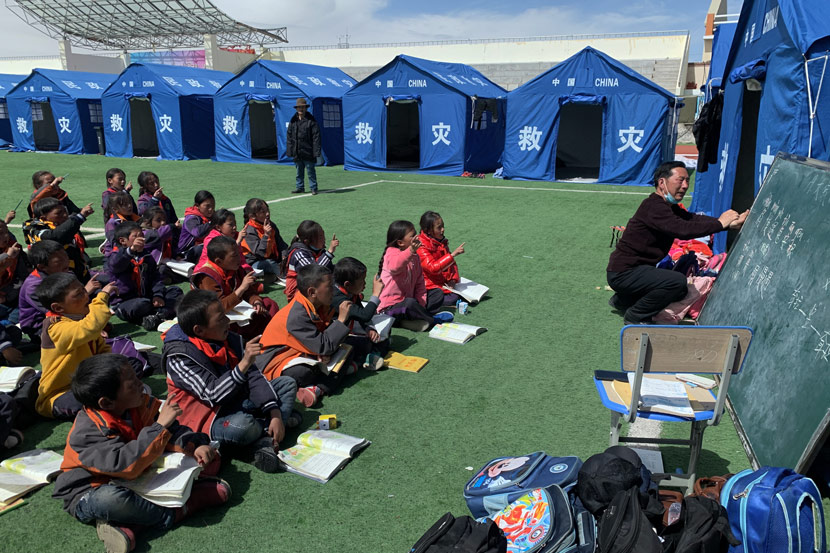 Children in a makeshift settlement on a sports field attend class in Maduo County, Qinghai province, May 24, 2021. Ma Mingyan/CNS/People Visual
On Monday, the provincial government allocated 69 million yuan ($10.7 million) in emergency relief funds for the earthquake victims while also dispatching heating equipment to combat the frigid temperatures.
Saturday's quake has affected over 32,000 people in the Golog Tibetan Autonomous Prefecture as well as the nearby Yushu Prefecture, where a magnitude 7.1 earthquake in 2010 killed 2,698 people. Just two years prior to that, some 80,000 people were reported dead or missing in the devastating magnitude 7.9 Wenchuan earthquake.
Since the disastrous 2010 earthquake in Qinghai, the sparsely populated province in the seismically active Tibetan Plateau has been working to improve its earthquake monitoring network and emergency rescue capabilities. The country, meanwhile, has been testing early warning systems to prevent large-scale disasters.
On Friday, just four hours before the ground shook in Qinghai, a magnitude 6.4 quake was reported in the southwestern Yunnan province near the tourist town of Dali. At least three people there were killed and 32 others were injured, while more than 85,000 are staying in shelters due to ongoing aftershocks.
Editor: Bibek Bhandari.
(Header image: A woman walks out of a disaster relief tent in Maduo County, Qinghai province, May 22, 2021. Ma Mingyan/CNS/People Visual)