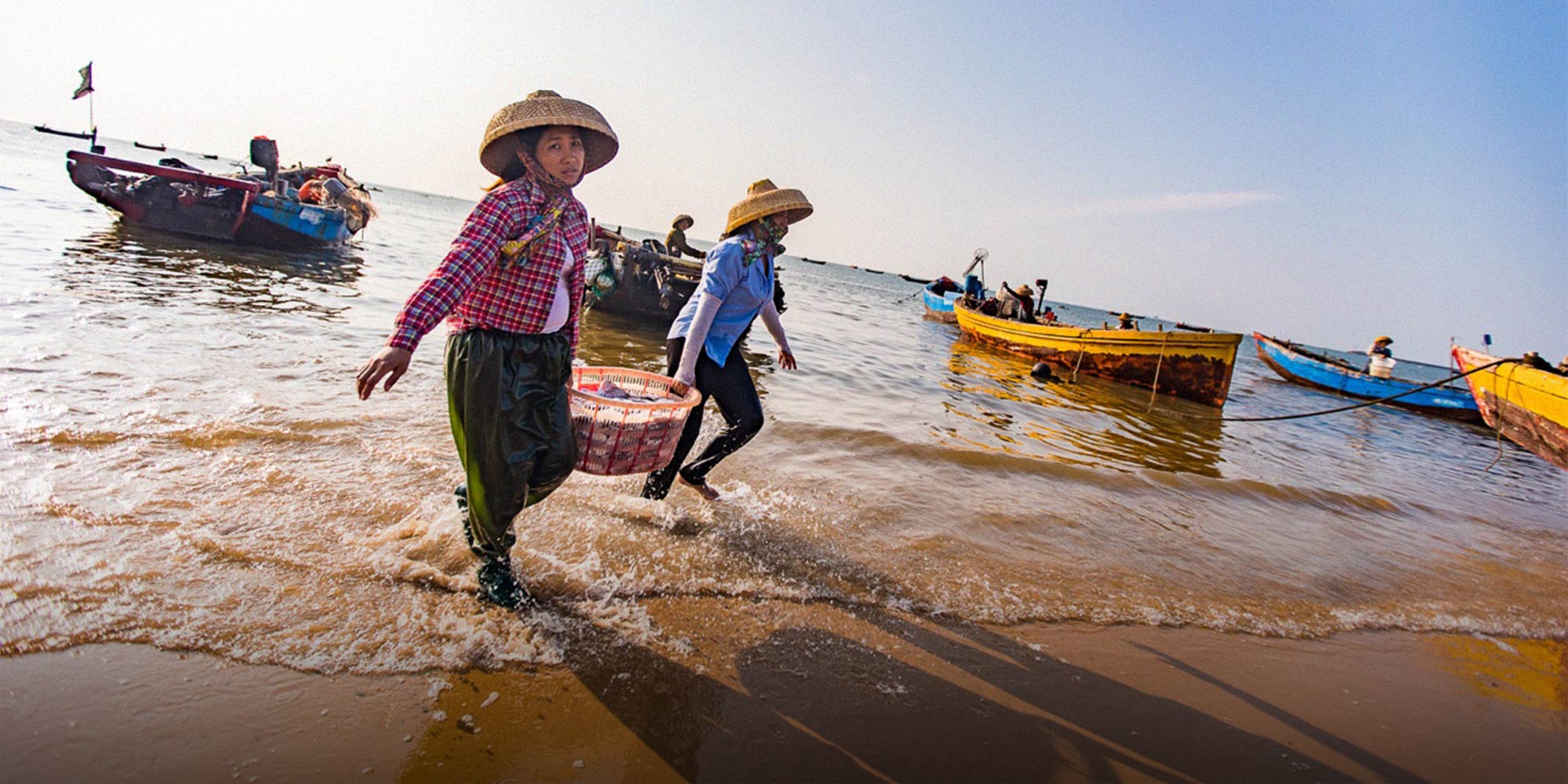 VOICES & OPINION
The Big Problems Facing China's Small Fisheries
There are some 370,000 small fishing boats in China, according to estimates, but declining fish stocks and increasing competition threaten to put the industry on ice.
This is the first piece in a series on the transformation of China's small-scale fisheries.
Rongshanliao is situated on the west coast of Haikou, the capital of the southern island province of Hainan. Hemmed in behind government buildings, housing developments, and a railway station, it is one of just two remaining fishing villages in the city.
Not long after 1 a.m., when most of the city's residents are sound asleep, the fishers of Rongshanliao push their way out to sea. Half an hour later, their 8-meter-long boats arrive at their destination some 2 nautical miles offshore. Rongshanliao fishers cast their nets according to the flow of the tides: Today marks the end of a cycle, and they are here to retrieve the last four nets they placed.
By 7 a.m., when the city is just waking up, the fishing boats have returned to harbor and are spread out along the shore. On the wharf, women haul heavy boxes of fresh fish from their holds; they sort, weigh, and record the catches before loading them onto trucks and driving away. After cleaning up, the fishers make their way in small groups to a tea shop at the edge of the village. There, they drink and chat as a way to relieve the exhaustion and tension from being out at sea.
For all the attention paid to the large-scale industrial fisheries profiled in documentaries like "Seaspiracy," most wild-caught seafood sold across China, Southeast Asia, South Asia, and parts of South America and Africa comes from small-scale operations like those found in Rongshanliao. These account for almost half of all global fish catches — according to the United Nation's Food and Agriculture Organization — and two-thirds of catches meant for human consumption.
A fisherwoman digging for sea snails on a beach, a fisherman hauling in nets on the coast, a husband-and-wife team heading out in a boat to fish at sea — all of these activities fall into the category of small-scale fisheries. The FAO describes the practice as a "sub-sector of fisheries employing labor-intensive harvesting, processing, and distribution technologies to exploit marine and inland water fishery resources." Globally, around 200 million people depend on small-scale fisheries and their industrial chains to make a living.
That should give you a sense of the huge volume we're talking about. While not much to look at, small-scale fisheries have a direct and far-reaching impact on marine product supply, sustainable fishery resource utilization, and the aquatic environment. For its part, China does not yet have an official definition of small-scale fishing, but at China Blue, we define it as "subsistence fishing close to shore using vessels around 12 meters in length." According to statistics from 2019, there were more than 370,000 small-scale fishing boats based in China, accounting for 82% of the national fishing fleet.
Despite the industry's size, workers and communities involved in small-scale fishing are currently facing unprecedented challenges. A few kilometers off the coast, large trawlers rake fishing nets back and forth along the seabed, leaving fewer and smaller fish for small-scale fishers to catch. It now takes four or five days to harvest what was a day's catch a few years ago. The types of species being caught have also changed, as populations of large, fatty mackerel — a local favorite — have declined.
In response, fishers in the Qiongzhou Strait between Hainan and the mainland have switched their nets for ones with finer mesh. The fish caught in these nets are small, but at least they're something: The fishers need to earn their day's wages somehow. If the nets' mesh is too fine, however, they can sweep up younger fish before they reproduce. As much as half of the fish caught in these nets do not meet minimum size requirements, a common and growing problem around the world.
The decline of fishery resources is a source of tension within the fishing community. As the fishers quarrel more, mutual understanding and trust fades, traditional sacrificial rites are no longer performed; and indifference and animosity increase. Those driven out of the business altogether have no choice but to leave in search of new opportunities in the city. After decades spent at sea, they're forced to learn new skills and ways of life on land. The resulting outflow of young people from Rongshanliao has caused a gradual decrease of the village's vitality, further fracturing local cultural bonds.
And fishing ban periods are getting longer. Spring and summer are vital to the survival of marine life, and local governments have imposed moratoriums on fishing during this time, with most fishing vessels banned from venturing out to sea. This is equivalent to a three-month "summer break" for the millions of fishers operating along China's coast, but it's no vacation: Many must take on short-term jobs ashore to support their families.
True, small-scale fishers are partly responsible for the collapse of fish stocks, but they're also victims. The country's more than 3 million fishers and their families are struggling, and any effort to develop sustainable fisheries must also include input from and a way forward for these communities.
The UN has declared 2022 the "International Year of Artisanal Fisheries and Aquaculture." We can no longer ignore the question of how to rebuild the strength of traditional Chinese fisheries. There's a good chance that, in the near future, the auction blocks along the Rongshanliao wharf will fall silent. When that happens, it will likely be for good. The village's fate is bound up with that of the sea and its bounty — if one fails, so will the other.
With contributions from Han Han, the founder of China Blue.
Correction: An earlier version of this article incorrectly stated the number of people who depend on small-scale fisheries and their industrial chains to make a living. It is 200 million.

Translator: David Ball; editors: Cai Yiwen and Kilian O'Donnell; portrait artist: Zhou Zhen.
(Header image: Fisherwomen unload a catch in Rongshanliao, Hainan province, 2020. Courtesy of Chen Mingzhi)