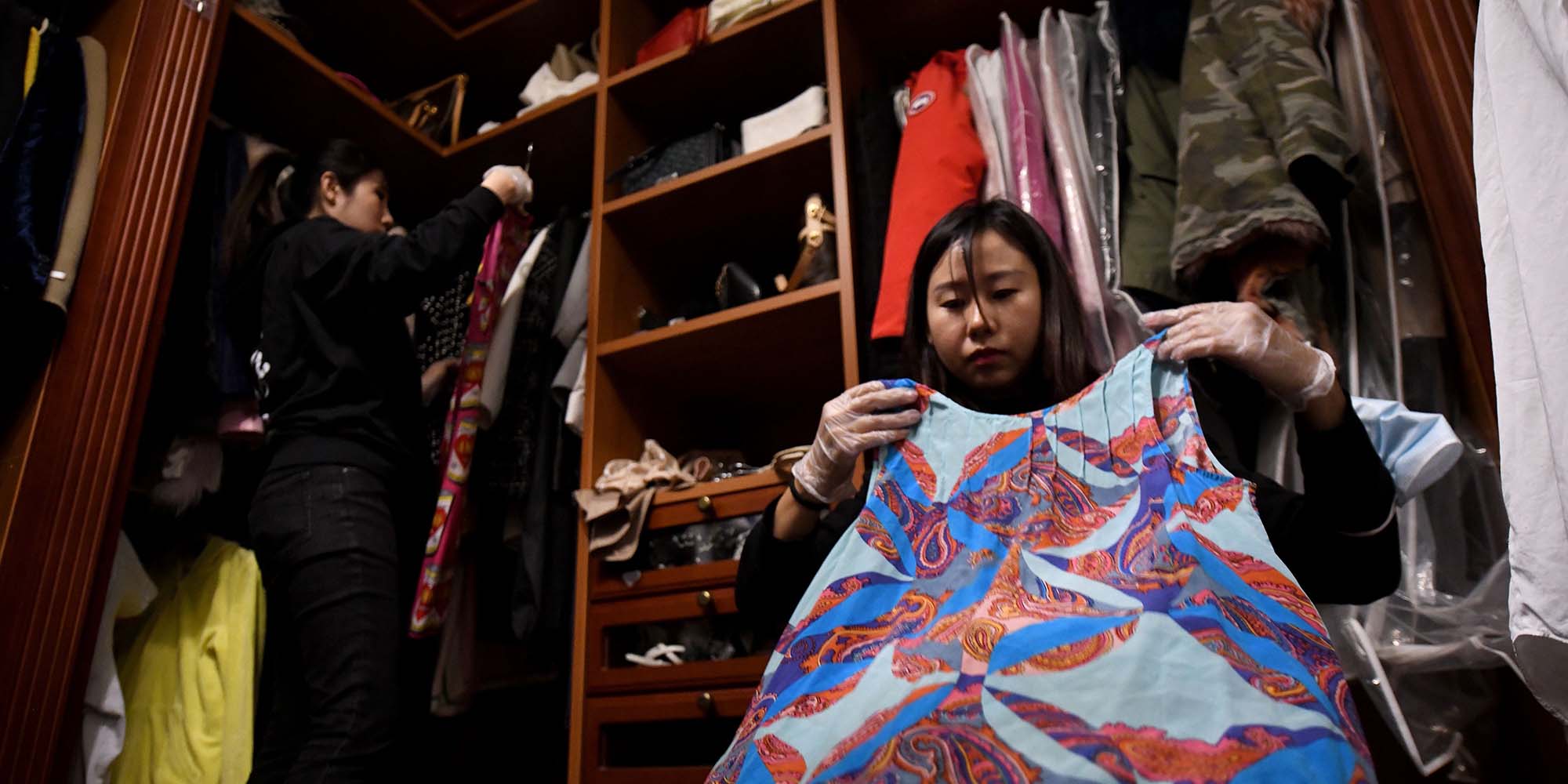 NEWS
Want Coddled Kids to Learn Independence? Try Decluttering
For children who've been doted on their entire lives, shared school living spaces can be a rude awakening. Experts say home organization can help.
SHANGHAI — For China's children and teenagers, the first step toward a more comfortable, less stressful lifestyle could be as simple as cleaning up their rooms.
At the Chinese Home Organizer Conference on Sunday, professors and school principals called on home decluttering professionals to provide more on-campus services to students. The aim: help them free up space in their often cramped accommodation and learn to live more independently.
Decluttering stems from the Japanese term danshari, a concept grounded in minimalism and a "less is more" mentality. Professional home organizers help clients prioritize their possessions and rearrange their living spaces, hanging on to only what they need.
Only a few months ago, in January, "home organizer" became an officially recognized occupation in China, according to the Ministry of Human Resources and Social Security.
There's a reason for this. Since the COVID-19 pandemic, more Chinese people, stuck in their apartments to comply with quarantine and work-from-home policies, have reportedly been enlisting the services of professional organizers to declutter home environments they suddenly became forced to spend far more time in.
According to a white paper on China's decluttering industry, by the end of 2020, over 7,000 home organizers in the country had received professional training. Over 40% of professional home organizers earned more than 100,000 yuan ($16,600) a year — an above-average income for most Chinese cities — and the industry needs to recruit nearly 20,000 additional talents over the next two years to keep up with market demand, state broadcaster CCTV reported in March.
"Improved living standards and the rapid development of e-commerce and delivery services have resulted in more people buying things they don't need," Han Yien, the founder of Yien Organization, a company that provides door-to-door home organization services and training courses, told Sixth Tone. "Without regular decluttering, many homes would soon be filled with unnecessary items, and with people's fast-paced work environments, they're more reliant on quick and convenient decluttering services."
Meanwhile, educators and experts are hoping decluttering can be promoted to, and embraced by, more children and teenagers.
Lei Ziping, principal of the High School Affiliated to The University of Nottingham Ningbo in China's eastern Zhejiang province, said during Sunday's conference that, for the past few years, his school has offered a course on decluttering, which he believes is important for cultivating an "elite quality" in boarding school students.
"Some high school students have this casual and perfunctory attitude, and this can make them difficult to manage," Lei said. "Decluttering can shape a person's character and quality. If introduced in adolescence, it can greatly benefit students."
From Han's experience, college students must learn to live independently — it doesn't always come naturally. She found that many students didn't know how to organize the limited living space in their cramped dorm rooms, and would just throw things all over the place. That's partly why she began providing free decluttering services at several domestic universities.
"Most Chinese children are coddled by their parents. Once they reach college, they find living in a shared environment hard to deal with," Han said.
Han and her team provide hands-on guidance for university students, showing them how to tidy up their messy dorm rooms. "In developing their ability to organize, they'll gradually go from planning their living space to planning their life," Han said.
The act of decluttering also gives children a sense of accomplishment, which is sometimes lacking in China, Luo Wenping, a consultant at the mental health center of Chengdu University of Traditional Chinese Medicine, said at Sunday's conference.
Lin Qinghong became a professional home organizer in 2017 after taking part in a training course in the eastern Fujian province. So far, the 35-year-old and her team have provided decluttering services to over 60 households, clocking more than 900 hours in the process.
Apart from tidying up houses, Lin wants to combine decluttering services with parenting and education. She has given public lectures about her work and mission as well as a presentation at her daughter's school.
"Chinese parents want to give their children what they think is the best. They buy them all kinds of stuff and sign them up for various training classes, fearing that their kids will lose right from the starting line," Lin said, referring to the pressure parents feel to give their kids every advantage over their peers from a young age.
"But a clean home environment and good family relationships are what really give children a good head start," she said.
When Lin gave her first talk in the eastern city of Quanzhou in May 2018, few people had heard of home organization as a profession. But by October the same year, she noticed that many people were familiar with the decluttering trend and the concept of danshari.
"It's spreading faster," she said. "More people have realized the importance of organizing their home environment, and this is also beneficial for improving family relationships."
Contributions: Chen Congcong; editor: David Paulk.
(Header image: Home organizers rearrange the layout of a client's closet in Beijing, Oct. 26, 2020. People Visual)