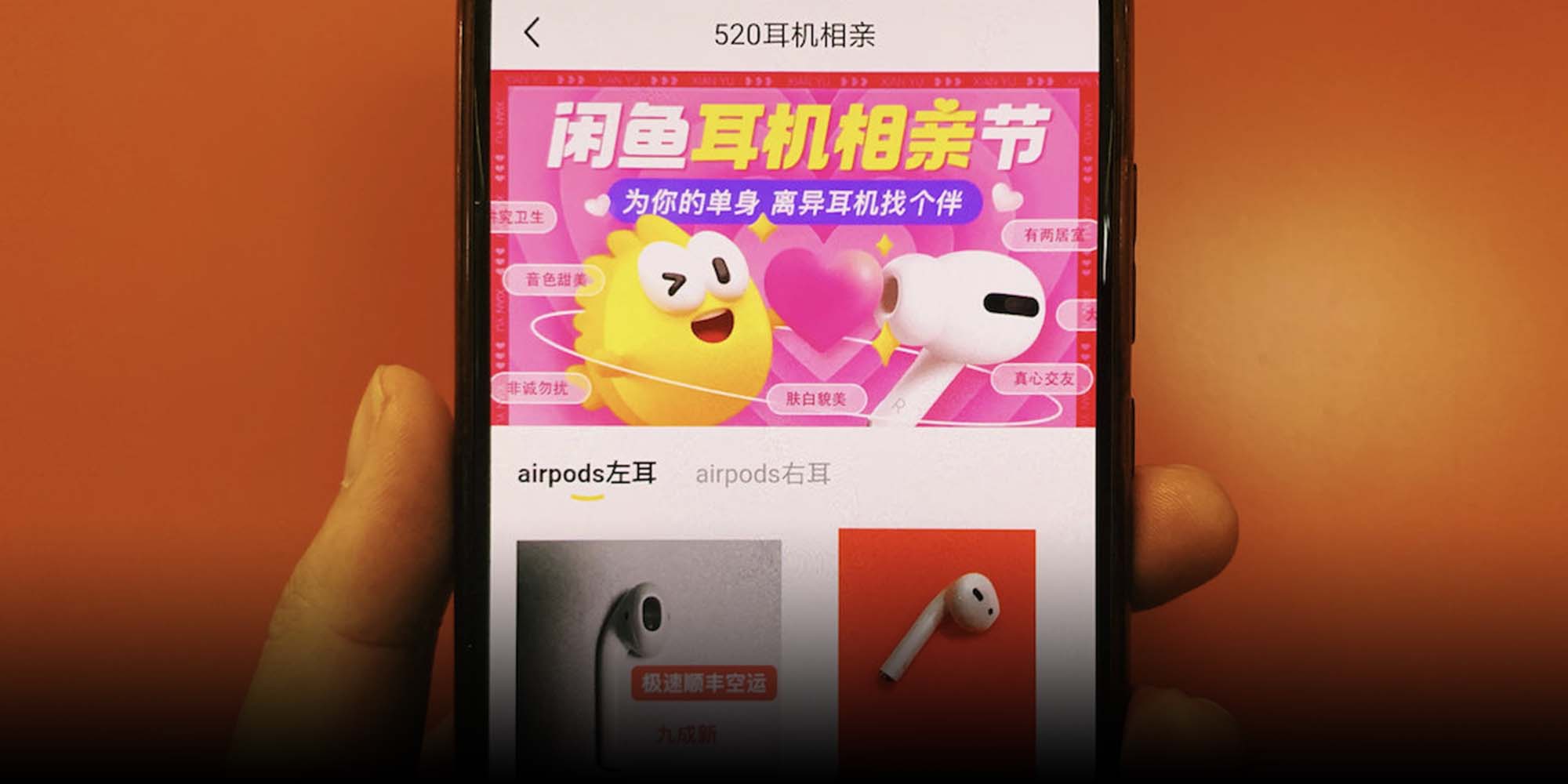 NEWS
Earbuds With Missing Partners Pair Up on Chinese Valentine's Day
A promotion by secondhand goods app Xianyu finds new companions for lost and found wireless earphones.
Thousands of people spent Thursday — a Valentine's Day of sorts in China — searching not only for Mr. or Mrs. Right, but also for Mr. and Mrs. Left.
Secondhand goods app Xianyu, owned by e-commerce giant Alibaba, organized "blind dates" pairing users who had misplaced one of their wireless earphones with others who had lost the opposite earbud.
"Dear friends, it's a special day today," read the event's announcement, referring to May 20, a date associated with romance in China because its pronunciation sounds similar to "I love you" in Mandarin. "Come here to find a date for your single or divorced earphone. Don't let it feel lonely anymore."
With the rising popularity of wireless earphones such as Apple's AirPods, over 130,000 earpieces went missing in 2020, Xianyu said, resulting in their owners having no choice but to sell the remaining one. This year, the figure of abandoned earbuds stood at a whopping 100,000 by mid-May.
The app said right-side earbuds are apparently more faithful to their owners: In 56% of cases, sellers had lost their left earphone.
Zou Yang, a spokesperson for the event, told Sixth Tone that the idea came from the lighthearted way Xianyu users have described their single earbuds, saying they were looking for an "in-law" for their "son" or "daughter." Those with a charging case said they already owned an "apartment" for the future couple.
"The young generation are good at making full use of their possessions and refuse to be wasteful," Zou said. "Besides single earphones, there's also huge demand and supply for reuniting single gaming controllers, earrings, and gloves into a pair."
According to iiMedia Research, in 2018 China's secondhand market reached 740 billion yuan ($115 billion), with an annual growth rate of 30%. Younger generations no longer see secondhand items as shabby, said the Guangzhou-based consulting firm, fueling the popularity of platforms like Xianyu.
May 20 has become a popular festival in China in recent years, with celebrities choosing this day to make their relationships public and couples flocking to government offices to register their marriages. In Zhengzhou, capital of the central Henan province, one couple reportedly paid an errand-runner to wait in line overnight to ensure that they would be the first to officially become husband and wife on May 20.
Editor: Kevin Schoenmakers.
(Header image: A graphic for secondhand app Xianyu's promotion to help people with missing earbuds find new mates on Valentine's Day. From Weibo)