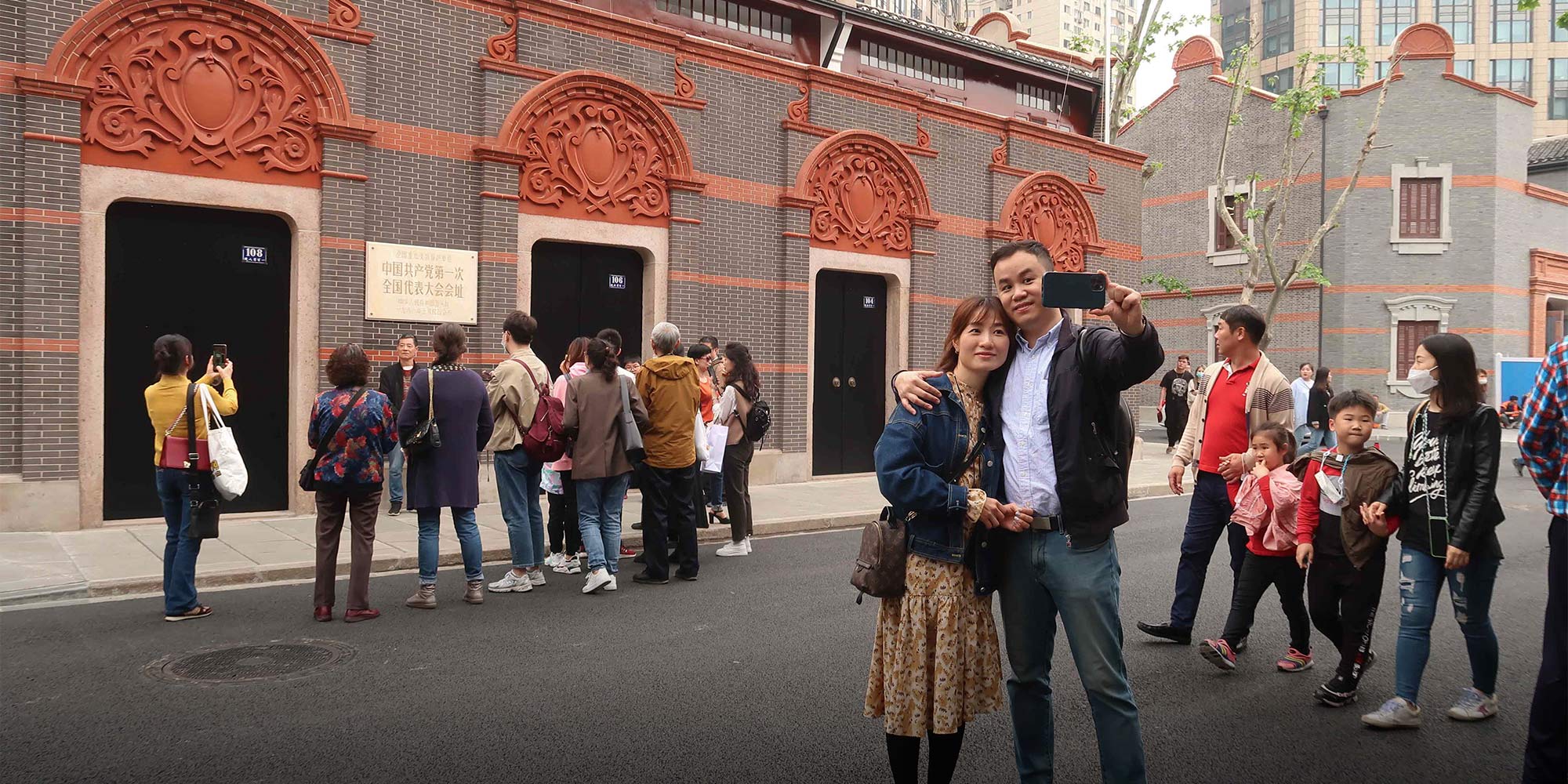 VOICES & OPINION
Tracing Shanghai's Red History
The city's divided administration and maze-like alleys were ideal for budding revolutionaries — and a nightmare for historical researchers.
As the Communist Party of China (CPC) gets set to celebrate its 100th anniversary this July, Red monuments and historical sites across the country are being spruced up to look their best for the centenary. In Shanghai — where the CPC was founded and a longtime hub of underground revolutionary activity — restoration work has just wrapped up on the sites of the first, second, and fourth national congresses of the CPC, as well as the former headquarters of the Central Department of the Socialist Youth League of China.
The preservation of such important sites might seem like a matter of course, but the truth is, the city is lucky some of them survived at all. A hundred years ago, Shanghai was a hotbed of agitation. Split into three territories: the French Concession, the International Settlement, and a Chinese zone of control, at various times it was home to young revolutionaries like Chen Duxiu, Li Hanjun, Li Da, and Mao Zedong. Its tightly packed streets and alleys, lined with stone-built row homes known as shikumen, offered additional security. Open to the street but connected internally by a maze of corridors and shielded by high walls, the shikumen were perfect for holding secret meetings like the one in July 1921 that birthed the CPC.
Today, remarkably little of that architectural heritage is left. There are only 173 complete shikumen neighborhoods in Shanghai. The number of shikumen lanes has almost halved — from 3,800 to just over 1,900 — and the number of intact shikumen specimens has dropped from 200,000 to 50,000. Often, the only trace of important historical sites lost in the city's race to reinvent itself is a plaque outside where the building once stood.
Even 70 years ago, before the teardowns, locating famous sites like that of the First National Congress was no easy feat. The same traits that made shikumen perfect for underground activity — their largely identical facades and internal corridors connecting one to another — made it difficult to say for sure where key events had actually taken place, even for the participants. Late in the summer of 1950, less than a year after the founding of the People's Republic of China, the Shanghai Municipal Party Committee established a working group to locate the building where the First National Congress had been held. Zhou Zhiyou, the son of CPC co-founder Zhou Fohai, learned from his father's writings that the venue of the meeting was "Li Hanjun's home on Rue Amiral Bayle." After Zhou Fohai's wife confirmed the account, Li Da personally visited the site, and fellow attendees like Mao Zedong and Dong Biwu agreed that this was the spot. With their approval, the First National Congress was finally confirmed to have been held at what is now 76 Xingye Road.
The site had been located, but the conservation team's work was far from finished: How to restore the interior of the shikumen to what it had looked like 30 years prior? The answer came from an unlikely source: the words of a Japanese writer, Ryunosuke Akutagawa, who had visited Li Hanjun just months before the congress was held. In his memoir of the trip, translated by Joshua Fogel, he wrote:
A servant took us into a drawing room at once. There was a rectangular table with several Western-style chairs, and on the table was a bowl. It contained a mound of porcelain fruit. These pears, grapes, and apples — except for these humble imitations of nature, there were no decorations to grace the eyes. There was, however, no dust in the room. The simplicity filling the space was pleasant … In the corner of the living room into which we were led, there was a ladder leading to a second floor, and this ladder seemed to have set down roots on the spot. Thus, when he (Li Hanjun) came down the rungs of the ladder, the first thing guests noticed were his feet.
Today, visitors to the site will find everything essentially as Ryunosuke described.
Other sites were even more challenging to reconstruct. As far back as back October 1958, a preparatory committee for the Shanghai Revolutionary History Memorial Museum had unsuccessfully tried to locate the site of the Fourth National Congress, held in January 1925. That section of the city had been destroyed in a 1932 Japanese attack and was later rebuilt.
In the 1980s, the Shanghai Municipal Cultural Relics Commission decided to make another attempt. Working with Zheng Chaolin, who had attended the meeting, the original location of the Fourth National Congress was confirmed on April 25, 1987 to be at No. 8, 28 Sub-lane, 254 Lane, Dongbaoxing Road in Hongkou District.
However, other details remained unknown. Working off the "Directory of Businesses in Old Shanghai," researchers once mistakenly believed that the meeting was held in a shikumen known as Hepingfang, but Hepingfang was built in the 1930s, about seven years after the Fourth National Congress was convened. After searching contemporaneous rental listings and road maps, another shikumen, known as Guangjili, seemed a likely candidate, but there wasn't enough evidence to say for sure.
It wasn't until last summer, when I stumbled across a 1922 document titled "North Shanghai Work Tour Bureau Reports" in the Shanghai Municipal Archives, that the pieces began to fall into place. The reports refer to Guangjili being in Plot 1,283 of the British Concession and even contained blueprints for the neighborhood. By comparing these with overhead photographs taken during the Japanese bombing of Shanghai, it was possible to basically confirm Guangjili as the site of the Fourth National Congress.
Searching for traces of history in a rapidly changing metropolis like Shanghai is like looking for a needle in a haystack. No one single approach is enough. There are a wide range of maps of historical Shanghai published at different times, covering different areas, and with different levels of detail. The architectural drawings stored in the Shanghai Municipal Archives often focus on the central concession areas, and are extremely challenging to sort through. Old newspapers and magazines can occasionally yield something surprising, but more often than not only offer a couple of words.
Finding useful information in diaries and written accounts is no easier. Many old buildings have long disappeared, and those lucky enough to be preserved have often been altered several times. Their appearances have changed beyond recognition, former residents cannot help identify them, and the advanced ages of many such residents means their recollections need to be taken with a grain of salt anyway.
Still, that doesn't mean we shouldn't try. After all, shikumen are not just photo backdrops or kitschy symbols of Old Shanghai. Deep in the city's disappearing lane neighborhoods lies a history of great hardships, thrilling struggles, romance, and revolution. If our work can help people nowadays better understand what it was like at that special moment in history and learn and appreciate the people and stories that changed China, then it will all be worthwhile.
Translator: David Ball; editors: Wu Haiyun and Kilian O'Donnell.
(Header image: Tourists take photos in front of the building where the First National Congress of the Communist Party of China took place, Shanghai, April 24, 2021. Wang Rongjiang/People Visual)