First they recruited people to pose as customers and create the illusion that they had a thriving business. Then they used that crowd as bait to lure potential investors into injecting capital into their business.
That was the idea behind a scam from milk tea franchise Chazhilan, which convinced dozens of investors to pour 700 million yuan ($109 million) into their business, police in Shanghai said Thursday. The officers have detained more than 90 people involved in the fraud.
The suspects had set up multiple fake websites for well-known milk tea brands, fabricated authorization documents, and hired imposters to line up in front of shops to make it seem like they were making money hand over fist, according to state broadcaster China Central Television.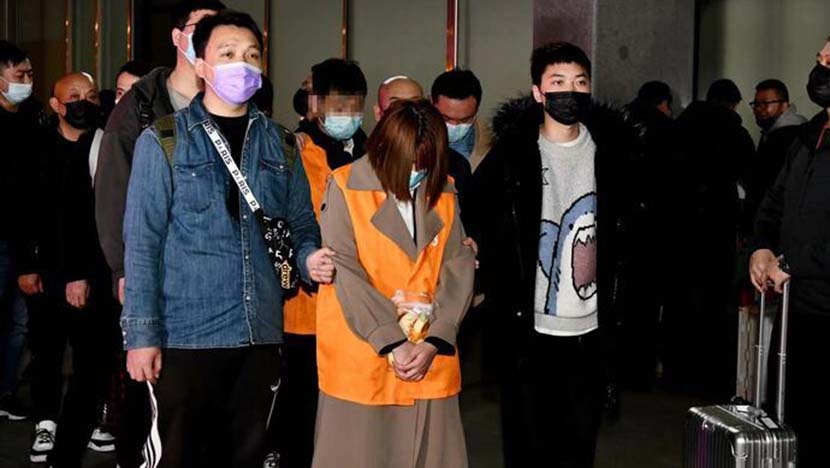 The suspects detained by police in Shanghai, 2021. From The Paper
According to Sixth Tone's sister publication The Paper, an investor surnamed Wang heard about the tea shop franchise last May through an online advertisement. When he contacted the telephone number included in the ad, he was referred to Chazhilan.
After meeting representatives from Chazhilan, Wang was convinced that his investments wouldn't go awry, according to The Paper. So he handed them 100,000 yuan to open a tea shop, which closed down just three months after opening, without recouping his investment.
The Chazhilan scam came to light in December after local media reported that one of its stores in a popular tourist area was hiring people to pose as customers for around 40 yuan a day, prompting a police investigation. Photos of people lining up outside the shop were reportedly used to recruit investors.
"New-style" milk tea — a spin on traditional tea — has emerged  in recent years as one of China's hottest lifestyle trends, especially among young generations. According to a 2020 industry report, the market for new-style tea exceeded 100 billion yuan last year, and it is only expected to grow.
However, competition has become fierce as more and more investors vie to cash in on the fad. While leading milk tea brands such as HeyTea have customers lining up for their drinks, many small businesses have struggled to profit, ultimately shutting down during the COVID-19 pandemic.
Xie Baoping, a lawyer at Jiangsu Qindian Law Firm, said people should be more vigilant before investing huge sums of their money.
"It's best to conduct a background check on the merchant before agreeing to join them, as well as independently visit the facilities without being accompanied by company representatives," he told Sixth Tone.
Editor: Bibek Bhandari.
(Header image: A line of "customers" at a milk tea shop in Shanghai, 2020. Many of them were paid to be there to create the illusion of popularity. From Weibo)