A Beijing law firm's seminar on how to fire employees cheaply has sparked controversy online, with some expressing concerns about potential violations of workers' legal rights.
On Sunday, Hengdu Law Firm held a knowledge-sharing seminar titled "How to Dismiss Employees at Low Cost," according to a write-up of the event on social platform WeChat that was republished on news portal Sina Finance.
A senior member of the firm explained relevant legal risks for company management and analyzed typical labor dispute cases, with the aim of helping employers get rid of undesirable individuals in a legal and cost-effective manner, including by gathering sufficient evidence and understanding legal procedures.
According to the law firm's summary, the talk's conclusion was met with "overwhelming applause" from the attendees, some of whom said they "greatly benefited" from it.
A receptionist at Hengdu Law Firm told Sixth Tone's sister publication The Paper that they did not know how their write-up of the event came to be published on Sina Finance and were looking into the matter. By Thursday, the post could not be found on the law firm's website or WeChat account.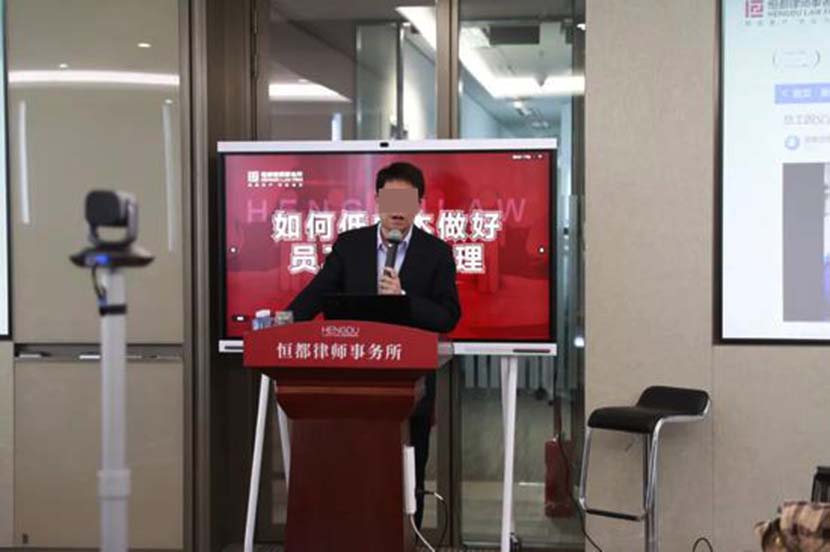 A lawyer from Hengdu Law Firm gives a seminar on how companies can fire their employees cheaply in Beijing, May 9, 2021. From Weibo
According to Hengdu's website, the law firm — whose slogan is "Clients First: Solving Your Problems" — was founded in 2010. It has around 1,000 total lawyers and associates and provides legal services regarding intellectual property, mergers and acquisitions, and other business-related matters to more than 20,000 clients.
The seminar has since generated much discussion online, with critics saying it tramples on the rights of regular workers, who in China sometimes self-deprecatingly refer to themselves as "corporate slave" or "laborers."
"It's so pathetic that these legal people are studying how to exploit loopholes to dismiss their employees," one person wrote on microblogging platform Weibo. "Why are they flaunting this kind of thing? Do they feel honorable?" said another.
Others, meanwhile, have expressed sympathy for lawyers and legal representatives, who aren't immune from vulnerability. "They are just giving advice and suggestions by standing on the side of their clients," read one typical comment.
Yuan Yayang, a lawyer specializing in labor disputes, told Sixth Tone that while managers have easier access to legal advice, it's essential for employees to educate themselves about labor law to protect their legal rights and interests.
Yuan, who is also an active expert on question-and-answer platform Zhihu, added that such seminars will only help employers take advantage of the knowledge gap between them and their workers when it comes to labor law.
"They could just make the confused employees sign a dismissal slip without rhyme or reason," Yuan wrote on Zhihu. "The companies are already in a strong position. With the help of this seminar, employees may become even more helpless."
Editor: David Paulk.
(Header image: People Visual)