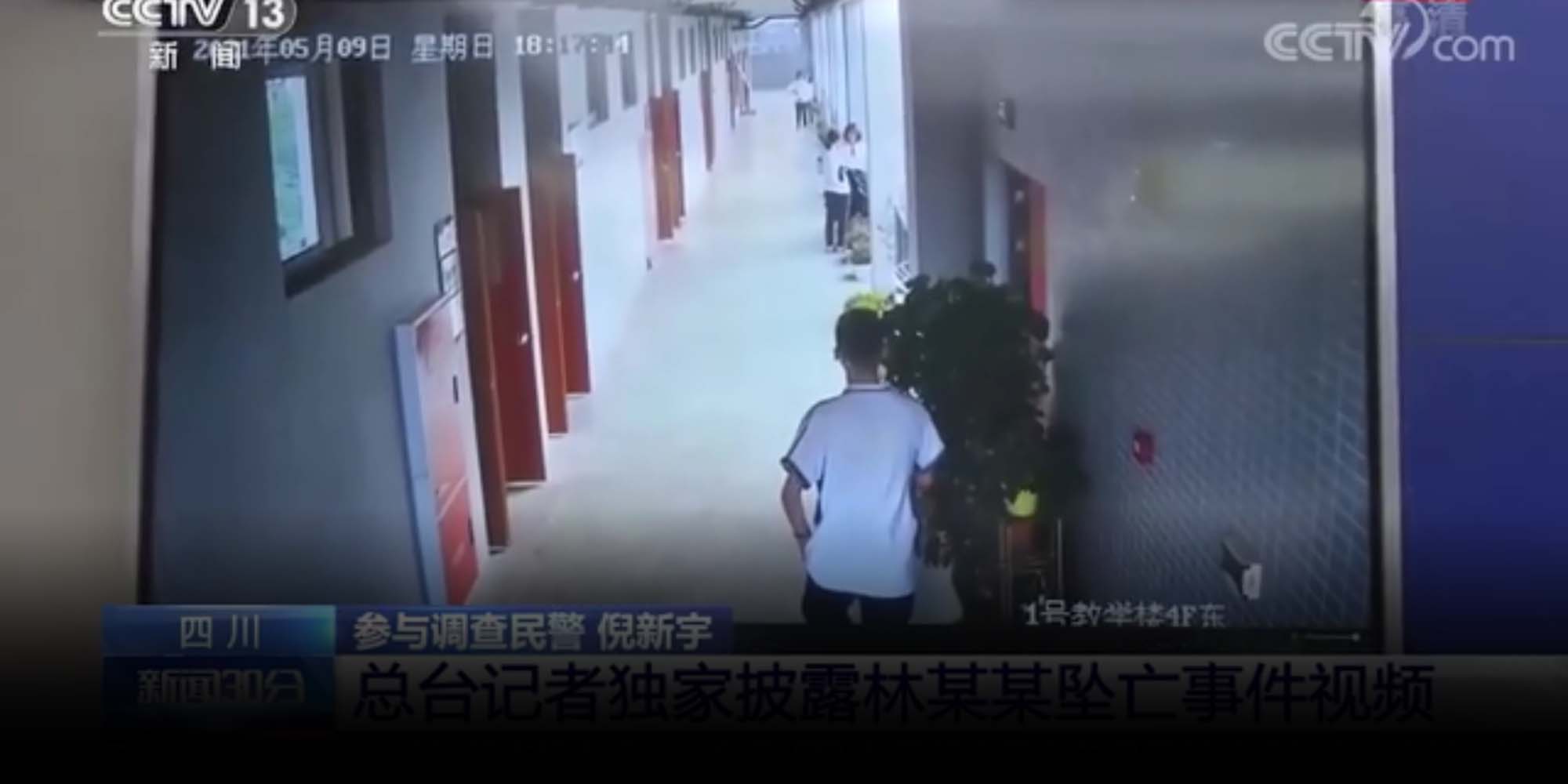 NEWS
Chengdu Student's Death Highlights Need for Campus Counseling
New evidence suggests the teen had been going through a tough time and may have benefitted from mental health services.
Days after a grieving mother demanded answers about her son's apparent suicide, a forensics investigation confirmed no foul play was involved in the boy's death, prompting calls for more comprehensive mental health services at schools to prevent similar tragedies from happening in the future, China's state-run Xinhua News Agency reported Thursday.
On Sunday, 16-year-old Lin Weiqi killed himself at Chengdu No. 49 High School "due to personal issues," according to local authorities. But his mother, unconvinced, accused the school of withholding crucial information, including surveillance footage of the exact moment the boy supposedly jumped from a building.
However, the full footage was submitted to police, corroborating the school's explanation that Weiqi had in fact killed himself, according to Xinhua. An ambulance arrived at the scene within 10 minutes, but the boy was already dead. His body was transported to a local funeral home in accordance with standard procedure.
Mi Ping, director of campus security at Chengdu No. 49 High School, told Xinhua that it took staff a while to confirm the student's identity due to severe injuries to his head, and to then find the parents' contact information, which resulted in delayed communication. Weiqi's mother said the family wasn't notified about the boy's death until two hours later, which to her seemed suspicious.
As police have released more information about Weiqi's death, public concerns about students' mental well-being have mounted. Although the teenager was assessed to be in "good psychological condition" during routine health screenings, his recent chat history with friends, obtained by police, showed signs of self-abasement, Xinhua reported.
"Recently I've been crying nearly three times a week," Weiqi had written on a note found in his pocket at the time of his death, according to local media. The note also described an episode of self-harm.
To address the growing need for mental health screening among China's students, the country's top health authority announced last year that all high schools and colleges should incorporate assessments for depression into students' regular physical exams. The notice added that schools should keep mental health records for all students and pay special attention to those who might need help.
Experts agree that such measures could be helpful in protecting children but also stressed that assessing students' mental health isn't always effective.
"Such evaluations rely on honest answers," Yu Wenle, a mental health counselor at a middle school in the eastern city of Xiamen, told Sixth Tone. "But with the number of students with psychological issues increasing, these staff are often overwhelmed."
Referring to the Chengdu incident, Yu said the school should have communicated the child's death to his parents as transparently and quickly as possible. Every school should have at least one full-time or part-time mental health counselor, according to a directive from the education ministry.
"The main reason this incident has caused such a huge public uproar is because the parents were not properly placated," Yu said, suggesting that a mental health counselor might have been helpful for communicating with the parents.
Weiqi's death has also raised concerns about how schools have historically handled deaths on campus. In numerous past incidents, schools have similarly failed to disclose important information, creating conflict between them and the parents.
On Tuesday, state broadcaster China Central Television weighed in on Weiqi's death with a scathing commentary that criticized the school's handling of the case. It characterized the debacle as a "bad example" due to the school's lack of compassion for the parents.
"Chengdu No. 49 High School's slogan is 'Seek the truth, be gracious,'" the commentary said. "These words shouldn't just hang on the wall or be spoken out loud: They must be honored in practice."
In China, the Beijing Suicide Research and Prevention Center can be reached for free at 800-810-1117 or 010-82951332. In the United States, the National Suicide Prevention Lifeline can be reached for free at 1-800-273-8255. A fuller list of prevention services by country can be found here.

Editor: Bibek Bhandari.
(Header image: A screenshot from a surveillance video shows Lin Weiqi leaving a classroom. From @央视新闻 on Weibo)