Two foreigners who posed for photos at an off-limits section of the Great Wall in Beijing have been blacklisted by the tourist site's management.
The two men can be seen behind and atop of a section of the wall with a bilingual "no crossing" sign displayed in front.
"These two individuals' bad behavior has had a negative influence, and we took appropriate measures immediately after receiving the reports," the Great Wall's Mutianyu tourist section said Tuesday via its public account on messaging app WeChat.
The company that operates the tourist attraction identified the two individuals from their registration information and has barred them from purchasing tickets to visit the area in the future.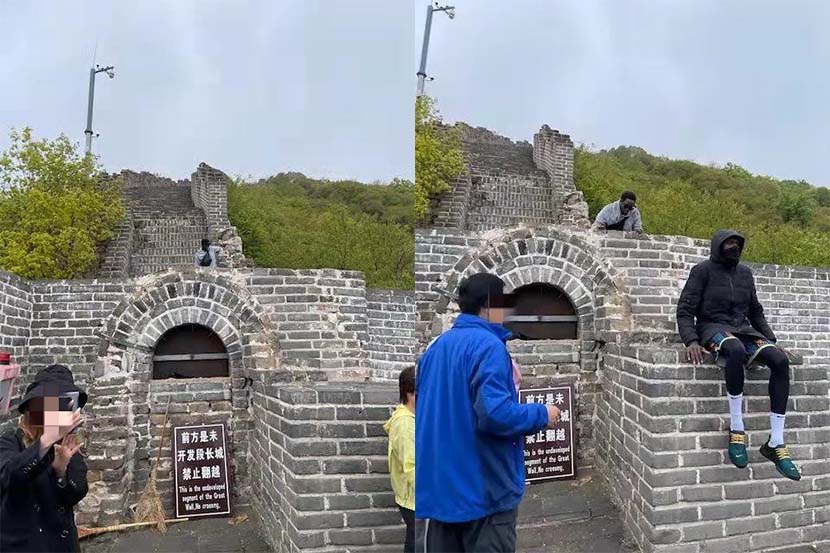 Photos show two foreigners behind and atop a section of the Great Wall with a bilingual "no crossing" sign displayed in front. From @北京慕田峪长城旅游服务有限公司 on Weibo
Mutianyu is one of the most famous and important sections of the Great Wall, which was first built nearly 1,500 years ago to protect against enemy attacks, then later expanded during the Ming dynasty.
According to Tuesday's statement, the off-limits wall section the men posed at is damaged and in need of repair. In addition to noting safety concerns, the notice also admonished tourists against contravening official messages so as not to damage the site's aesthetic appearance.
When reached by phone Wednesday, the Mutianyu Great Wall tourist site confirmed the disciplinary action against the two tourists but declined Sixth Tone's interview request.
Since 2000, the municipality of Beijing, which is home to 520 kilometers of the Great Wall, has invested 470 million yuan ($73 million) in dozens of restoration projects along the ancient site, according to official data.
Punishments including fines and blacklisting have been introduced at the Great Wall in response to repeated incidents of bad behavior by tourists. In April 2020, police detained a local man for five days after he carved characters into Great Wall bricks. Nearly a year later, three tourists were detained and fined for the same offense at the wall's Badaling section.
As such cases suggest, it's hard to police uncivilized behavior at the iconic site, especially in places that have not been developed for tourism. In August, a publication under the state-run Xinhua News Agency criticized locals for unofficially developing "wild" sections of the wall for camping and team-building outings. And ahead of China's weeklong National Day holiday last October, Beijing officials begged the public not to visit unauthorized sections of the wall, for fear of damaging them.
In 2015, China's Ministry of Culture and Tourism established a system for recording uncivilized behavior at tourism sites, including spitting, disturbing public order, and defacing facilities. Such records, which are kept for up to two years, can then be reported to law enforcement and other relevant authorities for disciplinary action.
Editor: David Paulk.
(Header image: A view of the Great Wall's Mutianyu tourist section (left); Two foreigners behind and atop a section of the wall with a bilingual "no crossing" sign displayed in front. From @北京慕田峪长城旅游服务有限公司 on Weibo)