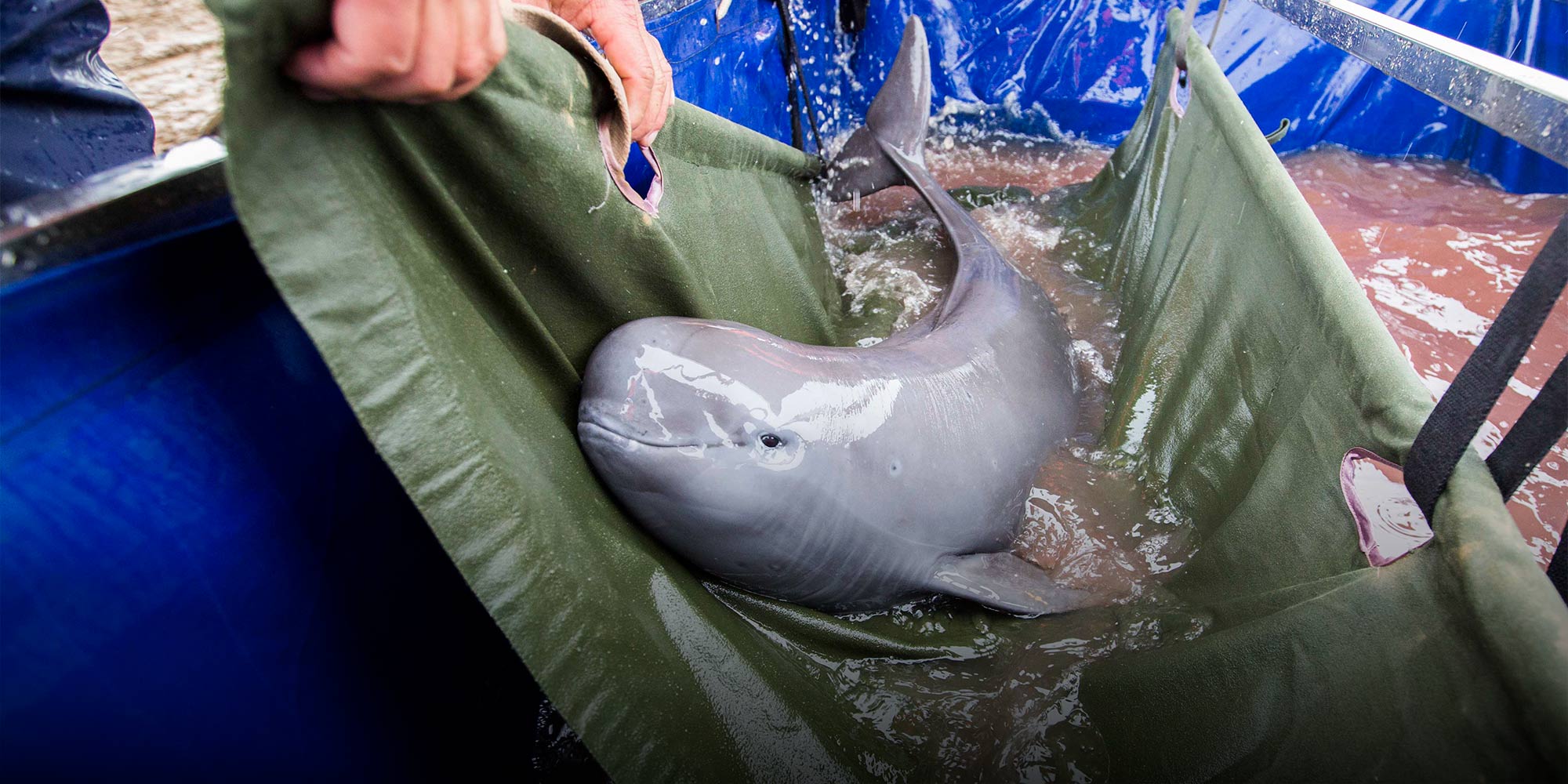 NEWS
Experts Pan Plan That Sent Endangered Porpoises to Aquariums
Breeding Yangtze finless porpoises in captivity is unlikely to grow their wild population of around 1,000 individuals, activists say.
Chinese environmentalists are questioning why a recently announced relocation program for the Yangtze finless porpoise, a critically endangered aquatic mammal, included sending several animals to aquariums that mainly serve as entertainment venues.
During an event for raising awareness of porpoise conservation held Sunday in the southern Guangdong province, officials from the Ministry of Agriculture and Rural Affairs (MOA) announced that they had, over the past weeks, relocated a total of 19 porpoises from a natural reserve in the central Hubei province to seven other locations across the country.
It was the largest relocation ever for the Yangtze finless porpoise, meant to reduce the risk of the 1,000 or so remaining porpoises becoming too concentrated in one area. The relocation sites include mostly natural reserves and research centers along the Yangtze River, the finless porpoise's natural habitat.
But two of China's largest aquariums — Chimelong Ocean Kingdom in Guangdong province and Haichang Ocean Park in Shanghai — were also on the list. Both parks have been criticized repeatedly by animal welfare activists for their inhumane treatment of animals.
Authorities did not specify how many animals they received, but a staff member at the environmental group China Cetacean Alliance, who requested anonymity because of the sensitivity of the issue, told Sixth Tone they were informed that two porpoises went to the Guangdong park and four went to the Shanghai park.
"I strongly disagree," He Daming, a Yangtze porpoise conservationist at the East Dongting Ecology Conservation Association, a grassroots organization, told Sixth Tone, referring to one-third of the relocated animals going to aquariums. "Animals that used to live in the wild have been sent to aquariums where they'll just be on display. They've lost their freedom."
Other experts Sixth Tone spoke with declined to be quoted but said they were angry with the ministry's decision.
During Sunday's event, a senior MOA official said the porpoises sent to the aquariums, which have their own research programs, would not be used in animal shows. "These porpoises and their offspring … will only be used for scientific research and science education," he said. "Domestication and performances are strictly prohibited."
Yu Kangzhen, deputy minister of the MOA, said aquariums have good equipment for and experience with breeding aquatic mammals. The decision to send porpoises to these facilities was an attempt to improve artificial breeding of the animals. Between 2005 and 2019, only four Yangtze finless porpoises were born in captivity and survived to maturity, while six othercalvesdied within 100 days.
"Why not send the animals to research institutions instead of aquariums?" said He, the conservationist, adding that animals bred in captivity tend to behave differently than wild animals, and thus can't help restore the wild population. In addition, He cautioned that moving some porpoises can impact others, as the marine mammals typically live in groups.
Animal relocation, or "off-site management," is an established conservation technique. "As the porpoise population increases steadily at one reserve, moving some animals to other conservation sites could reduce the burden of the original reserve. It can also improve the genetic diversity of other conservation sites," the staff member at China Cetacean Alliance said.
In 2018, Chinese authorities announced a similar plan to relocate 14 Yangtze finless porpoises, receiving similar backlash. That plan did not go through, the staff member said. By contrast, this year's relocation plan had already been completed before it was announced Sunday.
Because of human activities along the Yangtze and its connected lakes and tributaries, such as illegal fishing and land reclamation, the Yangtze finless porpoise's population had, by 2012, crashed to just slightly more than 500.
To save the species from extinction, the government has implemented various programs in recent years, including a decade-long fishing ban on the entire Yangtze River that went into effect in January. Then in February, China updated its list of nationally protected wildlife, upgrading the protection level of finless porpoises from the second to the top tier, meaning longer jail sentences and steeper fines for poachers.
"With its current population size, the Yangtze finless porpoise is still in need of protection," the China Cetacean Alliance wrote in a recent opinion article. "Facing the possibility that any human activity can harm the wild population, we need to be as careful as possible."
Editor: Kevin Schoenmakers.
(Header image: A Yangtze finless porpoise waits to be inspected by researchers from the Institute of Hydrobiology of the Chinese Academy of Sciences in Jiujiang, Jiangxi province, 2017. Fu Jianbin/People Visual)