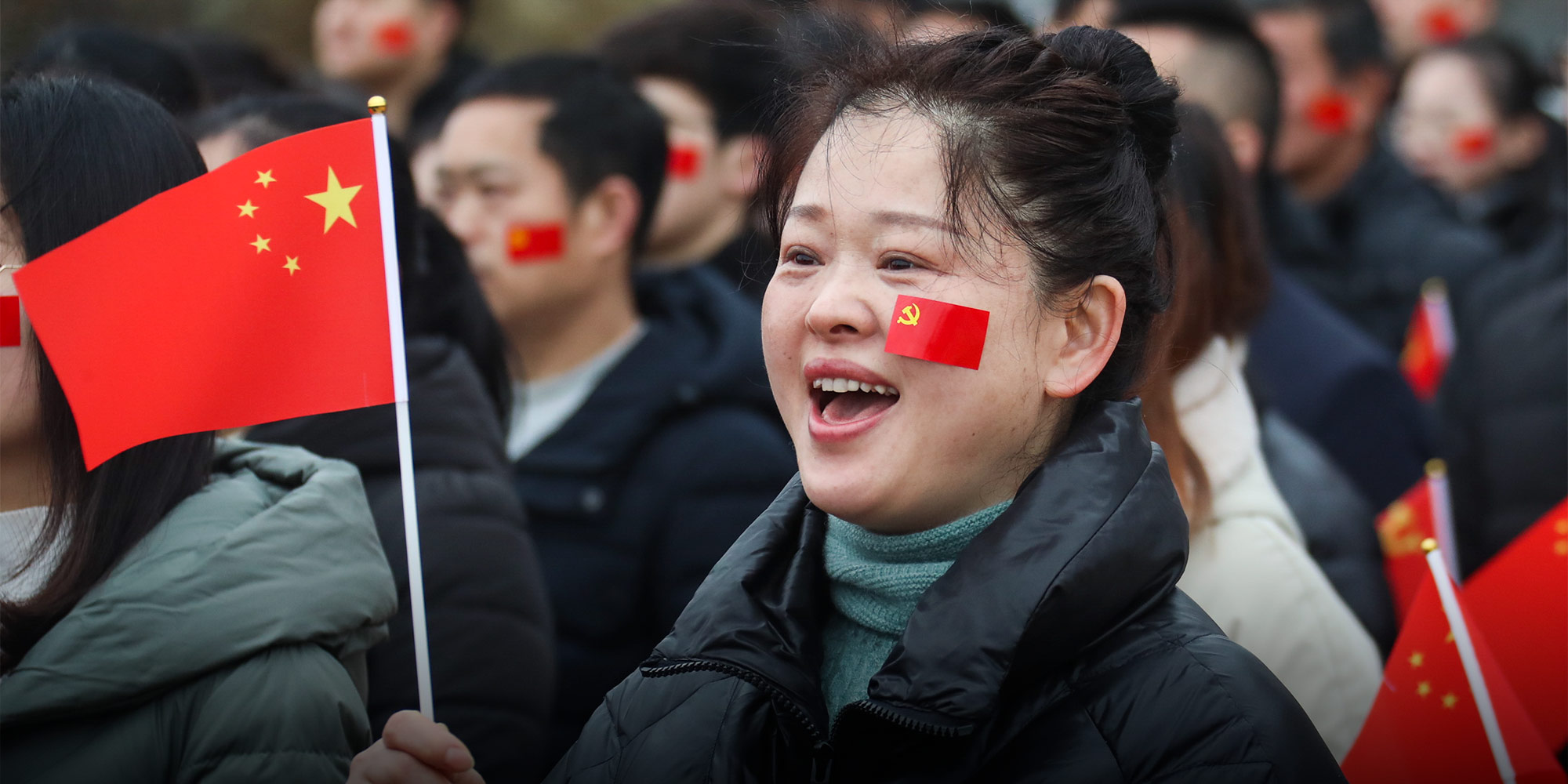 VOICES & OPINION
Inside the Communist Party's Private Sector Push
The Communist Party of China is building grassroots organizations in the private sector in a bid to bring corporations and the state closer together.
The Communist Party of China conceives of itself as a "mission-oriented" party: the one political organization capable of mobilizing the nation to serve the Chinese people's overall interests and accomplishing key, long-term goals like eliminating extreme poverty. A mission isn't enough on its own, however, and the party has long recognized that actually achieving its goals requires constructing, developing, and expanding party cells all the way down to the grassroots level of society.
Prior to the "reform and opening-up" period, this was relatively simple: The economy was controlled by the state, and every enterprise and work unit naturally had a grassroots party branch.
As a unit of organization, grassroots party cells are rooted in the battles fought by the Communists for control of China in the 1920s and 1930s, which convinced Mao Zedong that it was necessary to "establish branches of the CPC at the level of companies" in the army to better secure its obedience to the CPC. After the Communists' triumph in 1949, variants of the model were expanded to every sector of the economy.
The advent of reform and opening-up in the late '70s, however, resulted in the emergence and rapid expansion of a new, harder-to-manage private sector. Today, private enterprises account for more than 60% of China's GDP and employ over 80% of its urban working population. Yet many private firms neglected to establish their own party branches. Eventually, the issue became serious enough for the CPC feel it necessary to reprioritize party building in private enterprises.
This renewed emphasis reflects how the party continues to see grassroots branches as an effective way of growing its governing resources and consolidating its ruling status. Yet the CPC also views the branches as a win-win proposition for private firms, a belief often shared by private entrepreneurs themselves. Setting up party branches integrates private enterprises into China's political system — often in mutually advantageous ways — and party organizations are seen in some corners as a potential solution to widespread problems like weak corporate cultures, backward corporate governance mechanisms, poor business confidence, and labor conflicts.
According to a nationwide tracking survey, the party-building campaign has achieved some positive results, with the proportion of private enterprises with party branches rising from 27% in 2002 to 48% in 2018. That means almost half of all private enterprises in China have an internal CPC branch. The likelihood of a company setting up a party branch is positively correlated with the business owner's level of education, whether they are a party member or political delegate, and the size of their business. Owners with established political affiliations are naturally more willing to answer the CPC's call for building party branches within their enterprises, and large-scale enterprises — which must maintain good relationships with the state — are generally more proactive about complying with key goals like party building.
Geographically speaking, the rate of party organizations is higher in the central and western parts of the country than along the eastern seaboard. This is because the private economy in eastern China is generally far more developed than in the western areas and is characterized by a high diversity of firms, making it more difficult to promote party building there. Across industries, the rate of party organization coverage is highest in the manufacturing sector, where firms' dependence on exports necessitates they maintain close ties with the government to deal with issues like tariffs and trade barriers.
Many private enterprises have high expectations for their party-building efforts. According to the above-mentioned survey, entrepreneurs see having a party organization as recognition of their legitimacy and importance to China's socialist market economy. Also, because most private enterprises operating in China are relatively young and lack sound internal organizational cultures and management mechanisms, some business owners hope a party branch will help unite their workers and guide the construction of a corporate culture, in addition to carrying out ideological and political work.
There are other benefits as well. Grassroots party organizations provide a channel for businesses to reach policymakers, giving owners access to better information about recent developmental policies and helping them avoid misjudging political and business environments, thereby increasing business owners' confidence. This provides businesses the security they need to invest more in long-term development and innovation, boosting productivity and performance. The branches can also be beneficial on the human resources front. Companies with party branches give greater weight to hiring party members, who often possess more human or social capital, and because they naturally attract outstanding and ambitious employees already inside the company to join the party, then give these workers additional guidance and training.
As for the state, although grassroots party organizations do not participate in the day-to-day running and decision-making of enterprises, building party branches is conducive to inserting positive values into private enterprises and guiding them to better fulfill their social responsibilities, such as making greater contributions to society, protecting the environment, improving employee welfare, and boosting corporate spending on training. Party branches' positive influence on innovation, long-term development, productivity, and performance correspond to key state priorities, but they're also beneficial to companies themselves, even if they don't result in immediate gains.
Of course, party building within private enterprises is not always a smooth process. To begin with, most private enterprises in China are still family-run, and these firms show a strong preference for retaining the founding family's absolute control over operations. As the establishment of a party branch may affect this control, family-run enterprises tend to have more negative views toward party building. Second, party organizations are ultimately governed by political ideology, not market logic, which may put them at odds with traditional, profit- and market-oriented corporate governance institutions like a board of directors, and potentially cause new organizational headaches. In an effort to bridge these divides, the CPC is recruiting more family-run business leaders into its ranks, while also opening new lines of communication between party branches and corporate boards.
The CPC sees party building as a way to integrate the private sector into a sustainable national governance system while enhancing its capacity to govern an increasingly complex country and society. Yet that shouldn't blind us to the political, social, economic, and cultural advantages party branches can bring to firms themselves, many of which are crucial to ensuring companies' long-term success.
Ma Jun, an assistant professor at Jiangnan University's School of Business, co-authored this article.
Translator: David Ball; editors: Lu Hua and Kilian O'Donnell; portrait artist: Wang Zhenhao.
(Header image: A woman sings patriotic songs in Huai'an, Jiangsu province, Feb. 28, 2021. Zhao Qirui/People Visual)