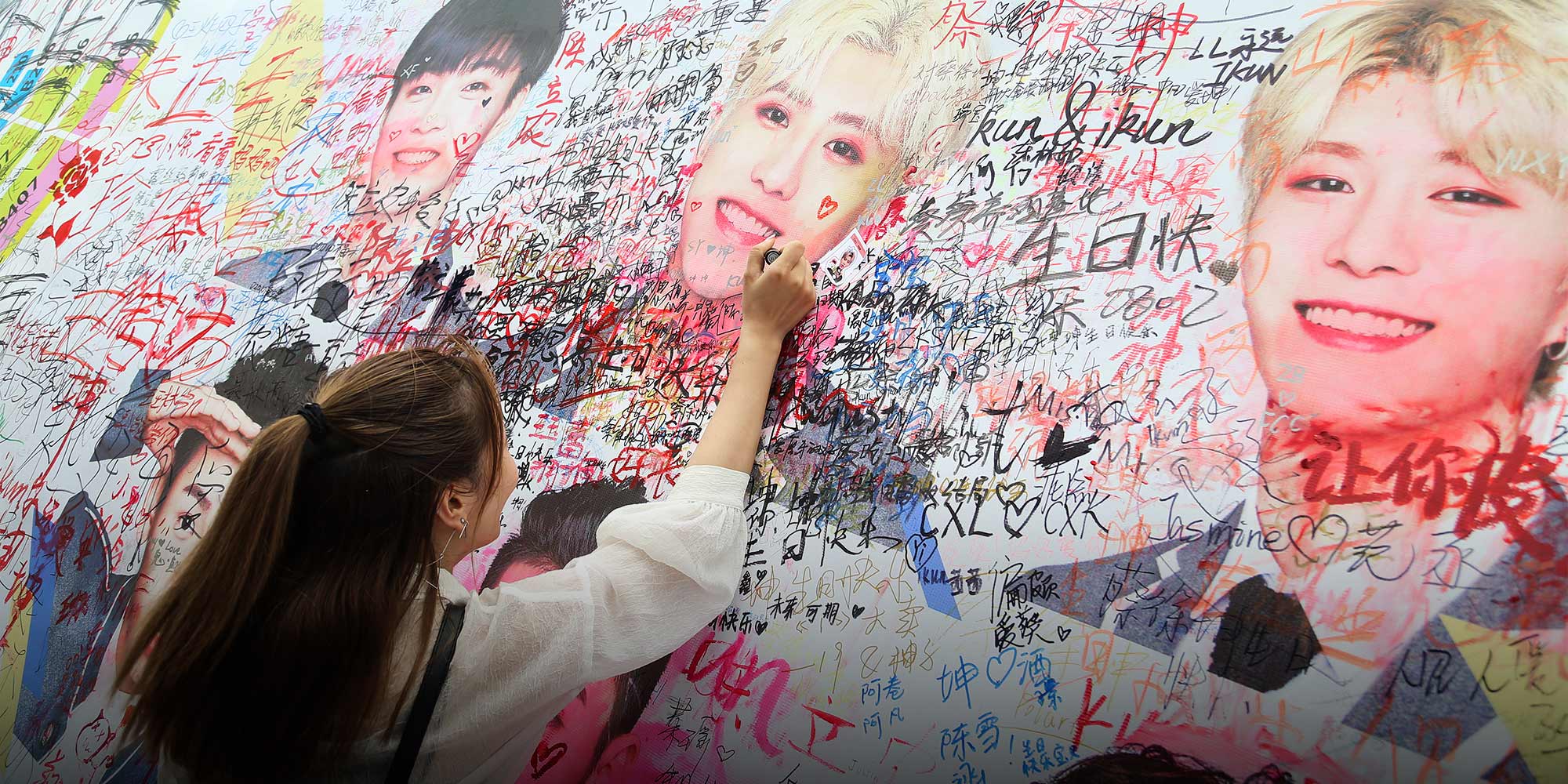 NEWS
China Targets 'Chaotic' Online Fan Groups to Tame Teen Culture
Authorities say hate and abuse on social media may be negatively impacting young people.
China's top cyberspace watchdog said it will strengthen oversight of online fan groups, which often use organized activities to elevate their beloved idols' images or tarnish competitors' reputations.
Zhang Yongjun, a senior official at the Cyberspace Administration of China, told reporters on Saturday that the agency will focus on "standardizing the online behaviors of fan groups" in a three-month campaign to minimize online hate and abuse. He said "chaotic fan circles" have become a problem online, resulting in the "erosion" of teenagers as they indulge in "limitless" fan culture.
The remarks came after a popular online talent show was suspended last week days before its season finale. People were seen dumping out large quantities of milk products that had been purchased solely for their bottle caps, which came with QR codes allowing people to vote for their favorite contestants on "Youth With You 3."
Streaming site iQiyi, as well as the bottled milk manufacturer, apologized for causing an "undesirable social impact" after social media users and state media slammed the show for its thoughtless promotion. Last month, China also approved a law that would impose hefty fines for wasting food.
Fiercely loyal to their idols, China's online fan groups engage in a variety of reputation-boosting activities. From online campaigns to elevate their chosen idol's social media rankings to buying multiple copies of their albums or even donating to charities in their idol's name, the groups are highly active online.
Fang Kecheng, an assistant professor at the Chinese University of Hong Kong's School of Journalism and Communication, told Sixth Tone that the rise of digital fan culture, along with some of the controversies such groups have courted, have made them targets for further scrutiny.
"They (the authorities) realize that fanquan — or fan circles — are a major driver of mobilization," he said: Their unpredictability may be a source of unease.
During Saturday's press conference, Zhang said "professional trolls" or internet users who "create chaos" will be banished from digital spaces. The administration also plans to set up specialized teams to monitor online fan groups.
"It's fine that young people like stars, but it becomes a problem if it doesn't have a bottom line," Zhang said.
On Monday, the Beijing Municipal Radio and Television Bureau, which oversees variety shows, also banned programs from asking fans to purchase votes for their idols.
Meanwhile, Fang said the regulation on overzealous online fan culture will have a direct impact on China's massive fandom economy. But when it comes to fan groups specifically, he added, the effect remains to be seen. China's fan economy was projected to be worth 100 billion yuan ($15.8 billion) by 2020.
"It (the campaign) is going in the right direction, but what is needed is a more open and inclusive sociocultural environment that encourages different values," Fang said, adding that other factors besides fan groups can be responsible for divisive public opinion.
Editor: Bibek Bhandari.
(Header image: A fan signs her name on a poster of Chinese idols in Wuhan, Hubei province, 2018. Wu Wei/People Visual)