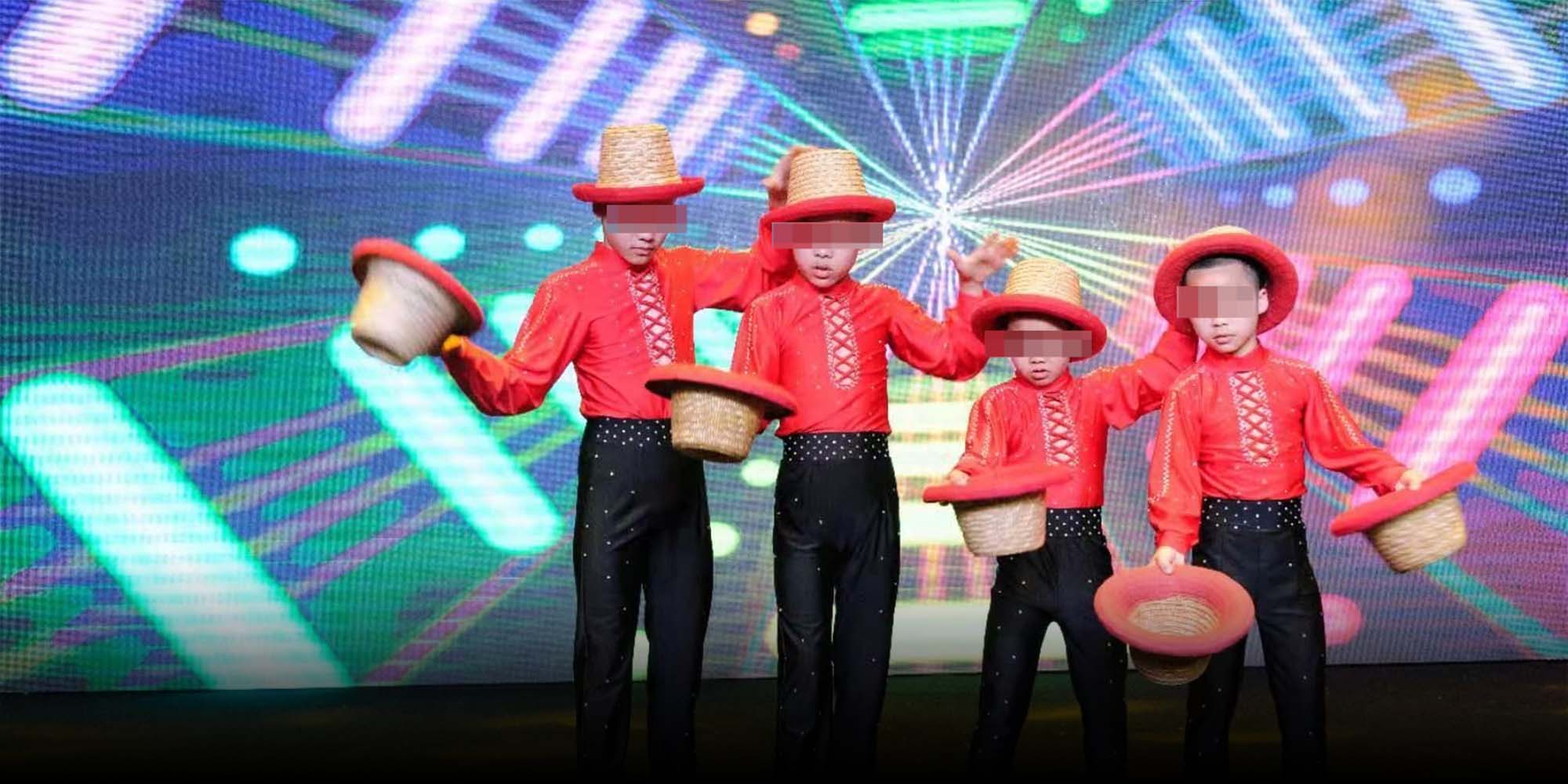 NEWS
Child Acrobats Flee Abusive School, Found After 6 Days
Many online have called for child performances to be abolished completely, while professionals say rural training schools deserve more scrutiny.
The recent case of runaway child acrobats in southwestern China has again shed light on abusive practices by some grassroots training schools and prompted calls for better protections against the exploitation of minors.
The four trainee acrobats aged 11 to 15 were found in Sichuan province on Friday, six days after escaping from their cruel "performance agent" in Chengdu, local media outlet Red Star News reported Monday.
According to Xiang Xuehua, the eldest of the four children, the agent had been forcing them to give up to two performances daily since they arrived in Chengdu on April 22, generating 1,000 to 3,000 yuan ($150 to $300) per show. But the young acrobats were to receive just 100 yuan a month, Xuehua said.
Moreover, the children were subject to relentless verbal abuse from their agent, who withheld food, forced them to do household chores, and punished them with hundreds of push-ups when they made mistakes during performances.
The four children ran away the evening of May 1 — the first day of China's Labor Day holiday — in hopes of returning to their hometowns in the neighboring Guizhou province, but they ended up going the wrong way.
The children, who have since returned to Guizhou, were students at a free, state-run vocational school in Wuqiao County, in a part of the northern Hebei province that's famous for producing acrobats. As part of its work-study curriculum, the school had sent the children to the Chengdu agent for an "internship" lasting up to six months.
Xuehua told Red Star News he had agreed to go to the acrobat school last year, along with his younger brother, so that their single father could invest the family's limited resources into educating their two sisters.
To the teenager, the Chengdu school was appealing, with its promises of beautiful scenery, strong friendships, and access to a nearby park. In reality, however, it was a closed-off institution ruled by taskmasters who enforced a strict training regimen.
According to Xuehua, it was like living in a hamster wheel: cycling endlessly among the dormitory, the gym, and the cafeteria beginning at 5:30 each morning, with the playground off-limits. The young wards received meat just once a week and grew used to being verbally abused, he said.
"They were very fierce," Xuehua said of the trainers. "If you didn't perform well, they would scream and swear at you."
He Guowei, an acrobat with Cirque du Soleil in the eastern city of Hangzhou, was sorry to hear about the case of the four kids but not surprised, given the number of small institutions in China that call themselves "acrobat training schools" even though their methods are too unprofessional to wear this mantle.
"Seeing this kind of thing, I'm extremely angry," He told Sixth Tone. "If your children really loved the art of acrobatics, wouldn't it be better to support them by sending them to a professional school where they can be trained to become real artists rather than thrown into a fiery pit?"
Such stories only perpetuate misconceptions about acrobatics, He said — that becoming a live performer is a dangerous last resort for children from poor families who must endure years of brutal training.
Acrobatics indeed has a complex reputation in China. It is widely regarded as an intangible cultural heritage worthy of preservation, but some schools' training regimens are rigorous and dangerous, and aspiring performers must start young.
Especially in rural areas, acrobat training schools walk a fine line between charity and business, taking in and caring for children from poor or broken families and giving them free training, but also needing to sustain their operations by holding paid performances.
Reacting to the news from Sichuan, many on social media expressed sympathy for the children and called out their agent and the school for exploitation. "We should stop all child and animal performances," one person said. "Isn't this child abuse?" commented another.
However, the celebrity Xing Fei, who trained as an acrobat for over 10 years before becoming an actor, stopped short of calling for child performances to be banned, telling her 12 million social media followers on Friday that she would instead like to see more attention paid to the industry to prevent such abuses.
Even now, Xing still feels pain in her neck — a lingering side effect, she said, of her acrobatic training. She vividly remembers being caned and having a trainer drive high heels into her tailbone during practice.
She also witnessed horrible accidents.
"My training partner fell from a height of 13 meters with no protection. There was blood everywhere," Xing said. "Most people can never imagine the pain that acrobat children experience."
Editor: David Paulk.
(Header image: A photo of the four trainee acrobats during a performance. From @红星新闻 on Weibo)