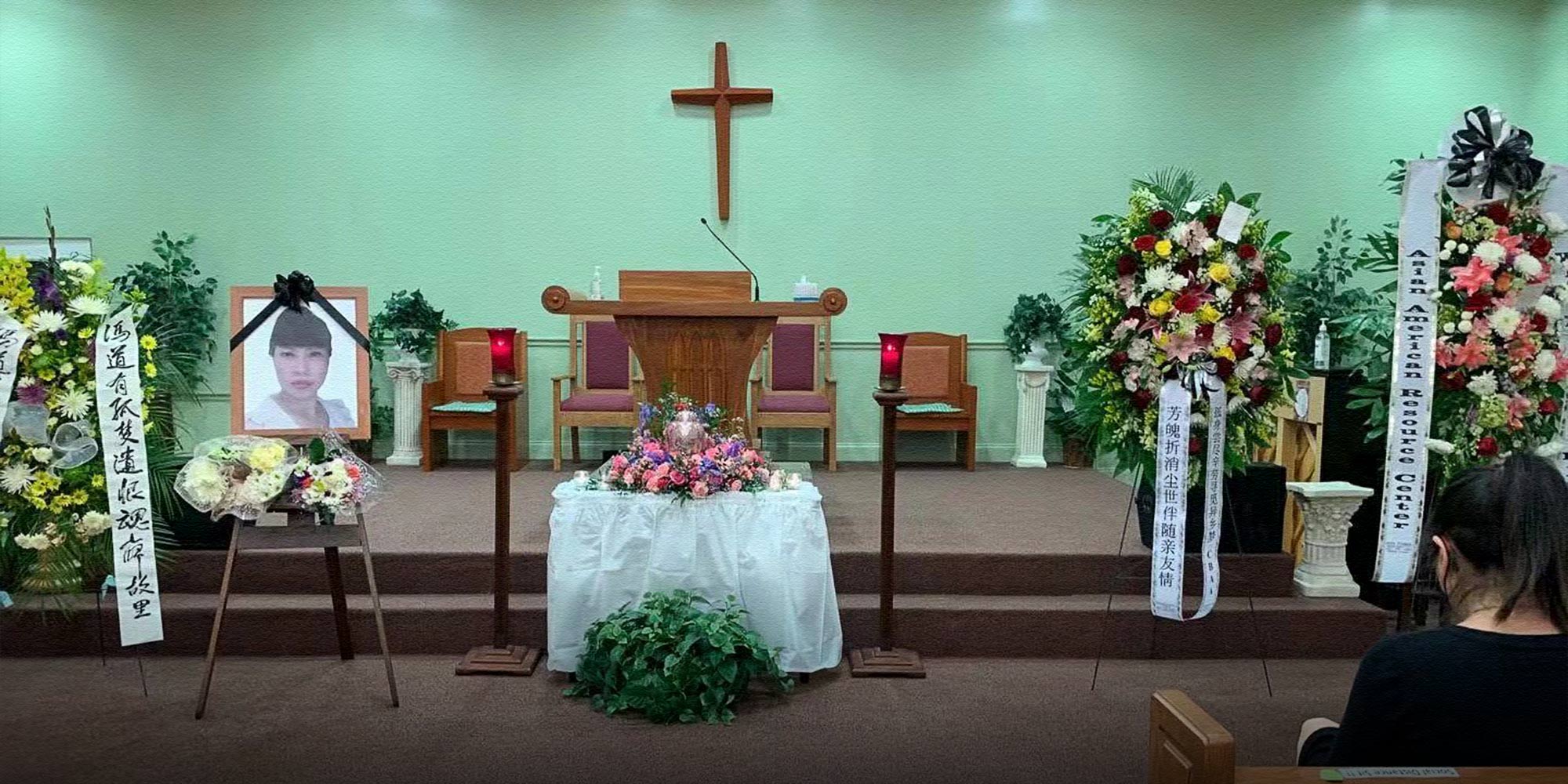 SIXTH TONE ×
The Funeral of an Unknown Woman
Strangers organized the funeral of Feng Daoyou, a masseuse who was killed in the March 16 Atlanta mass shooting.
Nobody knew the woman whose ashes were stored inside the pink urn. The details about her were scant, limited to phrases scattered in the news: "Chinese, 44 years old, unmarried, a newer worker at the massage parlor."
She wore a solemn expression in her funeral photo. Her makeup was tidy, with some of her face obscured by thick, black bangs. The photo was a selfie she had taken on vacation and the only vestige of her life. None of her family or friends were there. The memorial, held by a group of strangers, may just have kept her from vanishing without a trace.
The attendees included businesspeople, teachers, and doctors: the Asian American elite of Atlanta, in a nutshell. But the woman whose ashes were stored in that pink urn represented the other side of that community. She spoke almost no English and worked manually for more than 10 hours a day. Not yet holding a green card, she occasionally encountered robbery at gunpoint and sex crimes.
During her shift two weeks earlier, a 21-year-old white man had walked into the massage parlor and, an hour later, turned his gun on her.
After the police arrived, she was hastily taken away on a stretcher. The female owner of the massage parlor, also of Chinese descent, and two white customers had also been gunned down. The gunman had sped away to two other massage parlors afterward, killing four masseuses of Korean descent before being arrested.
The gunman attributed his actions to his "sex addiction" and saw massage parlors as an emblem of sex that needed to be "eliminated." At a time of heightened racial tensions in the U.S. and anti-Asian hate, the death of six women of Asian descent brought unprecedented attention.
American media repeatedly told the stories of these bottom-rung Asian women. Most of them were married with children in the U.S. and worked over 10 hours a day to support their families. Their customers and friends described them as warm, friendly, and hardworking. The owner of the massage parlor, Xiaojie Tan, was about to celebrate her 50th birthday and was planning her post-retirement life.
The woman whose ashes sat in the pink urn, however, was the exception. She had quickly ceased to be mentioned by the media. Nobody knew where she lived or whether she had friends and family. Her customers called her Coco, a name not uncommon in Chinese massage parlors. When the media interviewed the owner's friends, they vaguely described her as "friendly and quiet." A week after the shooting, her body continued to lie in the morgue; nobody had stepped forward to identify her.
Feng Daokun, 62, was working a shift as a neighborhood security guard in the family's native Guangdong province, in southern China, when he first found out about his younger sister from other people. His WeChat had pinged with a message saying a woman named Feng Daoyou, aged 44, was the victim of a mass shooting and that her family could not be reached. He hurriedly opened his messages and saw that he had last talked to his sister a few days ago, when she had urged him to burn a little more paper money during Tomb-Sweeping Day so she might get a green card this year. When he called her, it went unanswered.
When contacted by the Chinese embassy, Feng Daokun said he couldn't travel to the U.S. to handle his sister's affairs. And so, it was entrusted to Atlanta's Chinese community. Kevin Ying, a native of Wenzhou in China's eastern Zhejiang province who has worked in the U.S. for nearly 27 years, was one of the organizers of Feng Daoyou's funeral. By the time her body was actually delivered to the funeral parlor, the funeral was only two days away. Ying never got one last look at her, but he picked out a pink cremation urn for her, figuring that as a woman, she'd like the color.
The urn was garlanded with flowers and placed on a table set with a white tablecloth. The candles on either side of the urn flecked the tableau with a golden hue. Charles Li, a hospital administrator and a founding member of the Atlanta Chinese American Alliance, was the first to speak. His recounting of Feng Daoyou's life was the first time that the over 100 strangers in the pews below had heard her story:
"Ms. Feng was born to a farming family in Lianjiang, Guangdong in January 1977. She was the youngest child, with two older brothers and an older sister. At 14, she traveled to Shenzhen, Guangzhou, and Shanghai to work as an assembly and garment worker. She also studied cosmetology. In 1999 (speaker's error; it should have been 2017), a good friend asked her if she wanted to go to the U.S., where there might be better wages and a better life, so she secretly left without telling her friends and family. She worked in Los Angeles, New York, and Atlanta, mostly in nail salons, beauty salons, massage parlors, etc. She was a cheerful girl who loved to laugh and often sent money home to her mother. She never started her own family. On March 16 this year, one gunshot cut short her life, and her dreams."
A woman of Vietnamese descent next took the stage and said, "Ms. Feng, may you rest in peace. Your life is valuable." As she started sobbing, a heavy silence fell across the entire room. Sitting in the pews, Ying said that he saw the people around him "breaking down in tears."
The funeral parlor was located in Atlanta, more than 13,000 kilometers away from Lianjiang. Her brother Feng Daokun had thought about going to the U.S. The Chinese community would have covered his travel costs, but he'd have to quarantine for at least a month. What would he do if he lost his job?
Feng Daokun doesn't know the hopes his younger sister had for her life or in love; he had never asked. They were born in a small village deep in the mountains, and with little over 1,000 square meters of land for their family of six, their main focus was survival. When he left his hometown and moved to Sanya, in the southern Chinese province of Hainan, to work in rubber tapping, his little sister was just 3 years old. He returned home every year, though, and the few coins he gave her each time always made her happy.
Feng Daoyou started helping to support the family at a young age. She farmed, fed the pigs, grazed cattle, and did household chores. The village's young people all left in search of jobs elsewhere. So did she, dropping out of middle school to work at an electronics factory and toy factory in Guangzhou. Later she studied cosmetology and worked in Shanghai for nearly 10 years.
Feng Daokun would occasionally see photos of his sister and her co-workers eating out. Given her outgoing personality, he figured she had a lot of friends. But she never brought a boyfriend home. The women in their hometown usually married around the age of 20, which left Feng Daoyou as the only unmarried woman in her 30s.
Feng Daoyou was 37 when she moved from Shanghai to Zhanjiang, a city close to her hometown. The trivialities of life piled up: She worked every day, and when she had the time, she would travel back home and look after her mother. It was during those two years that their second eldest brother found out he had advanced colon cancer, and it fell on Feng Daoyou to take care of him. She couldn't escape being introduced to several marriage partners. Some of them had divorced and already had children, some of them she just didn't like, and in the end she refused to go on any more blind dates.
"She didn't think they were good enough!" said Feng Daokun, dumbfounded by the standards she had set. To him, women should be happy marrying just anyone, but his sister refused to discuss the topic with him.
Feng Daokun originally thought that life would go on that way, but in the winter of 2016, after their brother had died, his sister announced that she was returning to Shanghai. Only after he received a call from an international number did he learn that she had actually moved to the U.S. She had gone there with a work friend, she said. Thinking back carefully, Feng Daokun had had some inkling of that happening because she often said back home, "Things aren't easy here; how about going to the U.S.?" But he took it as a joke and would nettle her, saying, "Yeah, right — you didn't even finish middle school."
The U.S. was a place beyond Feng Daokun's imagination. Almost everything he knew about America came from the snippets of life that his sister had shared, like how the price of goods was lower compared with China, or that the U.S. was less orderly and that there were always people stealing things. When he urged her not to go outside, she reassured him, "I work two jobs a day and hardly have time to eat." Things seemed to be getting better, though. She told him that she had gotten her driver's license last year and was getting ready to buy a car this year after Lunar New Year. "Nobody walks in the U.S.; everybody drives," she said. Whenever they video-chatted, she was always most concerned about their octogenarian mother.
Last year, Feng Daoyou asked her brother to find a house for their mother in downtown Zhanjiang and wired him 300,000 yuan ($46,000) for a down payment, on top of paying the 5,000 yuan mortgage each month. Whenever she spoke on the phone with her brother and his wife, she often urged them to move their mother to the new house and look after her, instead of letting her live alone in their mountainside village. As for her, she planned to live in the U.S. for the rest of her life.
It remains unknown when Feng Daoyou moved to Atlanta, but the city shared similarities with Guangdong. It was summer half the year, with no winter to speak of. The price of commodities was manageable, and it was a friendly environment for new immigrants. Three months previously, she'd arrived at Youngs Asian Massage, a well-known establishment within the Chinese masseuse community. Where the surrounding stores might have only one or two workers, Youngs had five.
Sophia, the owner of Jojo Massage, located less than a 10-minute drive from Youngs Asian Massage, said Feng Daoyou could have built a life for herself as a masseuse. Sophia opened her salon in 2009, and has since bought a small house and started a family. But the other side of that ideal life is intense competition.
Jojo Massage is located along Highway 92, where a cluster of nearly a dozen Chinese massage parlors had opened for business in the past decade. "It's tough, opening a massage parlor. Your staff sees you running your own business and making money, so then they go and rent a place next door, prop up a bed, and open their own store. If I charge $60 an hour, then they'll charge $50. I don't do anything shady, but some do," Sophia said. "There are no rules!"
A native of Harbin, in China's Northeast, who married a U.S. citizen, Sophia has 10 years of experience working in Atlanta's massage industry. Her workdays run for over 10 hours, and she has previously had surgery on both hands because of tenosynovitis. Most masseuses are not licensed, so massage parlors constantly worry about police checks. Some of their customers come armed; some have nose rings and tattoos across their bodies. A few will ask for special services, while some leave meager tips. She constantly has to be on alert for dangerous situations and find ways to get certain customers to leave.
Sophia heard from store employees that the gunman lived nearby and had visited Jojo Massage before.
The day after the shooting, Sophia's parlor didn't open. She bought a bouquet and placed it at the entrance of Youngs Asian Massage, feeling the weight of the moment. "Dying in a foreign place is the greatest tragedy," she said. "I heard the owner was about to retire and go travel. So it goes." But she knew nothing about Feng Daoyou. "Where is she from?" she wondered.
On the day Feng Daokun learned about his sister's death, he collected his mother from the village, afraid that the villagers might let something slip. But she sensed that something was off and kept saying, "You're definitely hiding something from me." Sometimes she would gesture to her phone and ask her grandson, "How come I don't get any calls anymore?" But they continued to keep her in the dark, telling her that her phone was broken.
Feng Daokun recently dreamt of his sister. In his dream, she was dressed in soiled clothing. It was dark there, she said, and she was going to go change. He found that odd, having never seen his sister like that before. Before, when they video-chatted, she always had her bangs neatly combed. In another dream, she told him, "I'm not in the U.S. anymore. I'm home now."
Her ashes never made it back to her hometown, as their customs did not allow unmarried women to be buried in the village. Asked if there would be other memorials held for her, her brother, who barely ekes out a living, responded, "There's no time for that."
The cemetery in downtown Atlanta for Feng Daoyou was chosen by Ying. It is also the resting place of his mother, who he figured could keep Feng Daoyou company. He invited a monk to recite sutras before they interred her, in hopes of helping her pass safely into the next world.
Feng Daoyou was laid to rest on Tomb-Sweeping Day, which fell on the same day as Easter this year. Accompanied by the ringing of three bells, her ashes were placed in a columbarium. The arrangements were so rushed that the plaque was still missing her name, date of birth, and date of death.
At the end of the ceremony, the crowd of strangers, who'd had their hands folded in prayer, lifted their heads and left in twos and threes. It was late in the afternoon. The sun shone brightly, with some hours left until nightfall. Like the tide, the people that had been fleetingly present for Feng Daoyou's final moment slowly ebbed away.
A version of this article was originally published by White Night Workshop. It has been translated and edited for length and clarity, and is republished here with permission.
Translator: Katherine Tse; editors: Du Xinyu and Kevin Schoenmakers.
(Header image: A view of Feng Daoyou's funeral in Atlanta, April 2021. Courtesy of Kevin Ying)