Food delivery drivers in the northwestern Chinese city of Xi'an are delivering more than meals on wheels: Their takeout boxes are also serving up slogans to make passersby think.
The Rider Meal Box Plan is a local art initiative that rents out drivers' insulated takeout boxes for artistic messages to help make delivery drivers more visible while providing them with extra income. Since April, the project has recruited over 50 food delivery drivers to ride with the eye-popping slogans, and anyone can rent the space at a rate of 10 yuan ($1.50) for five days, provided it's for noncommercial use.
"I think it (a meal box) is an excellent display space," Ren Yifei, the local artist who started the project, told Sixth Tone. "I don't know the exact number, but there are tens of thousands of riders on the streets of Xi'an each day. … It's such a fluid space. … Can we use it to present people's voices and thoughts?"
Some of the ferried messages are lighthearted, while others are intended to raise awareness on certain issues.
"Have you eaten chilis today?" reads one such message. "Depression is not shameful," says another.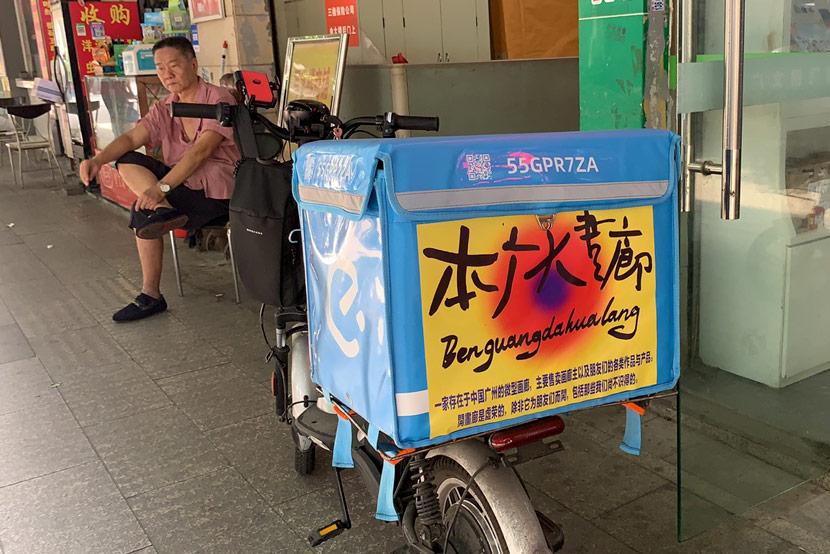 Slogans on Huang Yijing's food delivery box in Guangzhou, Guangdong province, 2021. The text on the board reads: "Grand Guangzhou Gallery. A small gallery based in Guangzhou that mainly sells artwork by the owners and their friends. Opening a gallery is a vain pursuit, unless it is for friends, including those we haven't met yet." Courtesy of Huang Yijing
China's food delivery business, worth more than 650 billion yuan, is powered by an estimated 7 million delivery workers who work long and tenuous hours to shuttle takeout orders, rain or shine. However, limited labor rights protections and precarious work conditions plague this corner of the gig economy, with workers often complaining about platforms slashing their pay.
Ren said his art initiative is part of a larger collective called Co-Governance Space in Xi'an that organizes various recreational activities and discussion programs for delivery drivers, among other events. He himself worked as a food delivery driver for three months to better understand the job before starting his project.
The Rider Meal Box Plan has so far received about 300 slogans from students, white-collar workers, artists, and activists, and has even branched out to other cities including Beijing and Guangzhou.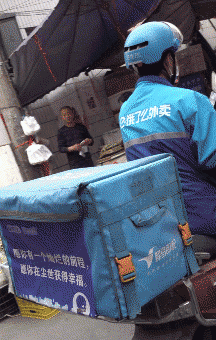 A GIF shows a courier riding his scooter with a slogan on the delivery box, 2021. The slogan is from poet Hai Zi's "Facing the Sea, With Spring Blossoms." The text reads: "May you have a brilliant future, and may you enjoy happiness in this earthly world." From 共治空间 on WeChat
Huang Yijing, a delivery driver in Guangzhou, said he found out about the project on messaging app WeChat and then contacted Ren to join in the drive. For the past two weeks, his delivery box has become a billboard for a nonexistent art gallery: The artist paid him 40 yuan to promote a phantom entity for 20 days.
"I think it's very fun," the 25-year-old told Sixth Tone while on his night shift Thursday. "Just today, I saw some middle schoolers gathering around my meal box, commenting to each other about it."
Huang, a former dancer, turned to food delivery in March to try a different career and also repay his debts. He earns about 6,000 yuan a month and is the sole participant in Ren's project in Guangzhou.
The Xi'an-based artist said he is still working to convince more delivery workers to join in, coming up with their own slogans and designing posters for their boxes. Ren's team would cover printing costs, though the drivers wouldn't make any money off their newly decorated boxes.
Meanwhile, Huang said that if he were to put out a message himself, it would be about road safety and cautioning drivers to turn down their high beams, as he once nearly got into an accident due to the blinding lights. But he said he may not have time to do that and would prefer to leave it to the artists.
"Who would do this? After running after orders all day, we are too tired," Huang joked.
Editor: Bibek Bhandari.
(Header image: Slogans on delivery drivers' scooters, 2021. They say "Let's watch the sunset together" (left) and "Have you eaten chilis today?" From 共治空间 on WeChat)