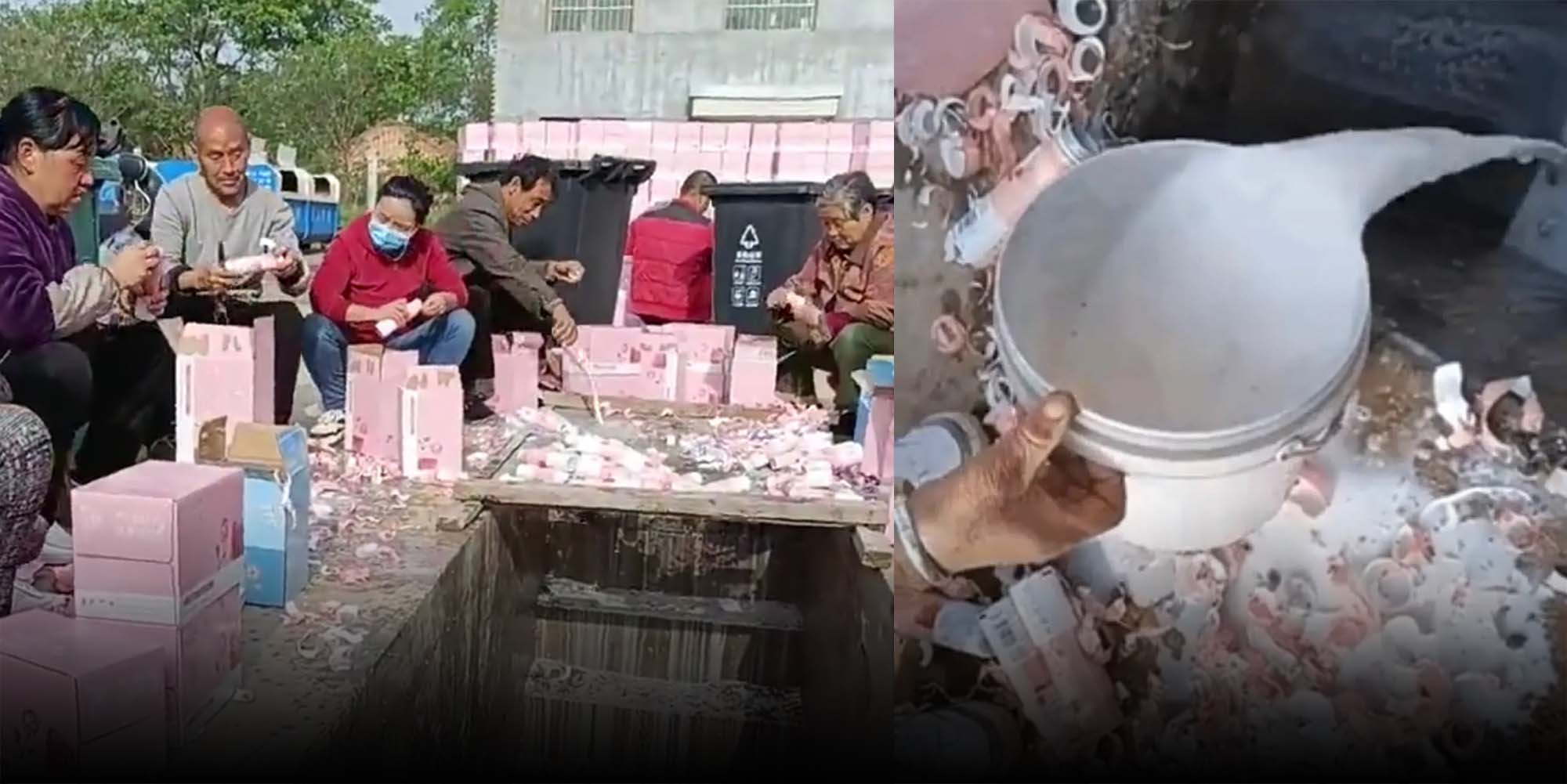 NEWS
Chinese Idol Show Shut Down Over Spilled Milk
A viral video stoked fears that fans of "Youth With You 3" were wasting food after buying bottles of flavored yogurt drink just to get extra votes for their favorite contestants.
One of China's most popular online talent shows has been suspended days before its season finale due to a voting promotion that may have resulted in crazed fans wasting vast quantities of milk.
The trigger was a video that went viral over the five-day Labor Day holiday in early May, showing a group of middle-aged people opening bottles of dairy product, pouring their contents into buckets, and dumping the buckets into a drainage ditch. All they were interested in, apparently, were the bottle caps with QR codes printed on the inside that could be scanned to vote for contestants on the wildly popular talent show "Youth With You 3."
Though it's unclear when and where the video was recorded, it is an open secret that die-hard fans of such shows spend absurd amounts of money to help their favorite contestants win. This time, however, their irrational — and potentially wasteful — behavior has drawn fire from the state-run Xinhua News Agency.
China just enacted its inaugural anti-food waste law last week, Xinhua said in an editorial published Tuesday, characterizing the scene depicted in the video as "disrespecting labor" and "showing contempt for the law."
"Ultimately, this (behavior) will mislead young people and erode their values," the editorial said. "This isn't just a matter of pouring dairy products into a ditch — it's about ditching our youth!"
Hours later, Beijing's radio and television bureau ordered iQiyi, the video streaming site that produces "Youth With You 3," to suspend the show — just days before its scheduled finale on May 8. "The platform should improve the management of its program, as well as check and rectify the existing problems," the bureau said, without identifying the problems.
In response the next morning, iQiyi said it would "accept the criticism" and "earnestly rectify" the matter.
"Youth With You 3" is sponsored by China's largest dairy brand, Mengniu. Since mid-February, an initial crop of around 120 contestants have been whittled down to just 20 over the course of several voting rounds. After the finale, only the top nine will be invited to form their own boy band.
Fan voting is the sole criterion for who gets cut, and who edges one step closer to pop stardom.
According to the show's rules, viewers can cast up to three votes per day for each of their favorite contestants on iQiyi's app or website. Additional votes, meanwhile, can be earned by purchasing a sponsored product called Zhenguoli yogurt drink.
To ensure that their favorite contestants prevail, astonishingly well-organized fan clubs raise money to buy these products en masse and tally more votes, with the totals resetting after each round.
According to Sixth Tone's sister publication The Paper, the previous season of "Youth With You" saw the fan clubs of the nine eventual winners spend a whopping 48 million yuan ($7.37 million) on Mengniu dairy products.
Among the nearly 6,000 product reviews on Zhenguoli's official shop on e-commerce platform Tmall, it's virtually impossible to find a customer review that references the product's taste. Instead, nearly all of the "reviews" contain images of at least one contestant in hopes of inspiring others to contribute their votes.
The shop's customer service representative told Sixth Tone on Thursday that "Youth With You 3" voting has been terminated. "You could follow the show for more updates," she said.
While authorities have called for an end to the flagrant food waste depicted in the viral video, some fans of the show have objected to such intervention.
"Everyone knows it's bad to waste food. At the root of the problem are the sponsors and the production team. If they hadn't printed the votes inside the bottle caps, who would be throwing away these drinks?" one supporter of a current "Youth With You 3" contestant told Sixth Tone. "Otherwise, even if the fans purchased boxes of milk, the unopened ones could be donated to charity. It's the voting system that needs to be improved."
Mengniu has sponsored "Youth With You" and another idol talent show — Tencent-produced "Chuang," also known as "Produce Camp" — since 2019. Last week, that show made international headlines after a Russian contestant who hadn't wanted to participate in the first place was finally granted his freedom after losing the final vote.
Mengniu's 2020 annual report highlighted that its product lines were successfully promoted because of the sponsorship deals with the two talent shows. Despite some disruptions during the COVID-19 pandemic, sales of the Zhenguoli line increased last year "due to the introduction of premium products and efforts to connect with young consumers through popular media publicity."
In February 2020, the China Netcasting Services Association, one of the country's largest government-backed internet groups, published a guideline stipulating that online programs should not set "pay per vote" rules for competitions, including encouraging viewers to buy certain products or pay membership fees.
Editor: David Paulk.
(Header image: Screenshots from the viral video show people opening packages of Mengniu's Zhenguoli yogurt drink product to collect the caps, which can be used to vote for contestants on iQiyi's popular idol show "Youth With You 3." From Weibo)