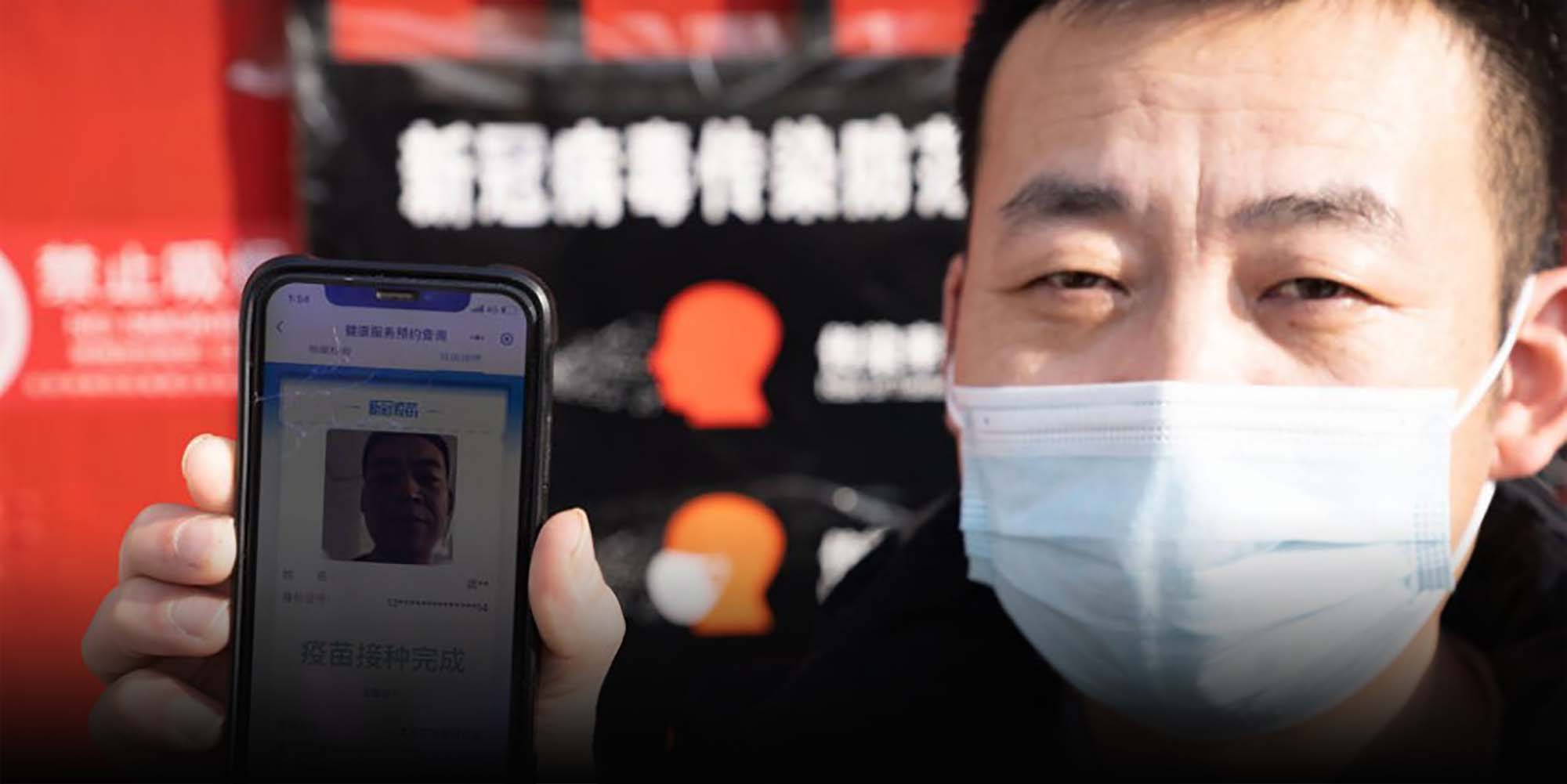 NEWS
Chinese Province Launches Gold 'Health Code' for Vaccine Recipients
The digital reward is designed to motivate young people to get vaccinated, according to local authorities.
China has been using digital "health codes" to track and trace COVID-19 infections since the start of the pandemic. Now, local officials want to turn them into a fashion item.
Hundreds of millions of people have downloaded health code systems onto their smartphones, giving Chinese authorities access to their location and other personal data.
People are often still required to show a green code — indicating they haven't been in close contact with anyone infected with the coronavirus — when entering banks, hotels, and many other venues.
Now, eastern China's Shandong province plans to integrate an extra feature into its health code system, which will show whether a person is fully vaccinated, local authorities announced Monday.
Those who have completed their course of shots will have a golden border placed around their green code, as well as a small icon showing a needle and shield in the upper left corner.
The initiative is effectively an attempt to gamify China's vaccination program, encouraging young people to go get a jab, according to the state-run Xinhua News Agency. It's designed to be a low-cost way to promote Shandong's vaccination drive by catering to people's desires to "unlock new achievements," the agency commented Monday.
In Shandong, the health code mini-program on Chinese social app WeChat was upgraded on Monday, local authorities said. All other health code systems in the province are expected to be upgraded by the end of the week.
China has been accelerating its vaccination program in recent weeks. The country had administered over 275 million doses of COVID-19 vaccines as of Sunday, compared with just under 134 million a month ago, according to the National Health Commission.
On Chinese microblogging platform Weibo, the new system has generally received a positive reception, with several users commenting the golden code looks "awesome" and urging the government to roll out the upgrade nationwide.
Some, however, have questioned how useful the new feature will be in practice. Ken Cari, an American who has been living in Shandong for over a decade, told Sixth Tone the new codes appeared "useless," as many venues no longer bother to check people's health codes.
No new locally transmitted cases of COVID-19 have been reported on the Chinese mainland for several weeks, and most Chinese cities have relaxed their previously tight virus-control measures.
In recent weeks, Cari said he had traveled to several cities in Shandong and to Beijing, but he hadn't had his health code checked once. 
"If they're going to make it gold to try and incentivize people to get the vaccine, they should be better at actually checking the code," he said.
Editor: Dominic Morgan.
(Header image: A man shows his COVID-19 vaccination record on his smartphone, 2021. Xinhua)