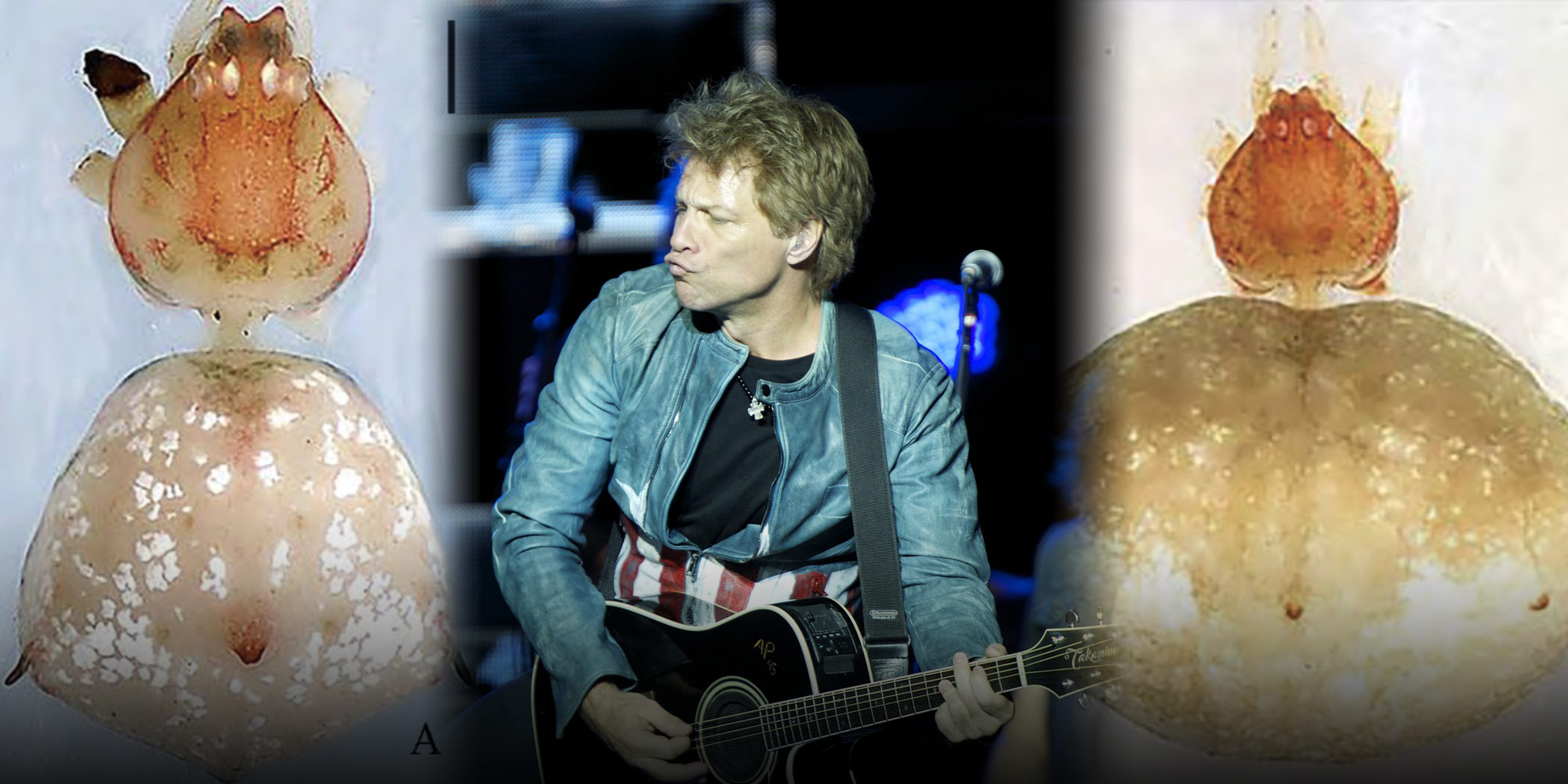 NEWS
Arach 'n' Roll: Chinese Scientist Names New Spider After Bon Jovi
The researcher says he chose the species name "Episinus bonjovi" as a way to promote science — and because he "can't get enough" of the American rock act.
A Chinese scientist has raised eyebrows by naming four newly discovered species of spider after a selection of his personal heroes — including the American rock band Bon Jovi.
Lin Yejie, a researcher at a zoology institute under the Chinese Academy of Sciences, discovered the arachnids during recent field trips to western China.
After some thought, Lin decided to name the new species after the 16th-century Chinese naturalist Li Shizhen; the actor and director Jiang Wen; and his favorite rock artists — Luo Qi and Bon Jovi.
He announced the new names — Eresus lishizheni, E. jiangweni, Meotipa luoqiae, and Episinus bonjovi — on Chinese social media on April 28, and the story has since gone viral. A related hashtag on the Twitter-like platform Weibo had been viewed over 100 million times as of Monday morning.
The scientist told domestic media he mainly chose the unusual names in the hope of promoting science and inspiring people to protect biodiversity. But he also had more personal reasons for selecting them.
Lin found the new kind of Eresus spider by chance while traveling in the northwestern Xinjiang Uyghur Autonomous Region this past June. It is the first new Eresus ever discovered by a Chinese scientist.
Eresus spiders — often referred to as ladybird spiders — normally have bright red abdomens, but the species found by Lin is completely black. Lin decided to mark the historic find by paying tribute to Li Shizhen, a Chinese naturalist who described dozens of spiders in his 1578 masterpiece "Compendium of Materia Medica."
"It's one of the rarest spiders in northern China, so it's very lucky we found a new species," he told domestic outlet Red Star News.
The other three species were uncovered in Xishuangbanna, a tropical region in China's southwestern Yunnan province. According to Lin, two of the spiders looked "a bit rock 'n' roll," which inspired him to name them after singers. 
He added he "can't get enough" of Bon Jovi, who has had a huge fan base in China for decades and even recorded a version of the Chinese-language ballad "The Moon Represents My Heart" in 2015. 
The researcher said he named the fourth species after Jiang Wen simply "out of affection" for the famous actor, known to many outside China for his role in the 2016 movie "Rogue One: A Star Wars Story."
On Weibo, users were mostly amused by Lin's actions, though some questioned whether the scientist may have violated the celebrities' intellectual property rights.
"Although Jiang Wen is a stage name, it already has a certain popularity," He Fengmei, a lawyer at Shanghai-based Sunhold Law Offices, told Sixth Tone on Monday. "If the creature is to be named Jiang Wen, it would require his approval."
But Lin is far from the first person to name a species after a famous figure. In 2007, a group of botanists named a new species of moon-gentian after the rock band Green Day. A year later, a spider was named for the pop star Neil Young, while a blood-sucking crustacean was named after the late reggae singer Bob Marley in 2012.
Editor: Dominic Morgan.

(Header image: Center: Jon Bon Jovi performs live on stage in Madrid, Spain, 2013. zuma/IC; Left and Right: The spider Episinus bonjovi. From Red Star News)