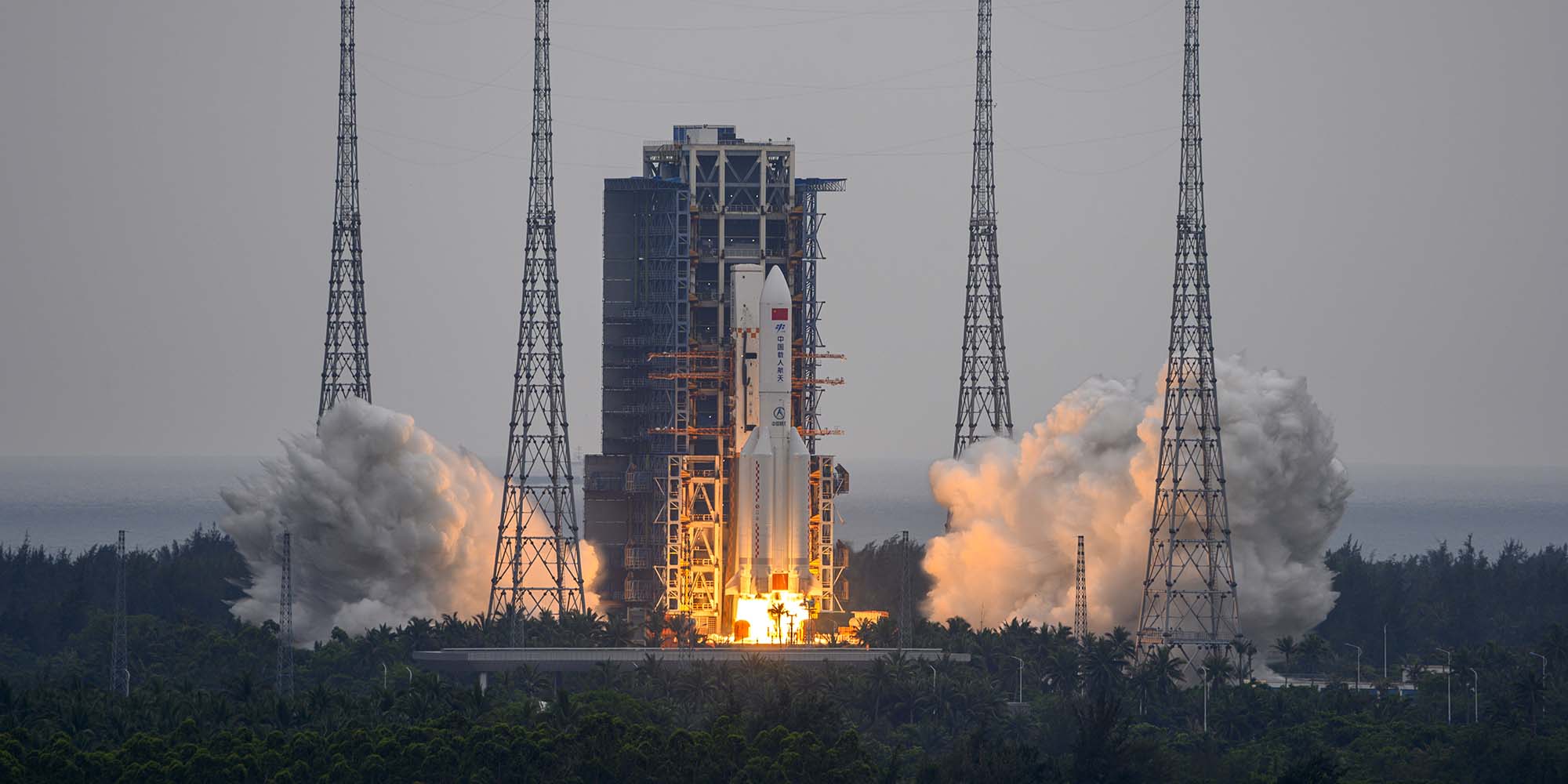 NEWS
China Sends Space Station's First Building Block Into Orbit
Over the next two years, the country's space agency plans to add new modules for conducting experiments, a state-of-the-art telescope, and two massive robotic arms.
A Long March 5 rocket carrying the first component of China's new space station blasted off Thursday morning from the Wenchang Space Launch Center in the southern Hainan province.
The Chinese space station — dubbed Tiangong, or "sky palace" — will be constructed in orbit, with at least 10 more missions planned over the next two years, according to the state-run Xinhua News Agency. Thursday's launch aims to transport the space station's core unit to between 350 and 450 kilometers above the Earth's surface.
The 17-meter-long core module, named Tianhe, or "harmony of the heavens," will serve as the control center and living quarters for up to three astronauts for long-term stay or six people for short-term stay.
In subsequent launches, China's space agency plans to add two modules where scientific experiments will be carried out. Although details are scant for now, Chinese authorities have already selected multiple experiments to perform on the space station. For example, scientists plan to study how organisms including plants and insects develop in an environment where gravity is different.
In addition, a telescope with a field of view 300 times wider than the Hubble Space Telescope, potentially capable of discovering as-yet-unknown celestial objects, will be added to the Chinese space station, according to authorities.
Yang Yuguang, a researcher at China Aerospace Science and Industry Co. Ltd., a state-owned organization, told Sixth Tone's sister publication The Paper that the space station will eventually be equipped with two robotic arms. The arms — one 10 meters long, another 5 meters long — can be connected to form one extra-long appendage for grabbing objects in space or facilitating docking of other modules.
Construction of the space station is the final step in China's manned space program that began in 1992. Chinese astronauts have never been aboard the International Space Station since its launch more than two decades ago. Citing national security concerns, the U.S. government passed a bill in 2011 banning NASA from working directly with China's space agency.
Editor: David Paulk.
(Header image: A Long March 5 rocket carrying the first component of China's new space station blasts off from the Wenchang Space Launch Center in Hainan province, April 29, 2021. People Visual)