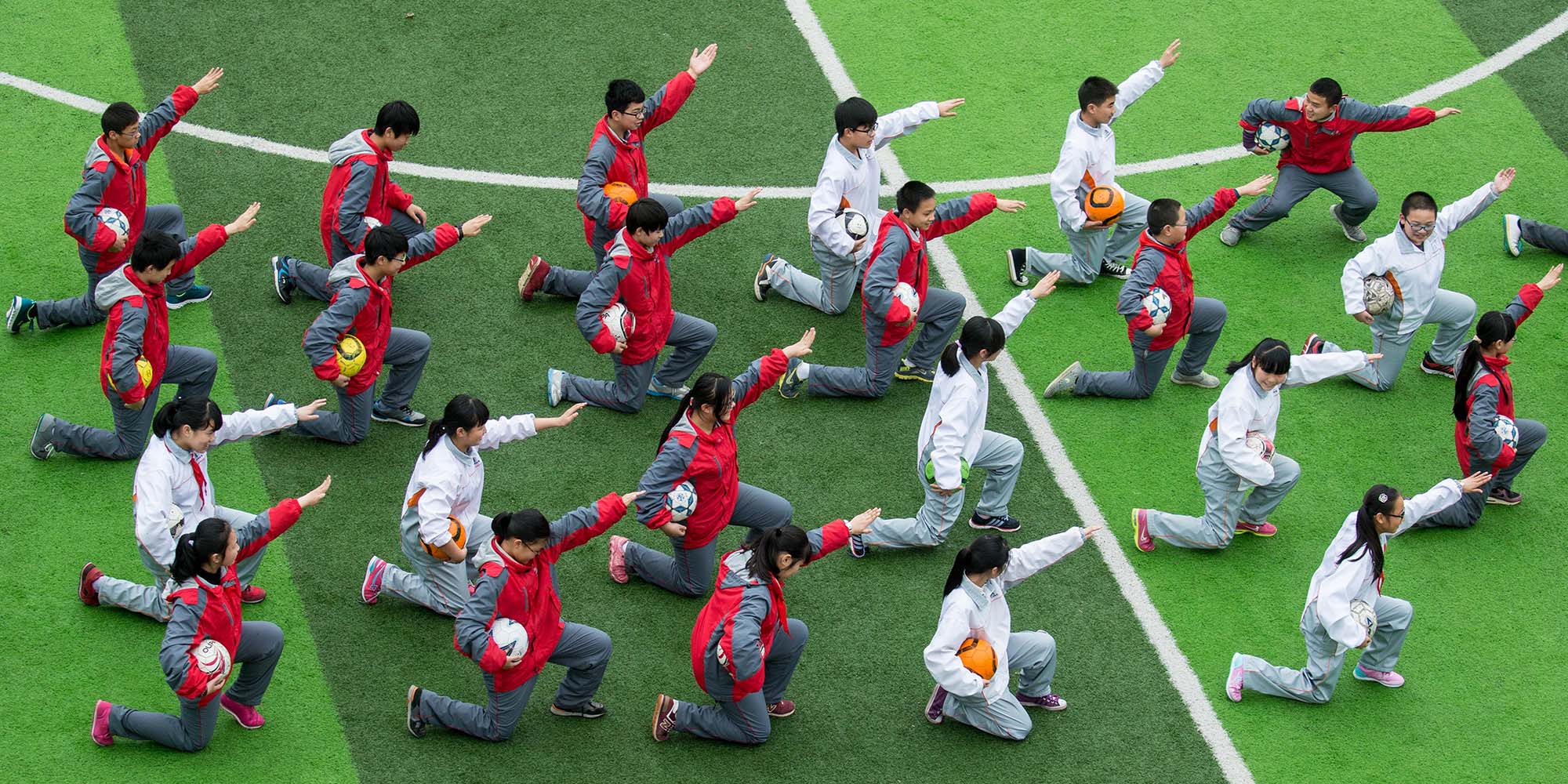 NEWS
China Reminds Schools That Gym Class Isn't Optional
Though physical education is supposedly an integral part of school curricula, teachers and students alike have a tendency to sideline gym class to load up on academic subjects.
China's Ministry of Education has unveiled a blueprint for further incorporating health and physical fitness into primary and secondary school curricula, as well as standardized exams, months after proposing such a change last year.
The ministry announced its notice for "strengthening the physical health management of students" at a press conference Sunday, stressing that primary, middle, and high schoolers should be guaranteed at least two hours of exercise each day — one hour in class, one hour out of class — without elaborating on whether parents or teachers were responsible for supervising the latter.
Specifically, the notice said first and second graders should have four physical education classes per week, third through ninth graders should have three such classes, and 10th through 12th graders — who tend to be laser-focused on preparing for China's grueling college-entrance exam, the gaokao— should have just two per week.
In addition to regularly scheduled PE classes, primary and secondary schools should also guarantee that students take a 30-minute "exercise break" during the school day.
The notice reiterated that students should be officially assessed on their health and fitness through standardized exams, including the high school admissions exam, or zhongkao, and that local authorities will evaluate schools within their jurisdiction based on how well they comply with these instructions.
The notice, dated April 19, is effectively a road map for physical education reforms that were first floated last October. In a similar announcement at the time, the ministry said physical education should gradually be more heavily weighted on standardized tests, with the overall aim of putting the nonacademic discipline on par with core subjects like math, language, and science.
Responding to this earlier missive from the central government, local and provincial authorities in many jurisdictions had already started allocating more points to PE on the zhongkao.
In the southern Guangdong province, for example, the city of Shenzhen added 20 points, giving PE a weight of 50 instead of 30. Shanghai took a different approach, meanwhile, and now allows students more choice when it comes to the sports and athletic activities they're evaluated in — selecting their preference from among badminton, table tennis, and martial arts, for example.
With health and fitness playing larger roles in which schools children qualify to attend, training centers offering after-school gym classes are becoming increasingly popular.
According to Tang Yan, a professor at Shanghai University of Sport, while the ministry's education reforms may be a boon to extracurricular training centers offering sports classes, he's skeptical of the extent to which they will actually make kids healthier.
"Parents (who send their kids to these classes) are just motivated by anxiety," he told Sixth Tone. "From a professional perspective, students can get high PE scores on the zhongkao as long as they maintain good exercise habits. It shouldn't have much to do with access to equipment and facilities."
Tang added that the ministry's notice can be thought of as a not-so-subtle reminder of the announcement from October — perhaps suggesting the authorities felt there was insufficient improvement since then.
Editor: David Paulk.
(Header image: Children participate in a gym class in Hangzhou, Zhejiang province, March 18, 2015. People Visual)