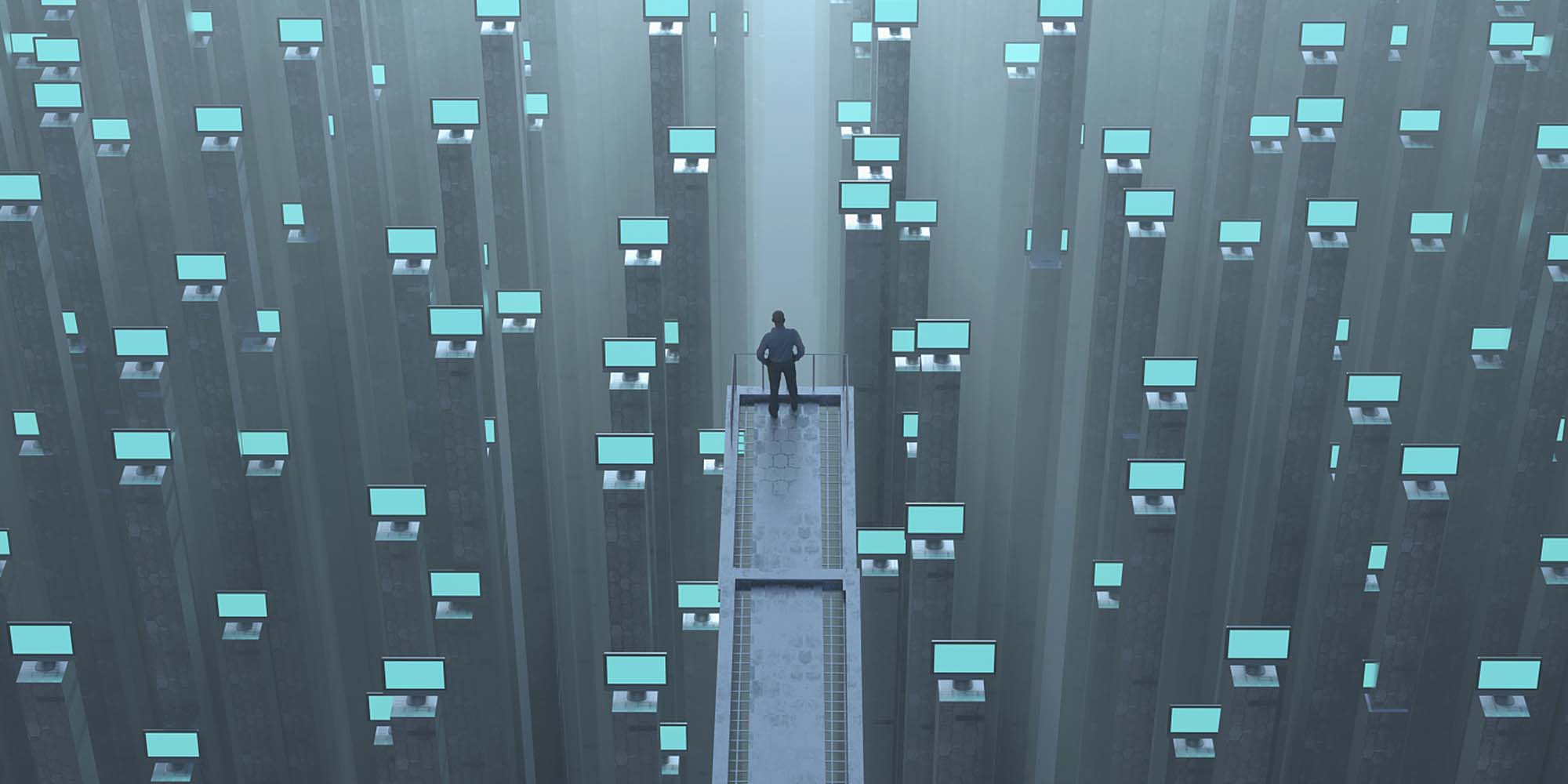 NEWS
China Gets Serious About Antitrust in Cyberspace
Record Alibaba fine is only part of a sweeping government crackdown on anti-competitive practices by China's freewheeling internet giants.
A record penalty slapped on Alibaba Group Holding Ltd. earlier this month kicked off China's clampdown on anti-competitive activity in cyberspace, where a few titans increasingly dominate Chinese consumers' daily lives, from online shopping and mobile payments to food delivery and car hailing.
After years of tolerating online platforms' extraordinary expansion into underregulated markets, China is now determined to rein in unfair competition, authorities say. Even though Alibaba's executives say they don't expect the government's 18.2 billion yuan ($2.8 billion) fine to have much of an impact on the e-commerce giant's business, industry insiders say this is only an initial deterrent, to be followed by more regulatory scrutiny and civil lawsuits.
Three days after the Alibaba fine, China's market regulator and its cyberspace and tax regulators summoned the country's biggest tech companies and warned them of "severe punishment" if they continue to break antitrust rules after a one-month grace period.
Meanwhile, Chinese lawmakers are writing more teeth into the first major revisions to the Anti-Monopoly Law in 13 years. A draft will be submitted by the end of this year to the Standing Committee of the National People's Congress, the country's top legislative body, the committee disclosed Wednesday in its 2021 work plan. The existing law has long been criticized for being too lenient to the country's sprawling internet giants.
On Feb. 7, the State Administration for Market Regulation clarified in new guidelines how it will ensure that players in the so-called "platform economy" follow anti-monopoly rules. The new regulations for the first time bring several gray areas under a regulatory framework. For instance, variable interest entities, the legal structure many Chinese tech companies use, are now formally within the purview of China's Anti-Monopoly Law.
No "picking sides"
All the moves signal that regulators are gearing up enforcement so that internet platforms can no longer gain market share using a practice known as "picking sides," in which a platform forces vendors to choose between its services and those of its rivals.
This was one of the main reasons for the massive Alibaba fine. Two of Alibaba's rivals, JD.com Inc. and Pinduoduo Inc., have long complained that Alibaba's picking-sides policy unfairly cuts them out of potential deals with vendors.
In November 2015, JD.com reported to the State Administration for Industry and Commerce that Alibaba forced apparel merchants to choose between participating in the Nov. 11 "Double 11" shopping festival on Alibaba's Tmall or on JD.com. Alibaba threatened merchants that participating on both platforms would result in punishment, such as reduced traffic or lowered rankings, JD.com said. The regulator investigated but never publicly disclosed the results. Two years later, JD.com sued Alibaba. The case is still in the hearing process.
Since then, every year before the event, also known in China as "Singles' Day," market regulators would call on e-commerce platforms, stressing that the picking-sides practice is prohibited. Just a day before last year's event, market regulators issued draft rules aiming to prevent monopolistic practices by internet platforms. But the practice has never really stopped.
Alibaba also faces lawsuits from vendors. In a high-profile feud last year, top microwave-oven brand Galanz sued Alibaba for allegedly abusing its market dominance by forcing merchants to pick sides when deciding where to sell their wares online. Galanz told Caixin in June that it withdrew the suit after reaching a settlement with Alibaba, without giving details.
In August 2020, Alibaba-owned food-delivery service Ele.me sued rival Meituan Dianping, alleging that Meituan told restaurants to choose between the two apps. Meanwhile, a letter of complaint from 20 merchants in Wenzhou alleged that they had long been exploited by Ele.me and forced to sign exclusive deals with it.
At the April 13 meeting with representatives of 34 companies including JD.com Inc., Pinduoduo Inc., Meituan, Ele.me, short-video app operators ByteDance Ltd. and Kuaishou Technology, internet titan Tencent Holdings Ltd., and gaming giant NetEase Inc., regulators gave the platforms a month to conduct a comprehensive self-check and rectification. Authorities told the platforms to stop the picking-sides practice along with a list of other outlawed activities, such as abusing market dominance, burning cash to take a dominant position in the lucrative group buying market, violating user data privacy rules, and turning a blind eye to phony products.
Picking sides is a common tactic used in business competition. But if a platform forcing vendors to pick sides has a dominant position in the market, the harm to market competition will be escalated, and its nature constitutes abusing market dominance, the market regulator said.
E-commerce platforms have long argued that they are using innovative technologies to grab market share from brick-and-mortar retailers, and that they are far from reaching dominant positions in the total market. In the Alibaba case, the State Administration for Market Regulation ruled that online and offline markets do not belong in the same category. It found that with more than 60% of the market based on platform revenue and gross merchandise volume, Alibaba has a dominant position under the definition of China's domestic online retail platform service market. This conclusion marked a major breakthrough in the identification of markets related to the digital economy, industry insiders said.
The regulator stressed that Alibaba determines the search ranking and display position of vendors and commodities on its platform through its own rules and algorithms, and thus has a decisive influence on vendors' operations.
More antitrust lawsuits may come
In anti-monopoly enforcement, administrative measures and civil lawsuits follow different paths. The administrative penalty against Alibaba is believed to help promote the relevant anti-monopoly judicial proceedings. The administrative investigation and conclusions in Alibaba's case will play an important role in pushing forward the civil lawsuit that JD.com brought against Alibaba, a veteran antitrust lawyer told Caixin.
"The only question now is to determine the compensation from Alibaba, which depends on how much JD.com has lost, but it is likely the amount could be more than 100 million yuan," the lawyer said.
As a result of the administrative punishment, merchants, consumers, and rival platforms may file more anti-monopoly suits against Alibaba, the lawyer said. If there are multiple lawsuits, the Supreme People's Court may issue a judicial interpretation or guidance to combine them into a class action, the lawyer said.
Shortly after the Alibaba fine, Yao Jinbo, the CEO of 58.com, a Chinese classified advertising website, called for an antitrust fine of 4 billion yuan to be imposed on its rival Beike, alleging that the leading online real estate platform forces homeowners to exclusively list their properties on Beike.
The reason internet platforms use the picking-sides tactic is the so-called winner-take-all business model. Once two or three players reach leading positions in the market, the platforms benefit from a "winner effect." If they can't force vendors to pick sides, platforms like Alibaba may lose the winner effect.
Within a week after being hit with the fine, Alibaba disclosed a raft of measures to make it simpler and cheaper for thousands of merchants to sell products on its popular Taobao and Tmall online marketplaces. Observers said the sweeping moves were most likely part of a prearranged settlement with the market regulator. A number of brokerages, including Credit Suisse, cut Alibaba's earnings forecasts.
Each of the 34 companies summoned by the market regulator issued a public statement vowing to obey the law. The market is speculating on which companies will be the next targets after Alibaba. There's no presumptive target for antitrust enforcement, according to a person close to the State Administration for Market Regulation. Under the general principle of strengthening anti-monopoly enforcement and preventing disorderly capital expansion, any company that violates the law will be punished, especially considering factors such as the seriousness, extensiveness, and social influence of their violation, the person said.
Meanwhile, not all antitrust investigations will be publicly disclosed. Due to limited law enforcement resources, in some cases in which a company is committed to internal rectification to meet requirements, regulators could shift their attention to more-complicated cases, according to the person close to the market regulator.
It's not realistic to expect administrative moves to completely eliminate the picking-sides practice, but such behaviors will be greatly limited, and the operating costs of merchants will be reduced, said Li Mingtao, president of the Institute of China International Electronic Commerce Center under the Ministry of Commerce.
This is an original article written by Qian Tong, Yuan Ruiyang, and Denise Jiaof Caixin Global, and has been republished with permission. The article can be found on Caixin's website here.
(Header image: Digital Vision/People Visual)