The case of an extracurricular training center in the southwestern city of Chongqing calling the police on clients angry that their child's math exam score did not meet their expectations is shedding new light on school competition in China, as well as the lengths more affluent parents go to in order to ensure academic success for their children.
According to a local media report Wednesday, the couple spent 210,000 yuan ($32,000) on extracurricular math classes for their teenager, a high school senior who is preparing to take the gaokao, China's grueling college entrance exam. But when the student scored 59 out of 150 points — just 39% — on a subsequent math exam, the child's father, surnamed Yang, demanded an explanation from the training center.
"I invested a large amount of money into those extracurricular classes and had expected my child to score at least 100 points," Yang was quoted as saying. "I feel like I've been duped."
When the two sides failed to reach a resolution, the training school in Chongqing's downtown area called the police. "Before, their child could only score 20-something points on his math exams," the facility's manager reportedly told police. "The student has already achieved huge progress."
While extracurricular training centers, also known as cram schools, typically offer group instruction for young children, their high school-age students often need one-on-one tutoring sessions at a much higher cost.
A few local parents told Sixth Tone that math and English classes are the most expensive and also draw the most students. "Each two-hour math tutoring session costs 500 yuan, which is around the market rate," said Yu Xiaoxiao, the mother of a 10th grader. "That means an annual cost of around 30,000 yuan, and our spending on English training is similar."
Chongqing is a sprawling metropolis of over 30 million people. In 2018, its extracurricular training market reportedly exceeded 5 billion yuan, and it's only likely to have grown since.
Last month, the municipal education authority issued a notice banning training schools from exaggerating their classes' impact in advertisements and from promising to improve students' grades and test scores.
Wednesday's local media report did not indicate whether the child's parents had been guaranteed a certain level of improvement from the school's training sessions. After the police intervened, both parties said they would cool down and work together to negotiate a settlement.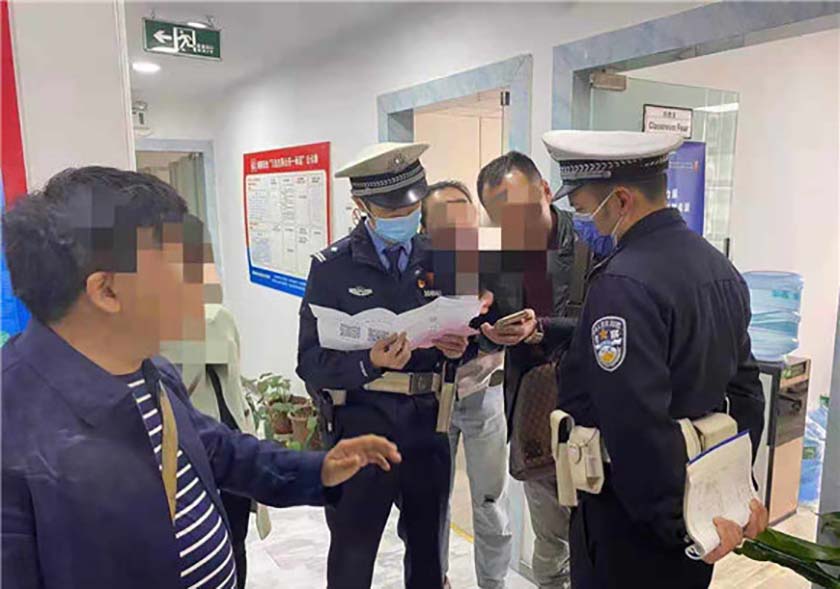 Officers speak with Yang, the father upset that his son's math exam score didn't improve more after expensive cram school classes, at a police station in Chongqing, April 20, 2021. From Weibo
The case has been hotly discussed on the Chinese social platform Weibo, with many users questioning why the parents had invested so much money when their child may not be cut out for academic learning, and why they expected to be able "buy" higher test scores in the first place. If this is the case, the users said, what does it mean for academic fairness and children from low-income families? Others agreed that the couple had indeed paid a hefty sum to the training school but said this was "quite common."
The high cost of training centers isn't unique to China's biggest cities. The market is huge in third- and fourth-tier cities as well. Last year in Wenzhou, a city of 9 million in the eastern Zhejiang province, local per capita disposable income was just over 54,000 yuan, but more than 40% of local families spent at least 30,000 yuan per child on training classes.
China has been reforming education policy in recent years to reduce the weight of academic performance in elementary and middle school admissions by introducing new measures such as lottery systems for private institutions. Already, parents say, these reforms have dampened some of the urgency parents feel to enroll their kids in extracurricular classes.
"Previously, it wasn't an exaggeration to say that local parents spent 100,000 yuan a year to prepare their preschoolers for primary school admission interviews," Shen Tongyue, the mother of a fifth grader in Shanghai, told Sixth Tone. "Now, parents of kindergartners are spending less on academic training."
However, Shen believes cram schools are still necessary to prepare young people for the all-important exams that determine where they're able to go to high school and university. "The competition's still there," she said. "As long as other kids are learning outside of school, it won't be easy for parents to pull their kids out of the training system completely."
Editor: David Paulk.
(Header image: A boy looks at advertisements for extracurricular training centers in Zhengzhou, Henan province, July 18, 2014. People Visual)