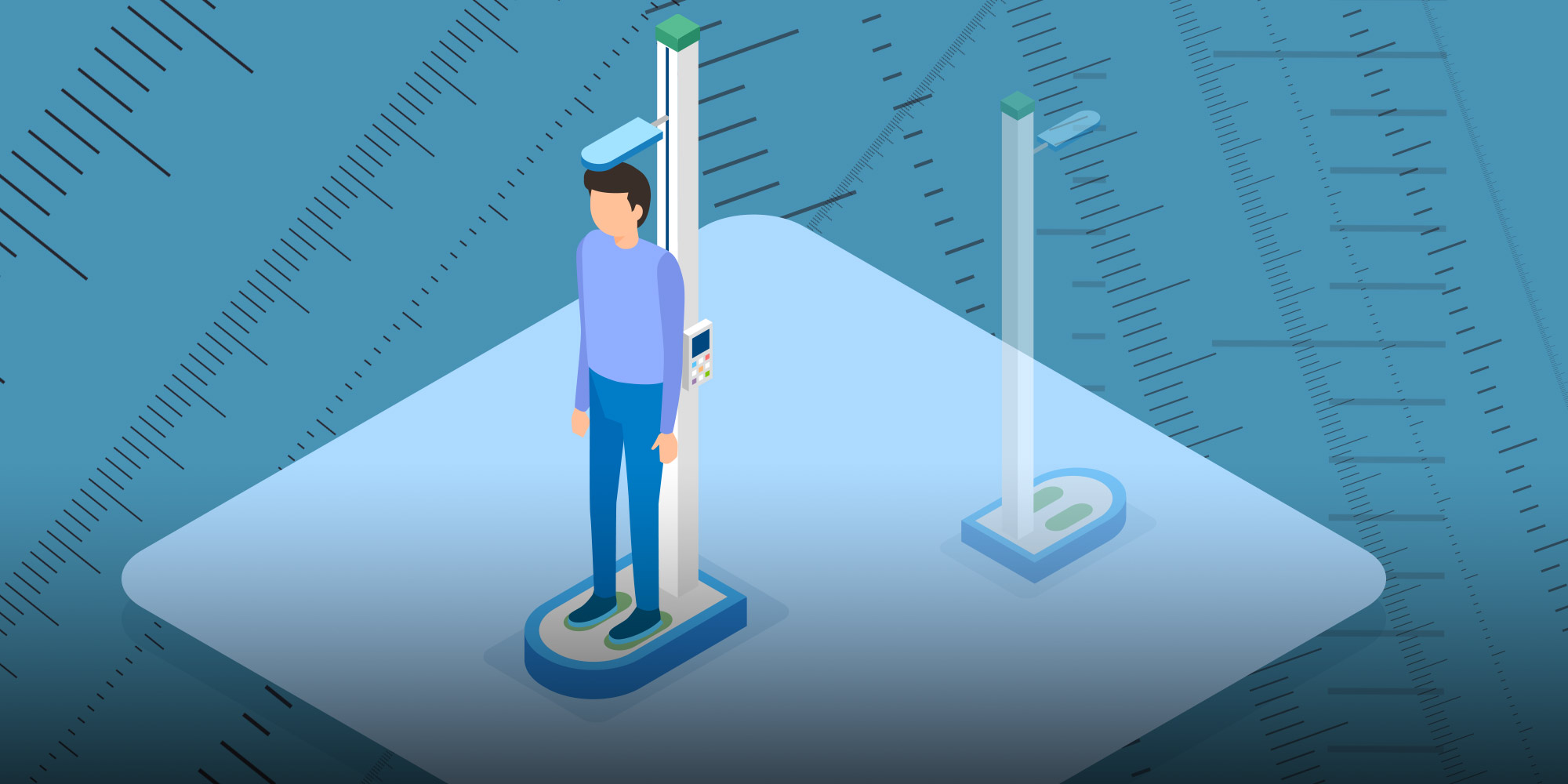 SIXTH TONE ×
The Big Short: How Height Discrimination Hurts Chinese Men
China's Post-2000 generation is the tallest in East Asia. For some, that's still not tall enough.
There's a popular joke on Chinese social media that goes something like this: If a man is more than 180 centimeters tall, he might one day forget everything, even his name, but he'll never forget his height.
Chinese are getting taller: The generation born after 2000 is already the tallest in East Asia. But for many young Chinese, it's still not enough. Unless they cross the 180 centimeter threshold, they can still find themselves getting the short end of the stick.
They Might Be Giants
Young Chinese often get down on themselves for being too short, but the average height of 19-year-old males in China in 2019 was 175.7 centimeters, edging out South Korea for the coveted "tallest post-2000s cohort in East Asia" crown. Even as early as 2013, the General Administration of Sport found that 55.8% of urban adult males aged 20-25 were between 175 and 180 centimeters tall.
Over the past 30 years, the average height of 19-year-old males has risen by 7.5 centimeters, a growth rate of approximately 2.5 centimeters per decade. Chinese males are one of the fastest-growing groups in the world, at least in terms of height. Data from the health research institute NCD Risk Factor Collaboration found that the world ranking of Chinese male heights rose from 150th in 1985 to 65th in 2019.
Pulling a 180
But if men are getting taller, the reality is that many still aren't even close to the "ideal boyfriend" height.
In the Chinese dating market, being tall is an advantage. The long and short of it is: The taller you are, the more likely you are to stand out — both literally and figuratively.
Data from the dating platform HIMMR shows that, for men, those between 180-190 centimeters tall enjoy the highest rate of selection by the opposite sex. For those born after 1995, height is more important than even their finances, family background, or education level when being screened by women.
By contrast, height came in second-to-last when men were asked what they were looking for in a woman. No other factor had a larger perception gap between men and women. For many women, 180 centimeters was the absolute shortest they would accept.
The Importance of Being Tall
A thread on the question-and-answer platform Zhihu has become a popular spot for men to vent at always getting shortchanged.
In an analysis of 50 of the most-liked responses to the question, "What is it like for males who are 170 centimeters or shorter?" Guyu Data found that the most common taunts short men experienced came from friends of the opposite sex. Others talked about their own feelings when confronted by their lack of height.
"Boys who are under 160 centimeters tall are cripples."
"Boys who are 172 centimeters tall and boys who are 175 centimeters tall belong to two different species."
"Wow, you're so short. Are you playing basketball so you can grow?"
"Sometimes when I saw cripples and dwarves being made fun of on TV, I felt sad. My heart tightened."
"Don't put on a long coat. You'll look like you're wearing your parents' clothes."
Their height is a label they can't shed.
Crushed Under a Label
Discrimination on the basis of height has a long history, and it's common even today to associate height with factors such as personal charisma, excellence, and leadership.
American writer Malcolm Gladwell calculated in his book "Blink: The Power of Thinking Without Thinking" that, under controlled conditions, for every inch (2.54 centimeters) of height gained, a person's annual salary would increase by $789.
In many cases, taller males are perceived as healthier and smarter, and as a result get better job opportunities and marriage opportunities. Meanwhile, short males are routinely ridiculed for their height.
Whether in love, work, or friendship, height discrimination permeates into all aspects of short men's lives. Some people on social media platforms have mocked this extreme phenomenon, joking that, "only those who are 180 centimeters or taller even deserve to be called normal men."
This article was originally published by Guyu Data. It has been translated and edited for length and clarity, and is republished here with permission.

Translator: Matt Turner; editors: Wang Zihan, Kilian O'Donnell and Liu Chang.