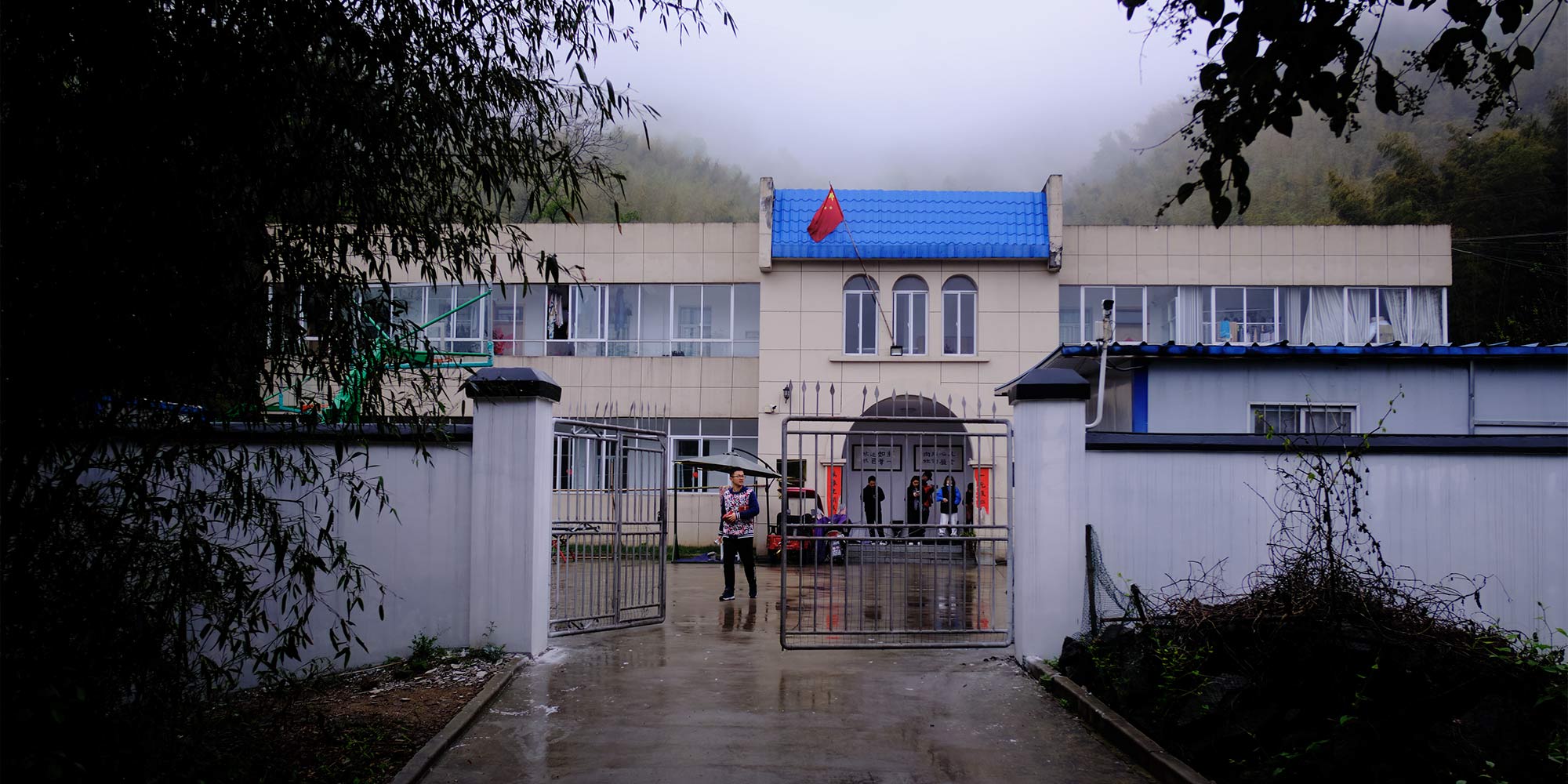 FEATURES
On a Chinese Mountaintop, a Community Just for People With Autism
In China, care facilities to support people with autism are scarce. So families are banding together to build their own.
ANHUI, East China — On a drizzly March afternoon, 12 young people dressed in colorful raincoats shuffle into the yard of a remote mountaintop school.
They gather in silence, ushered by a team of carers watching their every move. Then, they walk out onto the road to begin their daily hike around the mountain.
The group is part of a unique project named Home of the Stars — China's first community for people with autism spectrum disorder, owned and run by their relatives.
Based inside a former mountaintop elementary school, Home of the Stars is a cooperative set up in 2017 with investment from 50 families. It already houses a dozen autistic male residents, aged between 13 and 28, with several more expected to arrive soon.
The venture is a radical solution to a problem plaguing Chinese society: a severe lack of care and educational resources to help people living with autism.
In China, more than 10 million people have autism, with around 200,000 new cases diagnosed each year. Yet the country has just 2,000 special education facilities for people with autism, and the vast majority of these only cater to children up to 7 years old, according to a report published in 2019.
With so little support available, Chinese families often struggle to provide adequate care for autistic children, especially as they grow older. Many parents quit their jobs to become full-time carers. Yet if they die, their kids can be left with nowhere to go.
Yu Hua, co-founder of Home of the Stars, says the project aims to solve this dilemma. She stopped working years ago to take care of her autistic son, Yi Xingjian, who is now aged 25. But she's often worried what might happen to him after she is gone.
"As we parents grow old, it's getting more and more urgent for us to find a place for our older children with autism to stay for the rest of their lives," Yu tells Sixth Tone. "There isn't an ideal place for them in China at the moment, so it's time to build one ourselves."
By banding together, the families hope to provide their kids with long-term security. The converted school is a temporary base, but the project plans to build a permanent home for itself near the center of Jinzhai County — the same region where the school is located.
Each family has invested 1 million yuan ($154,000) in the project, which the cooperative has used to purchase the 36-acre plot of land and fund the construction costs. The new community, which will contain housing blocks, stores, and an artificial lake, is due to be completed next year.
Many of the families, including Yu's, are from China's major cities, but they decided to locate the community in rural Anhui to ensure they could own the property. (The purchase gives them land usage rights for 40 years, with the option to extend.) Yu has learned the hard way how precarious life can be in megacities like her hometown of Beijing, where space is at a premium.  
In 2012, the mother helped set up a community center in downtown Beijing to help people with autism find work. But despite the center's huge success, it was unable to extend its lease and was forced to move to a new location on the other side of the city, meaning Yu and Yi faced a four-hour daily commute.
The cooperative is also designed to ensure the children receive a satisfactory standard of care. Though some parents work full time, several have moved into the current Home of the Stars base to directly supervise the care staff.
Tian Hanfen, mother of a 19-year-old son with autism, works onsite as Home of the Stars' executive manager. She says most care workers and teachers in China lack specialist training, and many struggle to deal with people with special needs.
The mother previously pulled her son Li Che out of a special needs school in the central city of Wuhan, after the then-8-year-old came home with a bloody mouth and nose. The teachers told Tian her son had hit himself during a meltdown, but she didn't believe them.
When she heard about the cooperative, Tian says she signed up in a heartbeat. She has been caring for her son full time since he was a teenager, when his condition became more acute and schools were no longer willing to admit him.
"Eighty percent of my husband's salary went into the facilities where we sent our kid," Tian says. "Working here with my son and other kids, I saw new possibilities."
Now, Tian works long days at the cooperative, starting from 8 each morning. The daily routine at Home of the Stars is highly regimented, with the residents bathing, cleaning their rooms, taking long walks, helping in the kitchen, and participating in after-dinner activities at set times each day.
Most of the residents have severe autism and require close supervision at all times. The repetitive routine helps their emotions remain on an even keel, Yu explains.
In the evening, the entire community gathers in a downstairs classroom. In one corner, Yu and her son Yi practice calligraphy. Several more residents sit on the couch watching TV, with a group of carers standing close by. 
Near the back of the room, another boy sits alone, surrounded by three staff members. The men are attempting to stop the boy from compulsively touching himself. Each time he tries to reach inside his pants, the carers press his hand firmly back into his lap. Every so often, the boy screams.
Through these behavioral modification techniques, the staff hopes the residents will be able to integrate more into wider society, and perhaps even find work. The cooperative is treating the stay at the school as a sort of training period, preparation for the move to the new development nearer the town center.
The team of 10 carers tasked with changing the residents' behavior is led by Guo Ningwei, a special needs education graduate who has worked with people with autism since 2006. In addition to being patient, Guo says his staff need to be physically strong to deal with the adult residents. One of the carers is even ex-military.
"I often wear a helmet when I'm approaching a resident with a history of violent behavior," Guo says. "The carers need to protect themselves, too."
But the staff have no specialist training and only graduated from high school. It's far from ideal, but not surprising given the severe lack of trained care and special needs education professionals in China. In the special needs education sector, for example, there are fewer than 60,000 qualified teachers nationwide.
Guo says he prioritized hiring locals when recruiting, to ensure the cooperative has a stable workforce. He insists the staff will be able to improve most of the residents' behavior over time, based on his experience.
Yu says Yi has made great progress since arriving at Home of the Stars, with his emotional state becoming noticeably more stable. But he did lose his temper during a recent basketball game and shoved one of the minders, she adds. (This appears to be a frequent occurrence: Next to the court, there is a door with a sign saying "room of calm" taped to it.)
"Helping residents with their behavior is an important step toward living in a community," says Yu. "And collective life is better for people with autism."
Experts, however, caution that behavior modification is much less effective on adults and teenagers with autism.
"The younger they are, the more effectively any type of treatment will work," says Qiu Zilong, a neuroscientist at an institute under the Chinese Academy of Sciences in Shanghai.
In China, families with autistic children tend to pay little attention to teaching their kids how to live independently, according to Guo. Instead, they pay for private tutors to train them in math, art, or other skills, believing this will help them get a job in the future. By the time they realize this approach is misguided, they've often irreversibly harmed their children's development, Guo adds.
Though the families running Home of the Stars are realistic about the difficulties they face, the project has become a beacon of hope for parents of children with autism across China. Tian says she receives phone calls from people on a daily basis, asking how they can join the cooperative.
"I can't take this anymore," Tian recalls one mother of a son with autism telling her. "I'm running out of ways to deal with him."
Many households, however, simply can't afford to join Home of the Stars. Running the project is expensive: The plot of land for the community alone cost 10 million yuan, and then there are construction costs, maintenance fees, and the carers' salaries.
For this reason, the cooperative requires anyone wishing to join to prove they have assets worth at least 5 million yuan. Then, they must make a 1 million yuan investment in the project, and pay a monthly child care fee of up to 10,000 yuan.
In China, where the average annual household income is less than 44,000 yuan, it's a small fortune. Online, some have lambasted Home of the Stars as being "crammed full of money."
Shang Yao, a Home of the Stars board member, understands the frustration, but insists the money is necessary to provide a "permanent and high-quality home" for their children.
"The investment isn't something we should measure in monetary terms," says Shang. "This project is crammed full of parents' love and lives."
Ultimately, Home of the Stars aims to recruit 120 families total. If the project succeeds, and its autistic residents are able to settle down in the new development, Shang says it could become a model for future experiments. Perhaps new cooperatives could be set up targeting families on lower incomes, she suggests.
At home, Shang hires two carers to look after her 20-year-old son Luo Yi, who has autism. She's introducing him gradually to life at Home of the Stars, sending him for monthlong stays twice a year.
When Sixth Tone visits Jinzhai County, Shang has just dropped her son off at the site. After making up Luo's room, she returns to her rental car and drives to her next destination: the construction site where her family will one day live.
The work is still in its early stages. A broad, barren patch of land is roped off, with a huge blue sign emblazoned with the word "Homeland" standing near the road. 
Shang stands in the chilly air, gazing at the sign. Then, she takes out her phone and snaps a few pictures. Her eyes begin to well up.
"I didn't know where he'd go when I died," she says. "These kids, they could finally have a home."
For Shang, Home of the Stars is a last resort, rather than a utopia. Most of the parents would prefer their kids live normal, independent lives, but they also know in reality this might not be possible, she says.
Shang left Jinzhai County that evening and caught the train back to her hometown of Shanghai. The next day, she received a call from the cooperative, telling her Luo had lost control during the afternoon hike and tackled one of the carers to the ground.
"When he was young, as parents you'd always try so hard to save him and help him," says Shang. "Then, when you understand clearly it's a lifelong condition, you realize you can only do what you can. That's enough."
Editor: Dominic Morgan.
(Header image: An exterior view of Home of the Stars, located inside a converted elementary school on a mountain in Jinzhai County, Anhui province, March 2021. Wu Huiyuan/Sixth Tone)