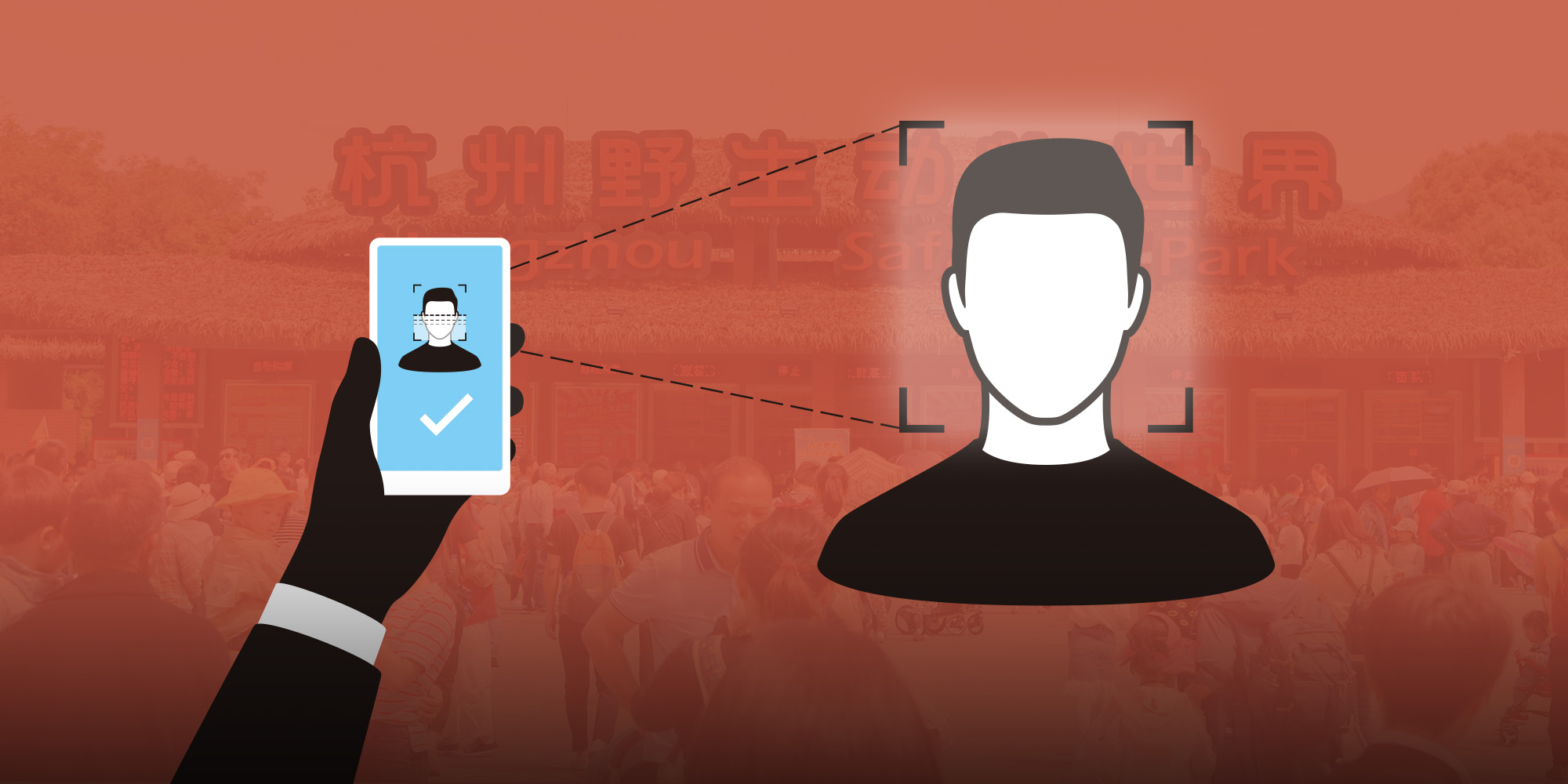 FEATURES
A Professor, a Zoo, and the Future of Facial Recognition in China
In China, businesses are forcing customers to use facial recognition scanners. But Guo Bing is fighting to outlaw the practice — by taking his local safari park to court.
ZHEJIANG, East China — Guo Bing never intended to become a public figure. But over the past 18 months, the academic has been thrust into the center of a debate over one of China's most contentious social issues: the country's gung-ho embrace of facial recognition technology.
It all started with a text message from his local zoo.
In early 2019, Guo had bought an annual pass for a safari park in the eastern city of Hangzhou, so he could take his kid to see the animals on weekends. Six months later, the venue notified him about a new security policy.
In the future, all passholders would have to enter the park using a newly installed face-scanning system, the message stated. Anyone refusing to comply would be denied entry.
Guo, a legal professor at Hangzhou's Zhejiang Sci-Tech University, was outraged. He couldn't understand how a zoo could justify requiring customers to hand over their biometric information. When he visited the park, he also found it was doing little to protect the data.
"It was completely messed up," Guo tells Sixth Tone. "The staff was just using their phones to scan people's faces. Isn't it crazy?"
For the academic, the incident was the final straw. He had been growing increasingly concerned about the rapid rollout of facial recognition-enabled cameras in venues across China over recent years, which had proceeded with little accompanying effort to regulate the industry.
He decided it was time to take a stand. In October 2019, he sued the zoo for breach of contract and violation of consumer rights.
The case — widely acknowledged to be the first lawsuit over facial recognition filed in a Chinese court — has generated huge media attention in China, sparking heated discussion over the privacy risks associated with China's ever-growing use of the technology.
China has been a leading champion of facial recognition in recent years, and face scanners have rapidly become an unavoidable part of everyday life. Chinese citizens are now often required to have their faces scanned when entering train stations, residential compounds, and many other venues. In some cities, even public toilets use the technology.
Though Chinese law prohibits the compulsory collection of facial data, these systems are normally installed regardless of consent and with little prior consultation.
Proponents of facial recognition claim artificial intelligence-powered scanners are faster and more effective than traditional security checks, and surveys indicate a majority of people in China accept this argument. But there are also rising public concerns over the privacy and cybersecurity risks introduced by the devices.
Last year, a real estate agent was arrested in southwest China's Guangxi province on suspicion of stealing over 10 million yuan ($1.54 million) from homeowners by unlocking their accounts on a government-run property app after scanning their faces.
Online, a black market for facial information has also emerged, with packages including an individual's personal details and a video of their face selling for around 100 yuan, The Beijing News reported.
Guo has become a leading voice calling for greater controls on the use of facial recognition, with his ongoing dispute with Hangzhou Safari Park chiming with growing public skepticism toward face detection systems.
The professor went to court with a modest goal: to force the zoo to end its "overlord clause" requiring visitors to have their faces scanned. By doing so, he hoped to set a legal precedent that would deter other venues from using similar policies.
But the fight has proved tougher than he had imagined. Judges in Hangzhou have been reluctant to rule on the wider issue of whether the zoo's use of facial recognition is justified, instead focusing narrowly on the individual contract dispute between Guo and the zoo.
After the first trial, the court ruled in Guo's favor, but simply ordered the safari park to delete the professor's facial data and pay just over 1,000 yuan in compensation. Guo appealed, and a second trial was held in Hangzhou Intermediate People's Court this past December. 
On April 9, however, the court upheld the original verdict. The only additional penalty was that in addition to deleting Guo's facial data, the park would also have to remove his fingerprints from its records.
Yet Guo refuses to give up. At a facial recognition seminar held by Zhejiang Sci-Tech University on April 14, he told the audience he planned to appeal once again.
"If it's only a verdict to delete (my personal data), it's basically a waste of paper," he said. "If the park continues its policy, then the case will have no impact."
Despite these setbacks, Guo's actions have helped inspire more people in China — particularly in the legal community — to speak out against the excessive collection of biometric data.
In another high-profile case, Lao Dongyan, a professor of criminal law at Beijing's Tsinghua University, protested against the installation of a facial recognition entry system at her residential compound last year. 
Chinese authorities have also taken some steps to rein in the use of facial recognition — though these restrictions rarely apply to the country's public security apparatus and the sprawling surveillance networks it operates. 
This year, the central government passed a new Civil Code that strengthens regulations on the collection of facial data, and it's currently considering a draft law on personal information protection. The country's first national standards for using facial data are also midway through a public consultation process.
In March, prosecutors in the southern city of Jiangmen started a public interest litigation against local residential compounds that had collected residents' facial data, arguing the communities had violated the law by not informing them how the information would be stored and used.
State broadcaster China Central Television, meanwhile, devoted large portions of this year's "315 Evening Gala" for Consumer Rights' Day to expose companies that use in-store facial recognition cameras to collect customers' data without consent, leading to a slew of litigation against the businesses.
For its part, Hangzhou Safari Park appears to be hedging its bets. When Sixth Tone visited the park posing as a customer in April, a staff member initially said it was compulsory for visitors buying an annual pass to use the facial recognition system. When asked whether it was possible to register without having one's face scanned, however, the person said, "OK." The park's communications team declined Sixth Tone's interview request.
For Guo, the recent policy reforms are an encouraging sign, and he's still weighing how to move forward. When he filed his first suit, the legal framework surrounding the protection of sensitive personal data was still barely defined, he says.
Speaking with Sixth Tone during the seminar in Hangzhou, Guo discussed his goals for the next phase of his legal battle, and why he's determined to keep fighting. The interview has been edited for brevity and clarity.
Sixth Tone: What do you plan to do next?
Guo Bin: I will appeal. When the court announced the second verdict, I told the staff there that I didn't agree with their ruling. I think it was completely wrong in its finding of facts. If the issue was their application of the law, I might not consider an appeal, because the law regarding facial recognition is vague. But the key issue here is the question of facts.
It's very strange. The safari park and I both agreed we had achieved consent on entering the park via facial scanning. Only the court denied there was consent. This issue is important, because the question of whether we achieved consent directly determines whether the court needs to review the use of facial recognition technology. Because the court believed there was no consent, they didn't have to judge whether it was legitimate and necessary for the park to process the facial data.
Sixth Tone: What is your main goal in pursuing this legal battle?
Guo: The value of the case lies in negating the safari park's overlord clause requiring the use of facial recognition. Only by negating the clause can the zoo make changes and give its passholders the right to choose. Now, they're under pressure to tell the media they're giving visitors more choices, but this is just empty talk.
Now, people can install facial recognition devices in any scenario — legally, there's an absence of a clear line. I filed the suit to point out this absence, but the court still avoided the issue because dealing with it might produce ramifications for many different businesses. They may have concerns in this regard.
Sixth Tone: Why do you think the court is so reluctant to engage with the wider issues regarding facial recognition you are trying to raise?
Guo: Facial recognition is a sensitive technology. It has its pros and cons. When the court is dealing with such a contentious matter, it tends to be conservative and will avoid responding to the key issue.
Sixth Tone: What were your considerations before filing the first lawsuit in 2019?
Guo: When I received the text message from the safari park on Oct. 17, 2019, I complained about it on my WeChat feed and sent the message to a friend who works in a prosecutor's office, because I thought a public interest lawsuit would be the ideal way forward. But regrettably, they didn't follow it up, so I decided to check it out myself.
When I went to the park, I found it was completely messed up. The staff was just using their phones to scan visitors' faces. (Sixth Tone: The park has since upgraded its system, and staff no longer use phones to scan customers' faces.) Isn't it crazy? Moreover, they didn't even inform me about this, which is the most basic right of consumers. That's how I decided to bring up the lawsuit.
It's unfortunate it wasn't possible to tackle the issue with a public interest lawsuit. But in 2019, the legislation regarding the protection of personal information was very limited. My friend told me they'd need a very solid legal basis to file such a suit.
Now, it's clear things have changed since the passing of the Civil Code. This year, after state broadcaster CCTV's "315" Consumer Rights' Day evening gala exposed many problems related to the abuse of facial data, you can see how prosecutors in many places quickly took action.
Sixth Tone: How challenging has this legal fight been for you personally?
Guo: In terms of pressure, I can't say there's been too much. I study personal information protection, and gaining practical experience of the irregularities in this area has been valuable. The media requests have been quite draining, but I think the public needs to be educated about the risks to their personal information.
The fact this case has attracted so much attention shows many people are indeed concerned about their personal data, but they don't know how to defend it. It's too difficult to do it through private interest lawsuits. It took so much time and energy for me to get a second verdict on this case — a disappointing second verdict. But for ordinary people, it's possible they don't even know how to file a suit.
That's why public interest litigation are important. We can't pursue class action lawsuits like in the United States, as our system doesn't allow it. So, we can only use the power of public institutions to restrict abuse of the technology.
Legally, it looks like the impact of my lawsuit will be much less valuable than I'd anticipated. But I've started this process, so why not continue to the end? We can at least reveal the problems step by step, which is the most important thing.
Sixth Tone: What are your expectations for the third trial?
Guo: I hope the court can respond to the issue of the use of facial recognition directly, which they haven't so far.
Editor: Dominic Morgan.
(Header image: Visual elements from People Visual, reedited by Ding Yining/Sixth Tone)