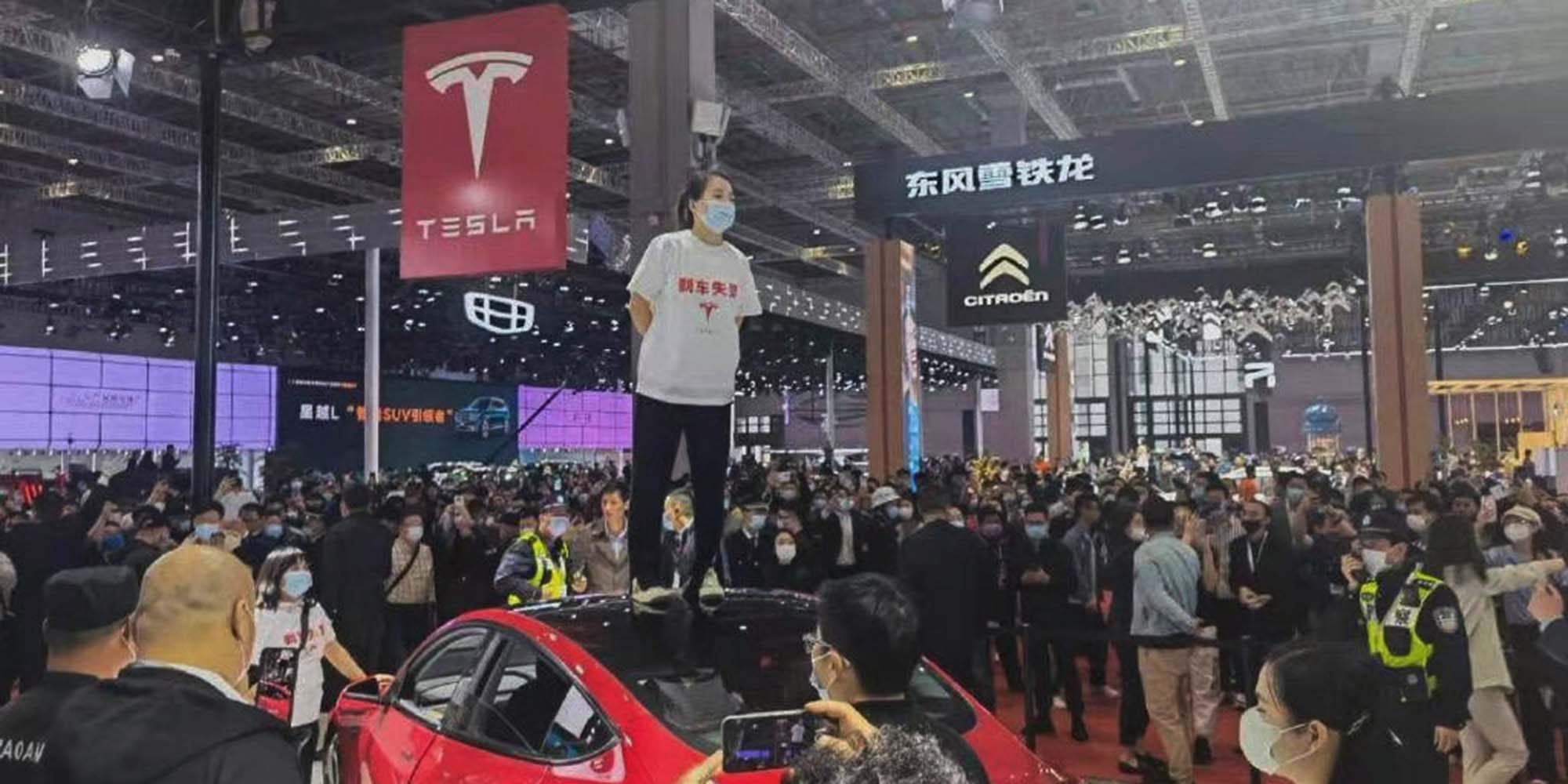 NEWS
Disgruntled Tesla Owner Detained for Crashing Shanghai Auto Show
The woman, surnamed Zhang, has been a thorn in the company's side since an accident in February that she claims was the result of a brake failure.
A Tesla owner has been detained by Shanghai police after causing a scene at the city's annual auto expo over a dispute with the American carmaker.
The woman, surnamed Zhang, staged a protest Sunday at Auto Shanghai, climbing onto a Tesla display vehicle while wearing a white T-shirt with the words "brake failure" printed on the front.
According to a police announcement, she will be detained five days for disturbing public order, while another protester at the event, surnamed Li, received a warning for voicing her own grievances against Tesla.
Videos of Zhang shouting "Tesla's brakes lost control!" from the roof of a Model 3 car have gone viral on Chinese social media, as have videos of her being physically carried away by several security staff.
According to media reports, Zhang, who hails from the central Henan province, was upset because she felt Tesla was responsible for an accident on Feb. 21 that left both of her parents injured. She tried to draw attention to the vehicle's alleged faulty brakes around the time of the incident.
In a March statement, Tesla said Zhang was only after compensation, and she had rejected the company's proposal to have a third party inspect the Model 3 involved in the accident. But according to media interviews with Zhang's husband, she did not refuse any such offer.
The relationship between China and Tesla has encountered ups and downs for the past year or so. In early February, Chinese regulators summoned executives overseeing the company's domestic operations for a dressing-down over safety concerns and mounting customer complaints. And last year, a video circulating on Chinese social media showed a Tesla car plowing into a fake pedestrian during an automatic braking test.
In an interview with domestic outlet Caijing after Sunday's incident at Auto Shanghai, Tao Lin, the vice president of Tesla's global operations, said Zhang was responsible for all of the recent negative news about the company, and suggested there might be other bad actors at work behind the scenes.
In a social media post late Monday night, Tesla vowed to take full responsibility for any flaws in its products but also said it would not bend to unreasonable demands.
(Update: In a statement Tuesday night, Tesla apologized to the customer without identifying her by name. "We also sincerely hope that our vehicle owners will give us the chance to solve their problems," the company said.)
Editors: Liu Chang and David Paulk.
(Header image: A disgruntled Tesla owner stages a protest at the Auto Shanghai expo, wearing a shirt that reads "brake failure," referring to an accident involving her parents months earlier, April 18, 2021. From Weibo)