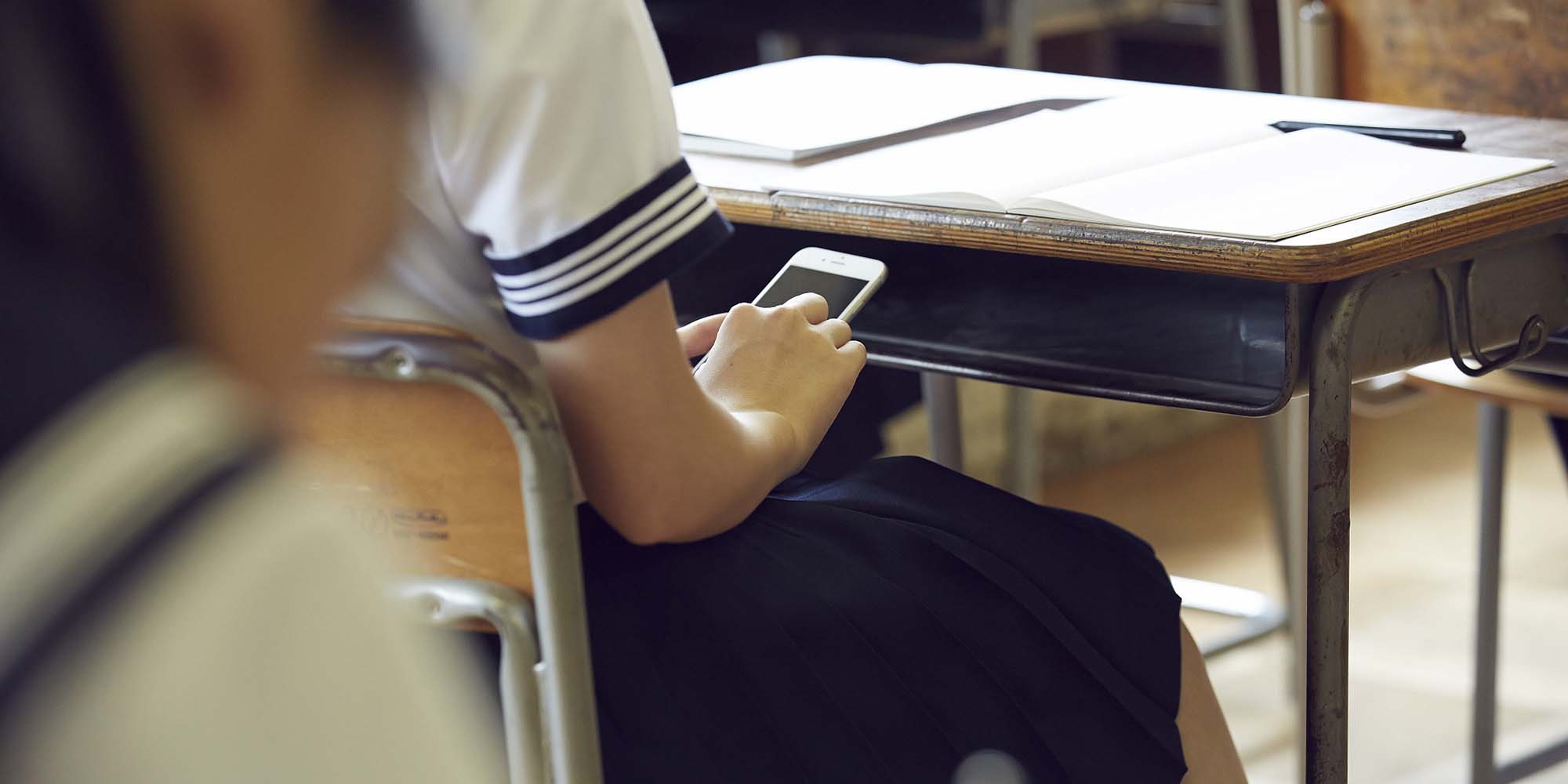 NEWS
Parents Demanding Answers After Teen's Death on Campus
A student at a top middle school in Henan province is believed to have killed herself after her classmates reported her for having a cellphone in class.
Two weeks have passed since Hu Fuchang's daughter killed herself on what seemed to be a regular school day, and still he is waiting for answers about the events that preceded the girl's death.
According to the school, classmates of 14-year-old Hu Yu reported her to a teacher for bringing a cellphone onto campus on April 9. But in the eyes of the girl's parents, that doesn't explain how she ended up lying dead on the pavement later that morning.
"No matter what, they need to tell me what happened before she died," the father, a resident of Zhengzhou in the central Henan province, told Sixth Tone. "The school hasn't shown us any sympathy. We at least deserve to know the truth."
In January, China's Ministry of Education banned primary and middle school students from having cellphones on campus. While exceptions can be granted if parents seek permission from the school in writing, under no circumstances may students be in possession of their phones during classroom time.
However, at Zhengzhou Experimental Foreign Language Middle School — the elite school Yu attended — there are no such exemptions, and a blanket cellphone ban has been in place for years. When Yu enrolled there in the fall of 2019, all rising seventh graders were notified not to bring their cellphones, portable gaming devices, smart watches, or electronic dictionaries to campus.
"We of course knew about the rule and were supportive of it," Hu Fuchang said. "We would always double-check with her before she left for school to make sure she wasn't bringing the phone with her."
Smartphone addiction has become a universal concern, especially among children and teenagers. China's state-run Xinhua News Agency reported in 2017 that 7 million users of the hit mobile battle arena game Honor of Kings were under the age of 14. By 2020, some 18.3% out of the country's 940 million internet users were younger than 19, according to the China Internet Network Information Center.
In the West, meanwhile, a 2019 study by King's College London determined that nearly one-quarter of British children "used their smartphones in a dysfunctional way," and that this may be linked to poorer mental health. And a 2018 survey conducted in the U.S. found that 65% of teens wished they were better at limiting their screentime.
Five days after Yu's death, Zhengzhou's education department issued a statement describing the events of April 9. That morning, it said, Yu's classmates had told their teacher that Yu had a cellphone in the classroom. At around 10 a.m., Yu was summoned to the teacher's office, where she denied breaking the rule. The teacher left her office at 10:17 to search the classroom for the student's phone. When she returned almost half an hour later, Yu was gone.
At 10:41 a.m., a security guard found Yu lying in front of one of the school buildings, the statement said. She was pronounced dead around an hour later.
"Up to today, we have no clue what prompted our daughter to jump from that building. The school can't even tell us how she did it," said Hu Fuchang, fighting back tears. "They said she brought a phone into the school and had an extreme reaction to being criticized for breaking the rule, but I don't think that's the real picture. How can a normal child jump to her death unless she was provoked by the teacher's inappropriate handling of the situation?"
When reached by Sixth Tone on Monday, a staff member from Zhengzhou Experimental Foreign Language Middle School's academic affairs office said it was "inconvenient" to comment on the matter as it is still under investigation.
An official from the education bureau of Erqi District, which supervises the school, answered similarly. "We've been in close contact with the deceased's family," the official, who declined to give her name, told Sixth Tone. "Education authorities at the district and city levels are paying close attention to this case. But until we have an investigation result, we can't publicize further details."
According to Hu Fuchang, the school offered his family 300,000 yuan ($46,000) to settle the matter, and the district education department promised to chip in an additional 200,000 yuan. "But they have to tell me: What does this money mean?" he said. "Is this intended as compensation for their own dereliction of duty?"
The chief of the Songshan Road public security office, which is investigating the case, told Sixth Tone that conversations with the girl's family are underway, and the issue will hopefully be resolved soon. "I'm meeting with the child's aunt today," said the chief, surnamed Wang. "We're still working on a solution."
When Yu won admission to Zhengzhou Experimental Foreign Language Middle School through the local lottery system, her parents were ecstatic. "It's the best middle school in the city, so we considered ourselves lucky," Hu Fuchang said.
The private institution charges over 10,000 yuan per semester in tuition fees and is strict when it comes to students' academic performance, according to Yu's parents. Though students have the option to board on campus, the family opted to rent an apartment nearby so Yu — whose school day would last from 7 a.m. to nearly 9 p.m. — could return home each night.
"They attach great importance to the students' scores," Yu's father said. "Ultimately, it's an exam factory."
A Zhengzhou Experimental Foreign Language Middle School alum who agreed to speak to Sixth Tone on condition of anonymity said teachers at the school would encourage students to inform on their peers who were violating campus or classroom rules, to ensure that the focus remained solely on education.
"The school sets ambitious goals for student test scores and (high school) admissions, so teachers manage their classes quite strictly," she said.
Established in 2008, Zhengzhou Experimental Foreign Language Middle School is a provincial leader in academic performance, according to its official website. In 2015, for example, 93% of graduates scored well enough on their entrance exams to be admitted to top high schools.
As one of China's most populous provinces, Henan has developed a reputation for cutthroat competition in education. Last year, nearly 1.5 million students in Henan took the zhongkao, China's high school enrollment exam, competing for around half as many enrollment spots. Competition for top high schools in large cities like Zhengzhou, the provincial capital, is fiercer still.
According to Hu Fuchang, the school responded dismissively to his daughter's death. "They said their teacher handled the issue properly — that she made no mistake," he said.
However, after media reported Yu's death, a representative of Zhengzhou Experimental Foreign Language Middle School told Hu Fuchang on April 14 that the school was partially at fault. "It happened on campus, he said, so how can the school be completely absolved of blame?"
But the bereaved parents have not been allowed to speak to their daughter's teacher, the one person who could best explain what happened that day.
"The school told us they arranged the best psychological counselor for the teacher, and that she deserves to be protected," Hu Fuchang said. "But what about us? As parents of the dead girl, do we not deserve some form of support?"
Just two days after Yu's death, another education-related incident went viral in China: a video from another Henan school showing students smashing cellphones with a hammer. The school's principle later said it was merely a symbolic performance suggested by parents, and that only two phones had been destroyed.
The video prompted therapist Zhang Yiyun to weigh in on the increasingly stigmatized issue of "internet addiction" in young people. "It's delivering a wrong message, that devices should be blamed for inappropriate behavior," Zhang wrote on Weibo. "Our education methods require improvement."
Editor: David Paulk.
(Header image: People Visual)