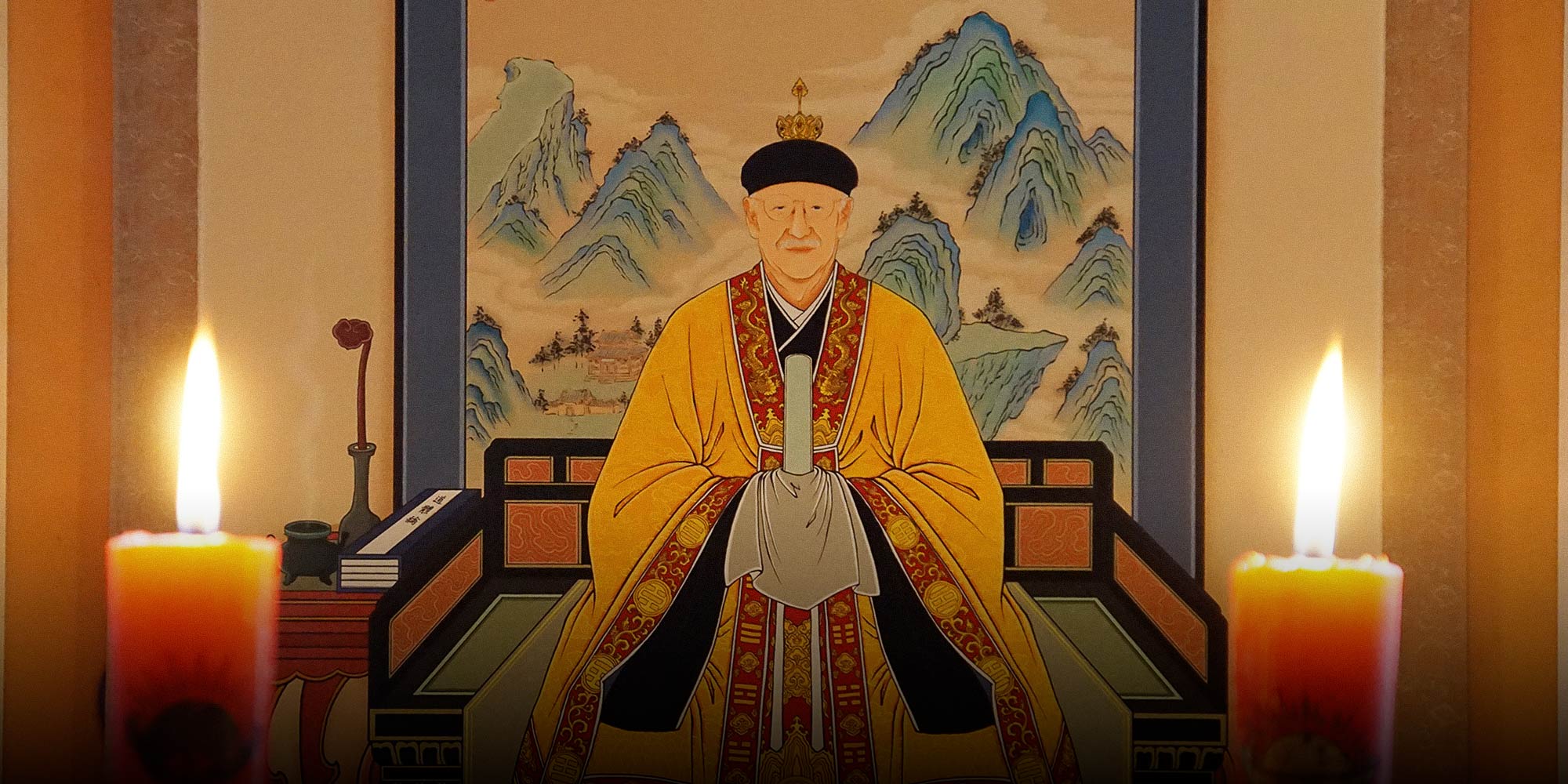 VOICES & OPINION
The Divine Legacy of a Dutch Taoist
Kristofer Schipper's decision to approach Taoism as a living, breathing religion was revolutionary.
It was a drizzly day in early April when I caught a high-speed train from Shanghai to the nearby city of Suzhou to participate in the sixth "Seven-Day Ritual of Ascension" for Kristofer Schipper, the renowned Dutch expert on Taoism who passed away on Feb. 18, 2021.
Traditionally, Chinese believe that for the 49 days following a person's death their soul continues to wander the earth. Every seven days, people who knew or respected the deceased will take part in religious ceremonies in their honor, as a way of helping their soul accumulate gongde, or "merit," and avoid suffering in the underworld. April 1 was the six-week anniversary of Professor Schipper's death. Initiated by French anthropologist and former Schipper student Patrice Fava, Taoist priests from Suzhou and nearby Changshu City had organized a ritual in his honor to invoke the aid of two Taoist deities: the Celestial Worthy Who Relieves Suffering and the Mother of the Dipper.
When I arrived at Xuanmiao Temple in Suzhou, the priests were busy arranging the altar and lectern. A table near the entrance was laden with sacrificial offerings including apples, bananas, oranges, vegetables, and rice wine. Candle flames gently swayed from side to side, while wisps of incense rose in the air. The most eye-catching part of the tableau, however, was a 6-foot-tall portrait of Kristofer Schipper — or as he was known in China, Shi Zhouren. The portrait was completed especially for the ceremony by Wang Minyuan, a religious painter and Taoist convert. Done in the traditional Chinese style, it shows a bespectacled Schipper dressed in black and yellow Taoist robes, with a hu ritual baton in his hands. To one side of him is a small table, on which sits an incense burner, ornamental scepter, and thread-bound edition of his classic work "The Taoist Body." Behind him hangs a screen featuring a map of the sacred Dahuo Mountain Cave.
Nearly 40 scholars and academics from China and around the world had made "merit donations" for the ceremony; of them, more than 10 were in attendance. The ritual ran from 3 p.m. to 2 a.m. A dozen or so priests sang verses of Taoist scripture to accumulate merit for Professor Schipper. They invited his soul to come to the ritual and receive their offerings before sending him on his way to the celestial world. One ritual they didn't perform was the "Audience of the 10 Kings of Hell." Although a common rite for ordinary people to clear their sins if their souls are to ascend to the afterlife, Professor Schipper wasn't merely a professor; he was an ordained Taoist priest. As such, he had received a special talisman known as a lu, meaning he did not need to justify his entrance into the celestial world.
Xuanmiao was not the only temple to hold ceremonies in Professor Schipper's memory. On March 11, the Helin Temple in Ningde, a city in the southeastern Fujian province, held a "Ritual for the Ascension of the Deceased" in honor of the third ascension cycle, recognizing Schipper's "promotion" from his mundane duties to a higher role in the Taoist celestial bureaucracy. And on April 4, the Celestial Master Temple at Mount Longhu in the eastern Jiangxi province, the Palace of the Immortal Pei in the southeastern city of Fuzhou, Dongyue Temple in Beijing, and the City God Temple in Shanghai all answered a call put out by the Chinese Taoist Association to hold ceremonies in Professor Schipper's honor.
To understand why China's Taoists have gone to such great lengths to commemorate a Dutchman, it helps to know what Professor Schipper meant to the Taoist community. Kristofer Schipper was born in Sweden to Dutch parents on Oct. 23, 1934. His grandfather was a collector, and Schipper developed an interest in Chinese art at a young age. As a young adult, he went to Paris to study Taoist history with the famous sinologist Max Kaltenmark, where he was exposed to the great tradition of French sinology.
Proficient in eight languages, Schipper always attached great importance to the study of the Taoist classics. He spent 25 years leading a group of students in analyzing the Ming dynasty (1368-1644) edition of the "Taoist Canon." Together, they researched, dated, summarized, and reclassified over 1,500 documents to produce the three-volume "The Taoist Canon: A Historical Companion to Daozang," which quickly became a must-have reference for Taoism researchers. The young scholars who worked under Schipper on the project, including Franciscus Verellen of the École française d'Extrême-Orient and John Lagerwey of the Chinese University of Hong Kong, would go on to define the fields of Taoism and Chinese studies in the West.
Yet what made Schipper special wasn't just his mastery of the Taoist canon, but also his unique approach to scholarly research. In 1962, shortly after receiving his Ph.D., Schipper went to Taiwan, where he discovered "living" Taoism. Becoming a disciple of local high priests Zeng Ti and Chen Weng, he learned Minnan dialect and the formal rituals of Taoism as practiced on the island. Subsequently, his study of Taoist ordinances and ritual became more hands-on. Picking up the baton and bronze gong, he took part in many local sacrificial ceremonies, joined Taoist priests in performing rituals, and played music with them during their downtime.
In 1967, at the Temple of Heaven in Tainan, 63rd Generation Celestial Master Zhang Enpu ordained Schipper and gave him the Taoist name Dingqing. This gave Schipper his own position in the Taoist heavenly court and, as an agent of heaven, qualified him to convey the prayers of people on Earth to the court through Taoist rituals.
In an interview, Schipper once said that a person cannot study Taoism from the outside looking in; rather, students must experience it from the inside. At times he would poke fun at traditional sinologists who didn't understand Chinese folk customs and had never observed them up close. He shared that mindset with his students: Vincent Goossaert of the elite École Pratique des Hautes Études in France has talked about how Schipper donned his Taoist robes and performed a blessing for him at his wedding. Another former student, Kenneth Dean of the National University of Singapore, has said that, when his daughter turned 1 month old, Schipper performed a Taoist ritual to communicate her name to the heavenly court.
His influence wasn't just felt in the West. Schipper's fieldwork during his eight years in Taiwan even inspired many Chinese and Japanese researchers to reexamine Taoism in a more serious light. In 2001, Schipper was hired as a distinguished professor at Fuzhou University, across the straits on the Chinese mainland. He would spend much of the rest of his life there. In 2003, he founded the first library in China to focus on the collection of Western classics in their original language. In 2008, he helped translate China's "Five Classics" into 12 languages and place them in Confucius Institutes around the world. In 2013, he and his wife set up the Aishan Taoist Mountain Environmental Protection Research Project to study Taoist mountains and their role in the protection of the environment. Huotong Mountain, included on Schipper's funeral portrait, was the first case his team studied for the project.
I had several run-ins with Schipper in Hong Kong. The first time I met him was in 2008, when he accepted an invitation from my doctoral tutor, Lai Chitim, to give a lecture. Schipper's "The Taoist Body" was the first Western study of Taoism I'd ever read, and I was starstruck seeing him in the flesh. After the talk, I timidly tracked him down and asked him to autograph my copy of his book. He asked me my name and, smiling, signed with the inscription daofa ziran, or "The Way follows the example of nature."
When Schipper first arrived in Taiwan, he was still going by the Chinese name Shi Bo'er — a phonetic rendering of Schipper. Later, suspecting that his ancestors earned their surname from their involvement in the shipping trade, he changed his Chinese name to Shi Zhouren, or "Boatman Shi." In retrospect, it's a beautifully fitting name for a man with his legacy. In Chinese, zhouren doesn't just mean boatman; it can refer to anyone who ferries something across a divide. Schipper's immense contributions to Chinese Taoism and the Taoist research community, both in China and around the world, were indeed a kind of "ferrying." Across cultures and time, Schipper was a link between the ancient mysteries of Taoism and the modern world.
Translator: Lewis Wright; editors: Wu Haiyun and Kilian O'Donnell.
(Header image: A funeral portrait of Kristofer Schipper painted by Wang Minyuan is displayed at Xuanmiao Temple in Suzhou, Jiangsu province, April 1, 2021. Courtesy of Tao Jin)