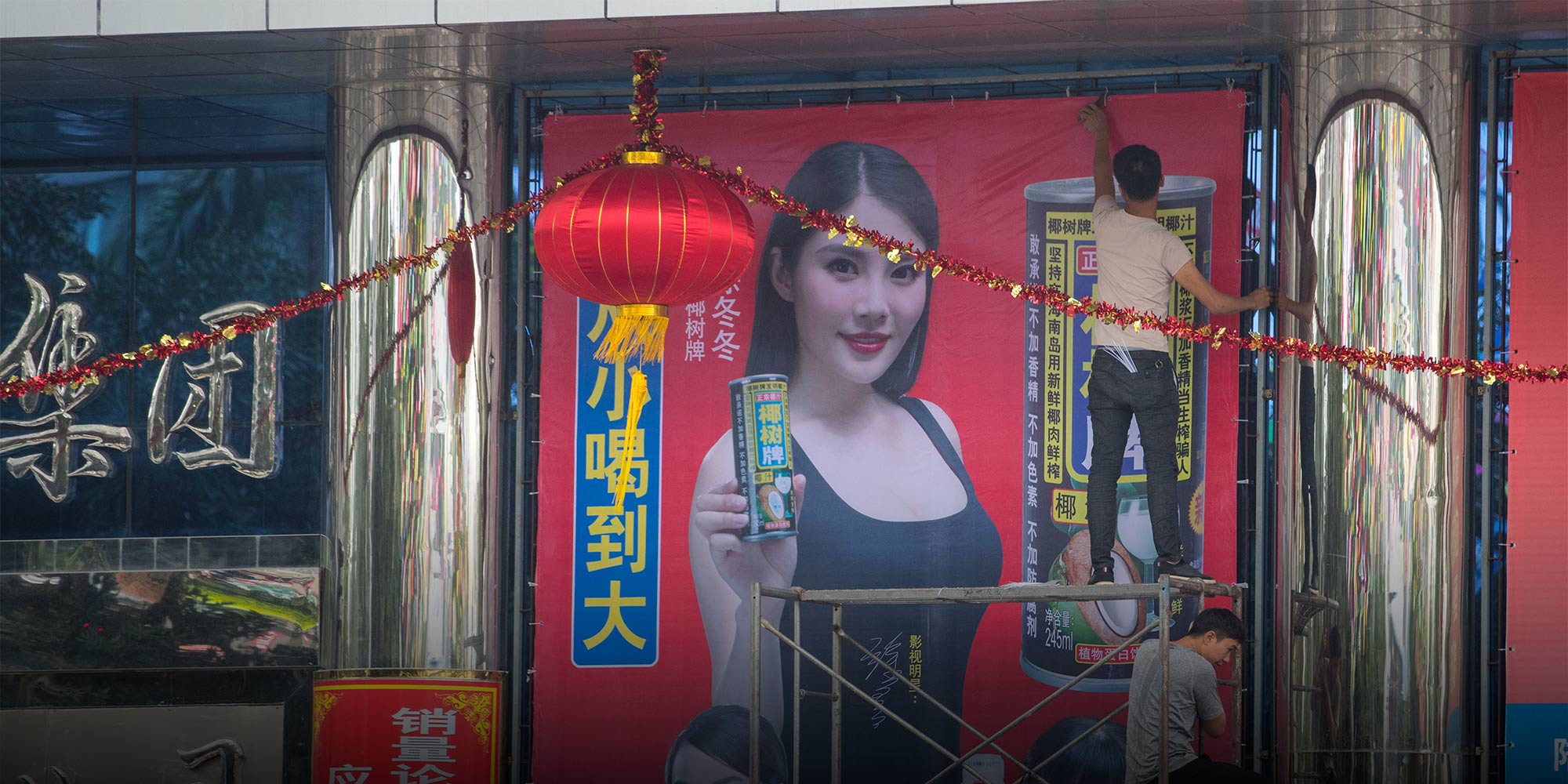 VOICES & OPINION
China Needs Less Prudish, More Prudent Approach to Sexual Content
There can be a fine line between sexual and sexist content, but regulators are all too eager to ban the former, often for reasons that have little to do with gender equality.
In late March, the well-known beverage company Yeshu Group put out an unusual recruitment notice. "Move up in the world with a car, a house, a fat paycheck — and sexy guys or hot chicks falling all over you," the ad proclaimed. Critics quickly called out the company, which has a long history of racy advertising, and government officials in the southern province of Hainan, where Yeshu is headquartered, reportedly brought company leaders in for a lecture and started an investigation into whether they had violated China's Advertising Law.
Yeshu — also known as Coconut Palm — has been pushing the boundaries of tasteful advertising since at least 2009. The former state-owned enterprise has been roundly criticized over the years for suggestive taglines like "Wives are satisfied when their men drink pomegranate juice" or "Full of papaya for a fuller bust." But the company is probably best known for its ads promoting its flagship drink: coconut juice. These frequently use images of buxom, scantily clad women to imply the beverage can increase one's cup size. In 2019 alone, its new slogan — "My drink, from childhood to womanhood" — drew condemnations from the All-China Women's Federation's house media outlet China Women's News, while another of the company's ads was pulled from circulation.
Online, criticisms of ads like Yeshu's tend to focus on two aspects: their vulgarity and their sexism. When regulators get involved, however, they frequently conflate both points of criticism into the first, as if the primary issue at stake is how the ads are a bad influence on children and society, rather than how they disrespect women. In justifying their periodic crackdowns on racy advertising campaigns, official bodies generally invoke either Article 3 of the Advertising Law, which states that ads must "meet the requirements of building a socialist society and spreading the outstanding traditional culture of the Chinese people," or the clause of Article 9 that prohibits "obstructing public order and violating upstanding social customs." They rarely emphasize or even mention sexism, which is also explicitly banned by another clause of Article 9.
For example, a 2019 statement from China's National Office Against Pornography and Illegal Publications said that ads featuring "sexual innuendos, the commodification of women, and sexism" constitute a kind of "soft porn." The statement went on to claim that these ads may actually pose a greater risk than real pornography because they "sweep children up, assaulting their psychological defenses and fundamental morals."
This emphasis on restricting the sexual, rather than the merely sexist, both reflects popular attitudes and misreads them. A 2015 study found that women were significantly more repulsed than men by ads that contained vulgarity and sexual innuendos. That finding could be interpreted to suggest Chinese women are sexually conservative and support tighter content controls, but at least personally, I would argue the more important factor here is that the ads aren't just suggestive: They're suggestive in sexist ways. In portraying women as two-dimensional sexual objects, it's no surprise they elicit a stronger reaction from women than men. The results might have been different if the study had looked at suggestive ads shot through the female gaze. Of course, there are hardly any such ads to choose from.
Chinese feminists once took great pains to distinguish depictions of sex from sexist or degrading content. Indeed, this was one of the flash points of the early social media era, as feminists sought to push back against retrograde portrayals of women while still leaving room for them to talk about and enjoy sex and sexual content without being stigmatized. However, the broader conservative turn of the past few years has shifted the conversation. Now, the government has cracked down on pornography and illegal publications, while women have shifted focus to other contentious topics, including marriage and sexual harassment or assault. In such an environment, it's difficult for pro-sex voices to make themselves heard: Even successful boycotts or other campaigns generally conflate the suggestive and sexist in order to build sufficient support for societal change.
The upshot of all this is that even progressive initiatives are often grounded in conservative attitudes toward sex. When local officials in Shenzhen released a guide on gender equity in advertising earlier this year, it was hailed as a step forward. Upon closer inspection, however, the guidelines prohibit not just sexism, but also anything even remotely related to sex. For instance, the list barring sexism in ads includes sexist "plots, styles, expressions, movements, imagery, text, audio, and sexual innuendos." Anything on that list is prohibited from being broadcast, along with any content that "spotlights women's breasts, lips, legs, buttocks, and other body parts unrelated to the product."
If similar bans were implemented nationwide, it might clean up China's advertising industry, but it would also foreclose any sexual depictions, while reinforcing the widespread idea that sex is inherently opposed to gender equality. What's needed isn't a blanket ban on sex, but the ability for the public to accurately identify gender stereotypes and reflect on the reasons they're popular.
That requires going deeper than just a surface reading. How would these suggestive commercials look if Yeshu had a female executive? Or more female voices on its advertising and marketing teams? These problems can't be fixed by simply removing a given ad from circulation, but addressing them offers the promise for a more equal public sphere, without moral panic over sex.
Translator: Katherine Tse; editors: Cai Yineng and Kilian O'Donnell; portrait artist: Wang Zhenhao.
(Header image: A worker puts up an ad at Yeshu's gate in Haikou, Hainan province, 2019. Qi Miao/People Visual)