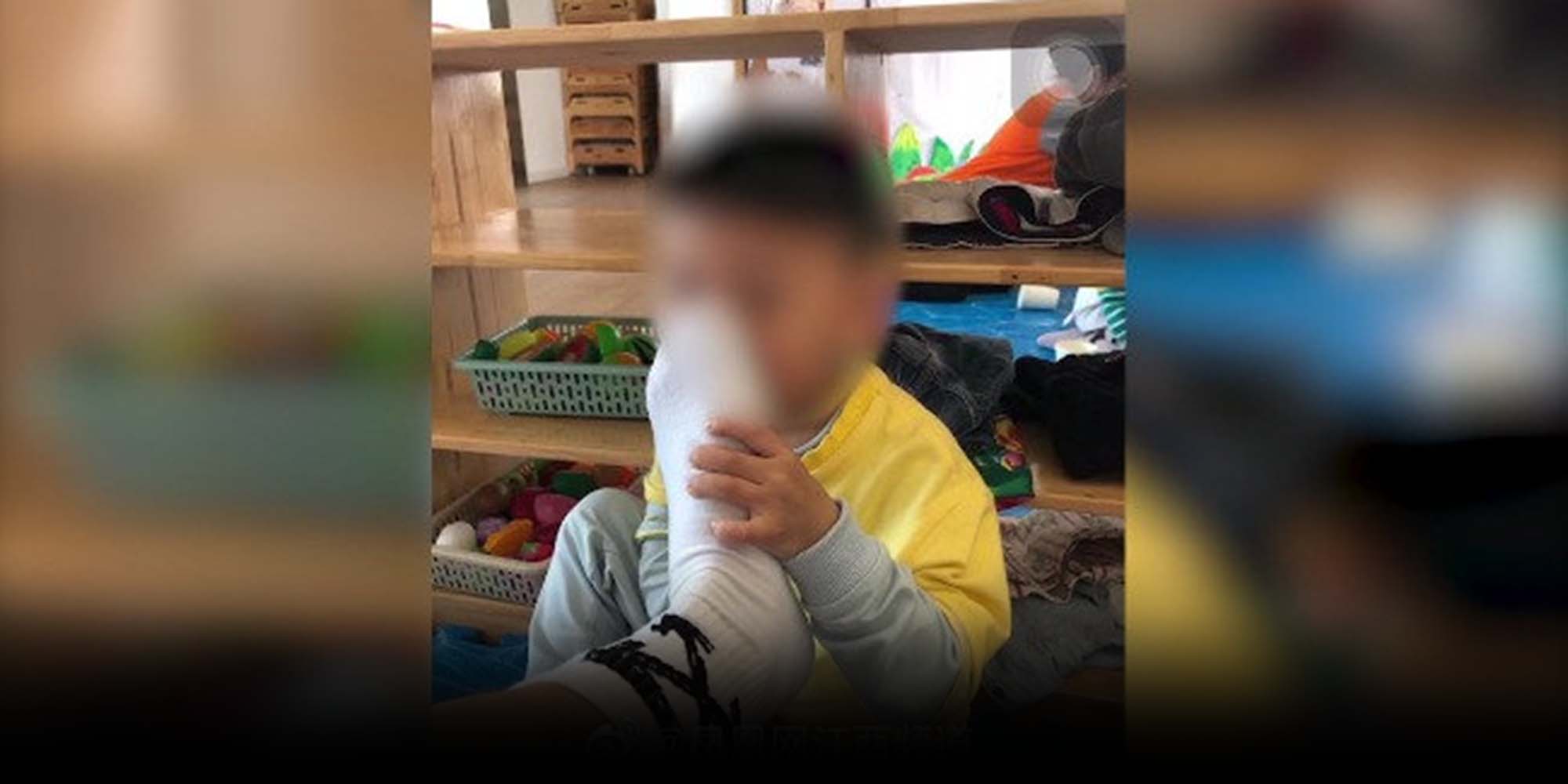 NEWS
Teacher in Detention for Making Kids Smell His Feet
In a social media post, the educator had claimed to be teaching his kindergartners to "cultivate masochism," sparking an uproar among parents.
A teacher from a major Chinese kindergarten chain has been detained after posting photos of a young student smelling his feet along with a sexually suggestive comment, sparking renewed concerns over conditions inside China's schools.
The man, a teacher at a kindergarten run by the U.S.-listed company RYB Education, posted the photos to social app WeChat on Monday, accompanied by text reading: "Cultivate M (masochism) from a young age."
Though the teacher claimed he'd blocked his bosses and students' parents from viewing the post, it quickly went viral on Chinese social media after being shared on microblogging platform Weibo.
The man has since been detained by authorities in Ruijin, the southern city where the kindergarten is located, and will remain in custody for seven days.
In a statement announcing the man's detention, Ruijin authorities said the incident occurred after the man's students told him his feet were stinky. He then asked the students to smell them, took three photos, and shared them on WeChat.
RYB Education said Tuesday that it had dismissed the teacher, adding that after checking the school's surveillance camera and speaking with the man's colleagues, the company had found no evidence of him abusing or sexually harassing students.
Ruijin's education bureau has suspended the teacher and launched an investigation into the incident, according to a Weibo post released Monday.
The case is just the latest public outcry involving RYB Education, which claims to operate nearly 500 kindergartens in more than 300 Chinese cities.
In 2017, staff at a Beijing kindergarten operated by RYB Education were accused of child abuse after parents found needle marks on their children's bodies. One teacher, surnamed Liu, was later sentenced to 18 months in prison and a five-year ban from working in education for abusing her young wards.
In 2019, a foreign national working as a teacher for RYB Education was also sentenced to five years in prison, followed by deportation, for child molestation.
Child abuse and molestation in China's school system have repeatedly sparked heated public debate in recent years. In a report published in 2020, the nonprofit Girls' Protection suggested that one-third of all child sex abuse in China takes place inside schools.
In late 2019, China's education authority announced it would slap teaching bans on anyone judged to have caused an "adverse social impact," though in practice such bans usually only last for five years.
Last May, Chinese authorities implemented a "mandatory child abuse reporting mechanism" requiring people working in close contact with minors, including teachers, to report any suspected abuse immediately. 
Editor: Dominic Morgan.
(Header image: A photo of a young student smelling his teacher's feet at an RYB Kindergarten in Ruijin, Jiangxi province, April 2021. From Weibo)