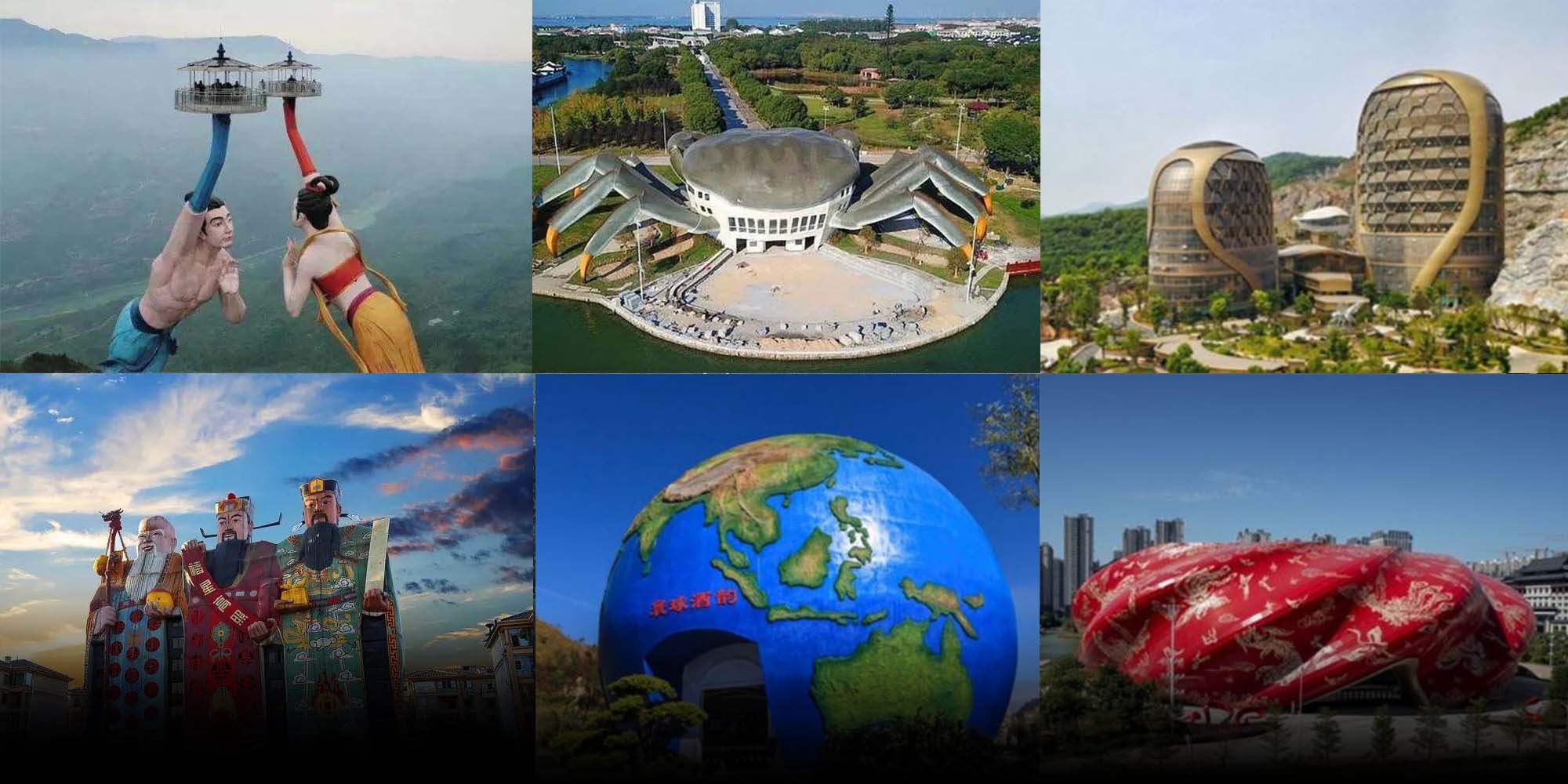 NEWS
China's 2021 Resolution: No More Ugly Buildings
Urban structures should be functional, green, and pleasant to look at, according to the National Development and Reform Commission.
China's top economic planning agency is fed up with ugly, impractical buildings.
In a notice published Tuesday, the powerful National Development and Reform Commission said local governments should focus on building designs that are functional, cost-efficient, environmentally friendly, and aesthetically pleasing, triggering wide online discussion about some of China's most notorious urban eyesores.
"The construction of super-high-rise buildings taller than 500 meters should be strictly limited and the construction of 'ugly buildings' prohibited," read the notice, dated April 8.
With China's rapid urbanization, skyscrapers, landmarks, and tourist attractions have proliferated across the country over the past three decades. Though the notice does not give a clear definition of what constitutes an "ugly" building, the hashtag "no ugly buildings" has gone viral on microblogging platform Weibo, garnering more than 170 million views as of Thursday afternoon.
On Chinese social media, users shared photos of questionable architecture in their hometowns. In the comments section under a related media post, thousands of Weibo users weighed in on China's ugliest buildings, with many nominating the Tianzi Hotel in the northern Hebei province. The 10-story hotel, famously designed as three giant Chinese gods standing side by side, reportedly holds a Guinness World Record as the largest "image building."
Another upvoted structure was Flying Kiss, a major sightseeing destination in China's southwest. Tourists can pay to ascend to the crow's nests held aloft by a pair of giant rotating statues perched on a cliff, which at their nearest point appear close enough to "kiss."
"I realize that aesthetic appreciation is too subjective to have a clear definition of ugly buildings, but these structures are too ridiculous," wrote one Weibo user. "We don't even need an evaluation standard for everyone to notice what's too ugly."
Since 2010, the Chinese architecture website Archcy.com has held a "Top 10 Ugliest Buildings" competition, with a public opinion poll and a second-round review by professionals. Past "winners" have included public venues shaped like crabs, teapots, and liquor bottles, as well as the Tianzi Hotel and Flying Kiss.
"Architecture is an art of abstraction, but some buildings take on this huge dimension to simulate animals and humans, which should be discouraged for the sake of professionalism and aesthetic taste," Dong Yi, an associate professor of architecture at Tongji University in Shanghai, told Sixth Tone.
The reasons behind such designs can be complicated, he said. Sometimes, the developers are going for what's most eye-catching; other times, they just have bad taste.
"Architectural designs are usually conceived by a huge team," Dong said. "The final shape might change depending on who dominates the project — the designer, the property owner, or the government."
Many urban landmarks in China have earned their own local nicknames thanks to their radical appearances. Shanghai's tallest buildings — the Shanghai World Financial Center, Shanghai Tower, and Jin Mao Tower — are collectively referred to as a "three-piece kitchen set" because they resemble an eggbeater, a bottle opener, and a basting syringe, respectively.
The Beijing headquarters for state broadcaster China Central Television is nicknamed da kucha, or "big underpants" because of its angular arch, while the similarly shaped Gate of the East in Suzhou is affectionally called qiuku, or "long johns."
Editor: David Paulk.
(Header image: A collage of buildings in China that are occasionally described as "ugly." From Weibo)