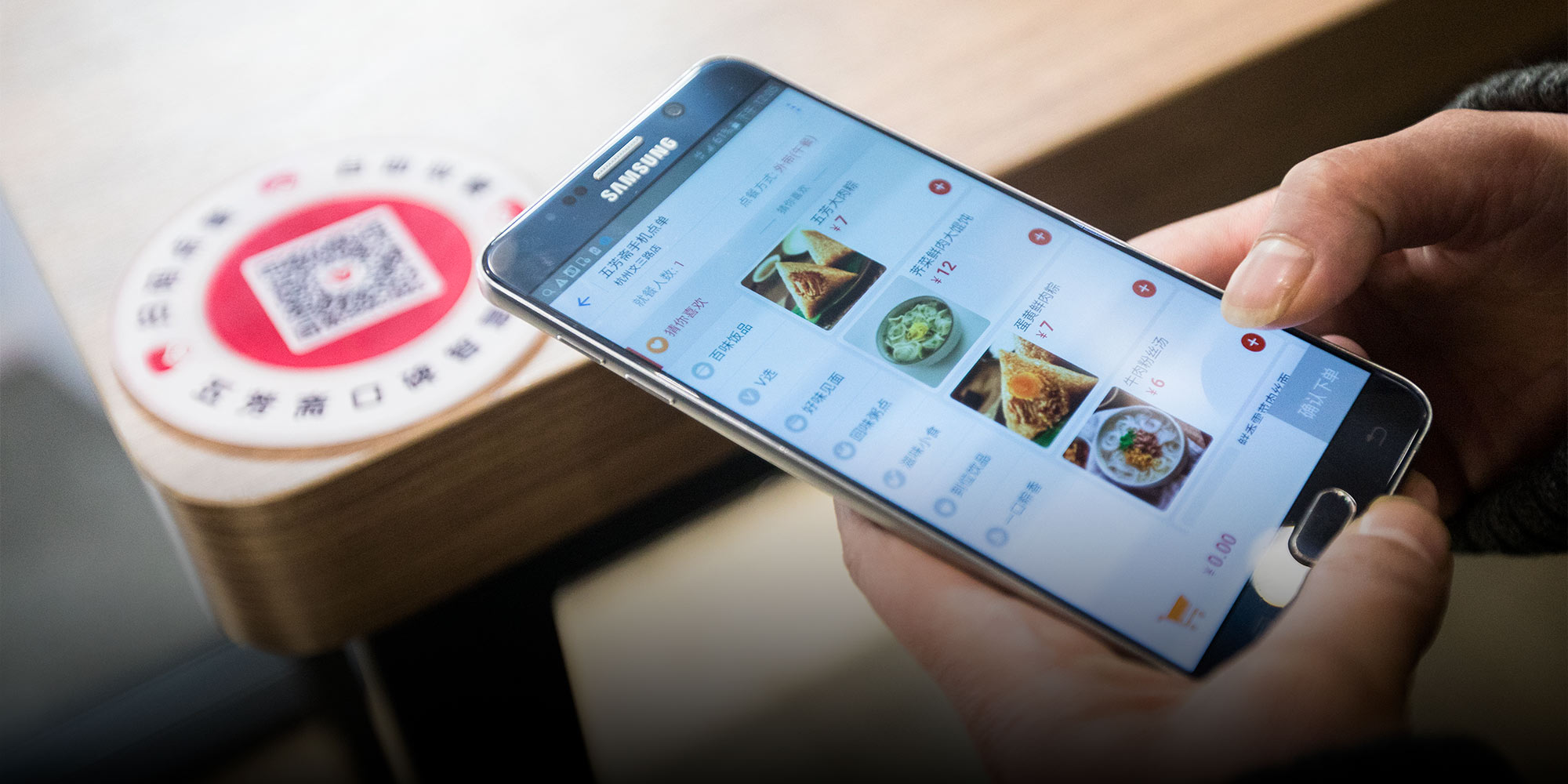 SIXTH TONE ×
In China's Restaurants, Data-Hungry Apps Will Take Your Order
Profitable to businesses and convenient for diners, the mass collection of personal information still has some feeling queasy.
SHANGHAI — During a recent lunchtime rush hour at a Thai restaurant, there were no menu-toting waiters coming up to take diners' orders. Instead, the restaurant proprietor greeted customers with a reminder that they could select their meal by scanning the QR code on their tables.
Six months earlier, the restaurant had switched over to this scan-to-order system, which required customers to first follow the restaurant's account on social app WeChat before they could choose their dishes.
The proprietor saw it as a win-win-win proposition: Customers could order their food quickly, the restaurant would need fewer staff members, and their social media account would see more engagement — they've gained followers in droves over the past half year, she said.
With such obvious benefits to businesses, QR code ordering has been widely adopted across China. Usually built on top of the mini-app and payment functions of WeChat, such systems allow customers to view an up-to-date menu on their phone, order without having to flag down a waiter, and pay directly. Some restaurants have even introduced joint-ordering apps, so groups of diners can see what each other has chosen.
But to enjoy such convenience, customers are often being forced to follow social media accounts and hand over their personal information, raising similar privacy concerns as those leveled against companies that use facial recognition cameras to track their clients or shops offering face-scanning checkouts.
In March 2021, reporters from Sixth Tone's sister publication The Paper randomly visited 100 restaurants — including cafés, tea shops, and dessert shops. A total of 72 offered customers the option to scan-to-order, as well as order in-person. The majority of the other 28 restaurants were mostly self-service, such as conveyor-belt sushi joints.
After scanning a QR code in these 72 restaurants, customers were able to directly order in 37 of them. However, at the other 35, diners had to first follow an account on WeChat, after which another page popped up or they were redirected to a mini-app where they could order.
At 20 restaurants, users had to authorize access to the cellphone number bound to their WeChat account, or else input a phone number and log in before they could order. In addition, the ordering system at 12 other restaurants required customers to enter personal information such as phone number, date of birth, name, and gender to become a member, or else they were automatically made members after scanning the QR code.
When collecting customer data, most of these restaurants did not show customers a privacy policy or user agreement to explain how and why they collected, stored, and protected data. Only a few businesses stated that the information was collected to "improve their service" and provided terms or agreements.
Almost all of the 35 restaurants where diners needed to follow a WeChat account before ordering were branded chain restaurants. Compared with individually run restaurants, it is easier for chains to obtain large amounts of customer information and carry out big data marketing. Over the following three days, WeChat accounts from 13 of the 35 restaurants that reporters from The Paper followed to order food sent messages on new menu items, discounts, and coupons.
Customer Complaints
In many restaurants, scan-to-order has become the norm. The manager of one Western restaurant surnamed Zhang told reporters that only a few of their diners used paper menus. In the case of elderly diners or those who aren't used to the ordering system, the waitstaff would help them order.
At a Chinese restaurant — one where customers needed to follow a public account and sign up to order — the manager, surnamed Lin, said that following their public account allowed customers to quickly and conveniently receive information on new menu items and promotions.
However, customers The Paper spoke with generally saw scan-to-order a little differently. Most recognized the convenience of scanning a QR code to order food, but said the experience was sometimes subpar due to bad internet connections or complicated ordering menus. As for the additional requirements that appeared when ordering food — such as being forced to follow a WeChat account, having to register or accept automatic membership, or input their name and cellphone number — the majority believed that their privacy was being violated and were concerned about the risk of information leaks. They didn't think that customers should have to trade their personal details in exchange for convenience.
One customer told The Paper that services such as joint-ordering for groups of diners were indeed more convenient. But after following the official account, she found that the push messages would often bother her. She admitted that she'd often unfollow an account after eating, or else enter a fake name, number, and birthday when registering to become a member, "so that I can protect myself."
In addition, she often takes her parents, who are both over 50 years old and have eyesight issues, to dinner. When she's scanned the code to order, her parents have needed her to read the menu because the font size was too small to read clearly. In some restaurants, while it is possible to both view a paper menu and scan a code, the newest dishes and set meals only appear by scanning the code. For her, this makes it not very user-friendly for older people.
A Smorgasbord of Apps
The low technological threshold for creating mini-apps has led to an influx of tech companies creating meal-ordering systems. One such company, called Veding, boasts that it can quickly develop ordering systems that include stand-alone apps, WeChat mini-apps, and public accounts. A staff member at the company said that they can create customized meal-ordering systems according to their clients' specifications, and clients can also choose which customer data they want collected. The harvested information can then be viewed on the backend.
Technology providers of digital menu systems often claim to be able to give restaurants various value-added services. These include analyzing user data on consumption habits, forming precise user profiles, and creating targeted marketing schemes with discounts, special offers, coupons, and points for customers to help businesses more effectively retain customers.
For example, a salesperson surnamed Jiang at one supplier of smart food-ordering systems showed The Paper the backend management page of one ordering system, which listed the "customer information" retained by a restaurant, including name, gender, cellphone number, and date of birth.
According to Jiang, when customers' personal information and consumption data is retained, the company categorizes members and then carries out screening and targeted marketing. For example: "In terms of customers that don't come to the restaurant for a month or two, these 'sleepers' can be filtered at the backend and then 'woken up' through promotions."
Data Gluttons
Wang Xinrui, a lawyer who has long been working to protect information security, believes that the main problem of scan-to-order is excessive data collection. In fact, according to Wang, ordering itself does not require much information to be collected, and it is necessary to be aware of how merchants misuse this information.
The Ministry of Industry and Information Technology said it will soon issue regulations on the protection and management of personal information on mobile internet applications based on two principles: "informed consent" and "collecting the minimum amount necessary." The regulations will require that, when engaging in personal information processing activities on apps, users should be informed of the rules around the processing of personal information in clear and understandable language, and that users should make voluntary and clear expressions of intention under the premise of full support. At the same time, apps should not engage in personal information processing activities outside the scope of the user agreement or irrelevant to the service provided.
According to Liu Junhai, a law professor at Renmin University of China, scan-to-order essentially involves customers' "right to choose" and "right to privacy." If a merchant requires customers to scan a code to order the food, then their right to choose will be infringed. Restaurants should provide alternatives, since only by allowing diners to choose freely can they earn their respect and trust.
In Liu's opinion, whether it's legal for businesses to frequently send advertisements and information to customers after obtaining their details, a practice they call "precision push marketing," depends on whether customers are willing recipients. Customers should not be forced into providing personal information just so they can order food, and then forced to receive advertising after they've finished dining.
Liu believes that scan-to-order must be on a voluntary basis, the security of customers' privacy should be prioritized, and data collection should be based on principles ensuring it is "legal, necessary, legitimate, confidential, and secure."
This article was originally published by The Paper. It has been translated and edited for length and clarity, and is republished here with permission.

Translator: David Ball; editors: Lu Hua, Ye Ruolin, and Kevin Schoenmakers.
(Header image: A customer scans a QR code for ordering food at a restaurant in Hangzhou, Zhejiang province, 2018. Rayfoto/People Visual)