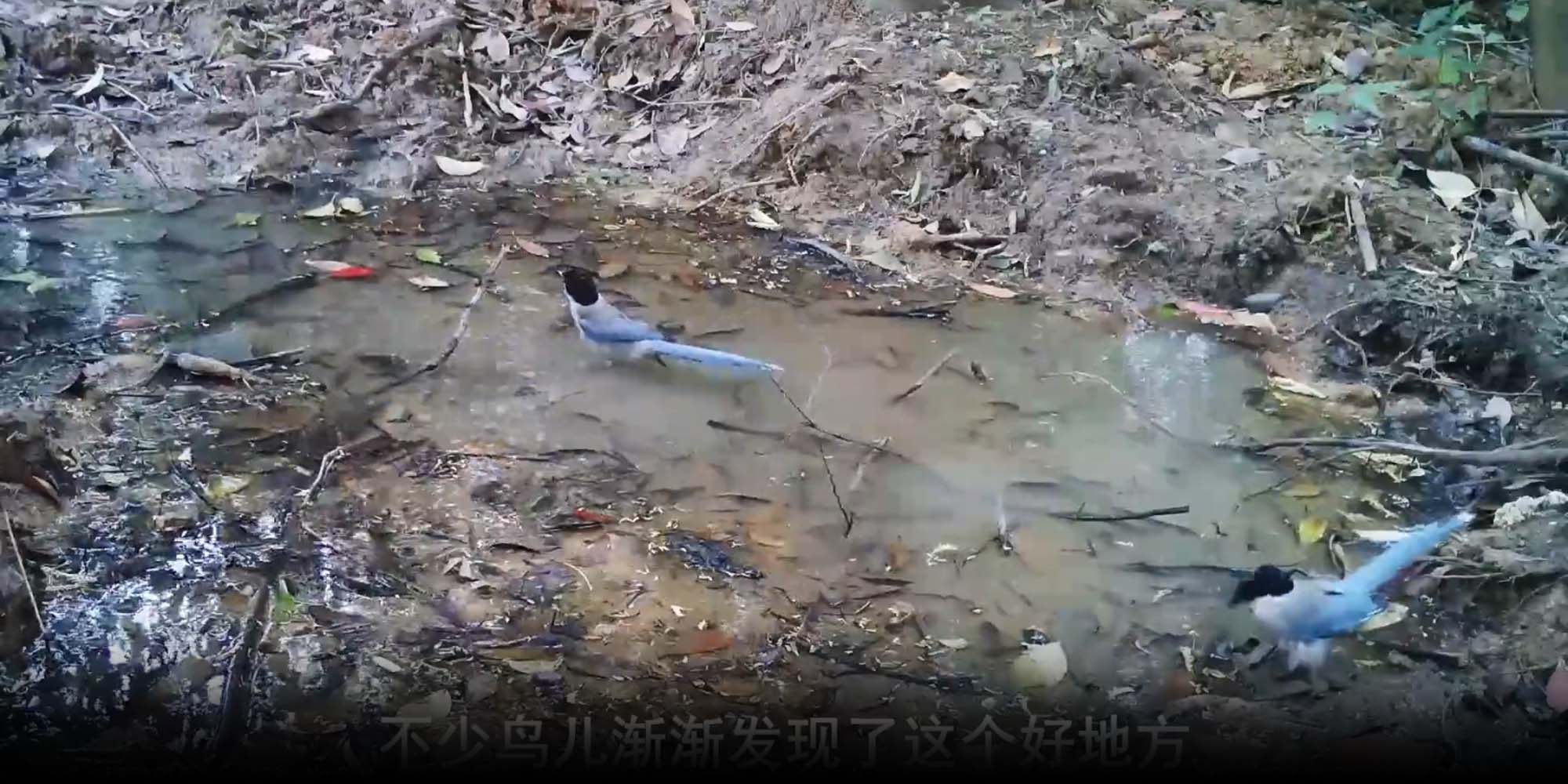 NEWS
Vlogger Sheds Light on Habitat Loss in Suburban China
A vlogger documented wildlife living near Nanjing to raise awareness of growing human encroachment.
A video showing animal behavior in and around urban areas has garnered wide attention on social media, raising important questions about the impact of human settlement and expansive infrastructure on wildlife.
The video, shared by a vlogger on March 26, shows different wild animals approaching a puddle in a wooded area near a settlement in the eastern city of Nanjing, in Jiangsu province. The nine-minute video, shot 1 kilometer from the vlogger's home using infrared cameras, documents the behaviors of different animals — including rabbits, magpies, yellow weasels, and owls — throughout the seasons since last spring.
"These wild animals are our neighbors; they share this homeland with us," the vlogger, who goes by the Weibo username Jiameimao, says in the video. "Nevertheless, their vitality and living space are vanishing because of human behavior, and they require more understanding and care from us."
But weeks after releasing the video aimed at raising awareness on respecting animal habitats, Jiameimao said Wednesday in another Weibo post that she had found a hunter's trap near the puddle in her video. The snare ended up hurting a stray dog, which she said was sent to an animal rehabilitation center after she called the police.
Jiameimao added that the police arrested the trapper, who was let go after "being educated," according to her Weibo post. Hunting is prohibited throughout Jiangsu province.
Under China's Wildlife Protection Law, hunting activities including setting traps are banned in natural sanctuaries. Violators can be subject to fines of at least 2,000 yuan ($300), or harsher punishments depending on the severity of the crime.
Since Jiameimao posted a photo of the hurt dog on Weibo, many angry social media users have been calling for stricter wildlife protection and a ban on tools that could be used to hunt animals.
Wang Fang, a researcher on the conservation of rare and endangered species at Shanghai's Fudan University, told Sixth Tone on Thursday that the video captured via infrared cameras can be used to spread public awareness on wildlife habitats and nature.
"Urban residents will be aware that wild animals' stories are hidden in tiny corners around them," said Wang, who is also a friend of the vlogger.
While using traps as hunting tools is banned, Wang said certain communities, including those working in agriculture-related industries, may still need them for rodent control, making complete oversight difficult.
Last month, police arrested a man who had set a trap for the purpose of hunting in Beijing's Nanhaizi Park, and found various hunting tools at his residence. The case is currently under investigation.
Editors: Bibek Bhandari and David Paulk.
(Header image: Birds captured on camera in a wooded area 1 kilometer from the vlogger's home in Nanjing, Jiangsu province, 2021. From Weibo)