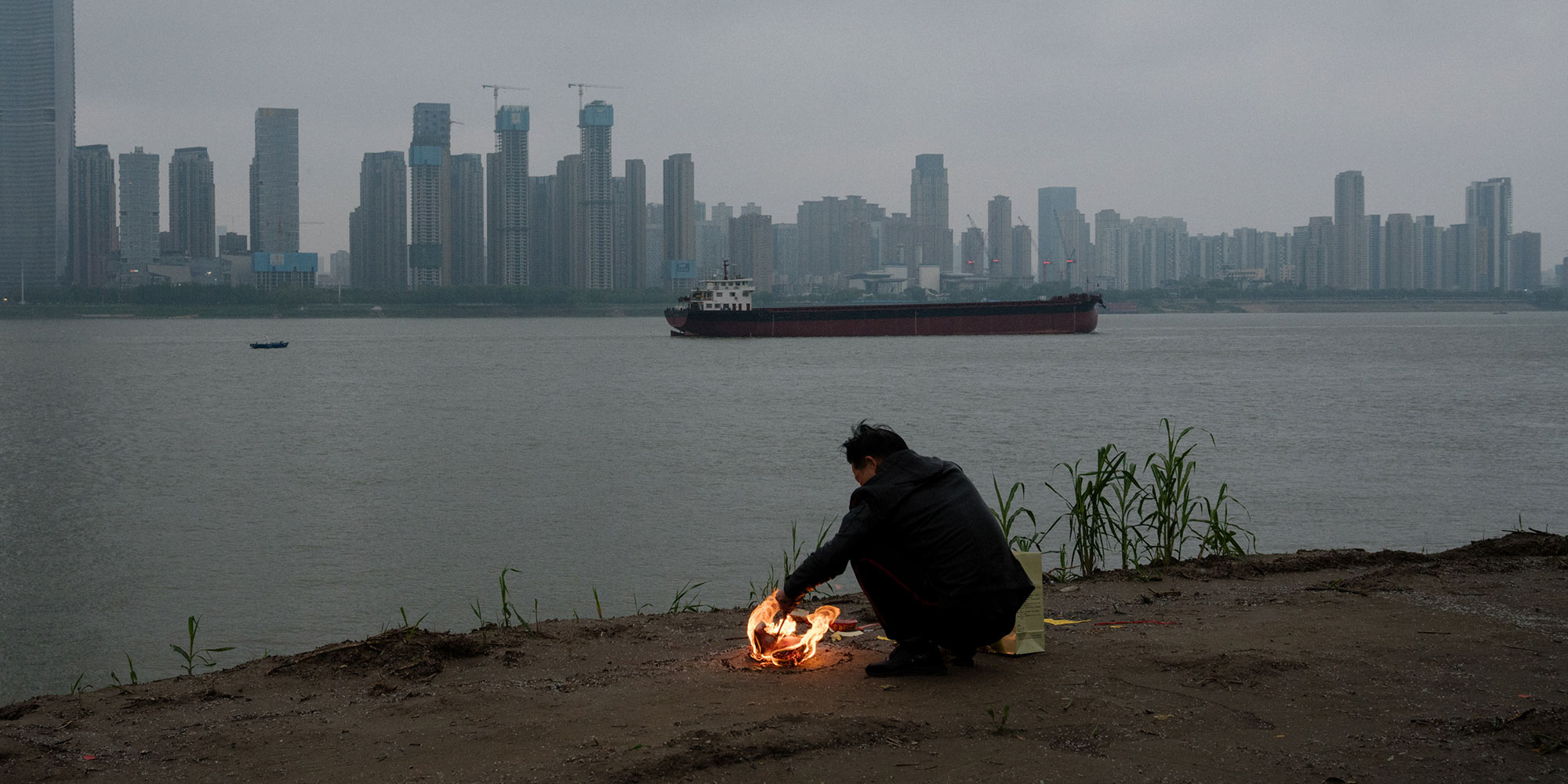 MULTIMEDIA
Wuhan, Revisited
Returning to the Chinese city nearly one year after it emerged from lockdown, Sixth Tone finds life has superficially returned to normal. But residents' emotional scars have yet to fade.
HUBEI, Central China — As I shuffled out of a packed Hankou Railway Station in downtown Wuhan on Saturday, it was hard to believe this was the same place I had visited just a year ago.
Last April, I had traveled to the central Chinese city as it was preparing to lift a draconian lockdown that had lasted over 70 days. The streets were almost deserted and lined with tall yellow barriers, installed to prevent residents from leaving their homes. The only break in the eerie calm had come on April 4 — Tomb-Sweeping Day — when the city blared its air raid sirens to mourn the thousands of residents lost to COVID-19.
Now, Wuhan was reassuringly chaotic once more. Families were taking advantage of the Tomb-Sweeping Day public holiday to travel, with the city's train stations handling nearly 2.4 million passengers over the long weekend. The only visible signs of the pandemic were the large red banners hanging outside the station, which bore slogans reading "free COVID-19 vaccine site" and "get vaccinated as soon as possible."
Yet for locals like Li Jun, the traumatic memories of 2020 have yet to fade.
When I first met Li, his wife — Guo Yin — was still stuck in the "red zone" — the part of Wuhan Union Hospital reserved for COVID-19 patients. She had fallen ill during the early days of the outbreak in January, when the disease was still referred to as a mysterious strain of pneumonia. 
After meeting me at a subway station across town, Li recounted his and Guo's long recovery over the past year.
This is their story, edited for brevity and clarity. (To protect the couple's privacy, the names Li Jun and Guo Yin used in this article are pseudonyms.)
I was born in Wuhan in 1957. I joined the army when I was 17, and went on to serve in the air force for 21 years, eventually rising to become a deputy regimental commander in the northeastern city of Harbin.
When I was 38 years old, I chose to go back to Wuhan to work for the local government. At that time, my wife, Guo Yin, was working in a state-owned steel plant in Wuhan. But in 1995, there was a wave of layoffs from state-owned enterprises, and she lost her job. After that, she started to do different jobs while also taking care of our family. Our daughter was born in 2000, and she now studies music theory at the Wuhan Conservatory of Music.
As Spring Festival approached last year, Guo said she had a cold and didn't feel well. At first, I didn't pay much attention to her. I thought she'd just caught a cold due to all the cleaning she had been doing ahead of the holiday. I took her to see the doctor, but all the small clinics near our home were closed. So, we went to the Wuhan Red Cross Hospital instead. 
That was when we realized something strange was happening. I still remember how overcrowded the outpatient department on the first floor was that day. There must have been nearly 1,000 people lined up. Some people were crying and shouting. By the time we got home, my wife's condition had worsened. 
Soon after, I saw the news about COVID-19 on TV. I was worried that my daughter might be at risk of infection in our home, so I sent her to stay with her aunt. I stayed to take care of my wife. We went to several different hospitals looking for help. But none of them had spare beds.
Finally, we got lucky. On Jan. 24, which was the day before Lunar New Year and the day after Wuhan had been put into lockdown, she was admitted to Wuhan No. 6 Hospital.
At that time, there was an extreme shortage of medical workers. The doctors and nurses had to work day and night without rest. So, I acted as a makeshift nurse, staying in the ward to care for my wife. There were four beds in the room originally, but the other two were moved out to keep us in isolation.
At 8 a.m. each day, the doctor would come to attach a bottle of fluid to Guo's IV. Throughout the day, she'd receive seven or eight bottles in total. I needed to look after her all the time.
At night, I dared not sleep. She was on a ventilator. Twice, she accidentally removed her breathing tube in the middle of the night. Each time, her gasps for air jolted me awake, so I was able to get a doctor to reinsert it before she suffocated. After Guo was discharged, the doctor told me: "You deserve half the credit for your wife being alive."
But after staying in the ward for several days, I also became infected. I continued caring for Guo while receiving treatment. When I received fluid, I'd ask the doctor to put my IV on a quick setting, so I'd have more time to help my wife eat her meals. 
At that time, the hospital canteen was closed, and all the boxed lunches were donated by local residents. The food was cold and tasteless. The atmosphere in the hospital was so depressing. I didn't have an appetite, but I still forced myself to eat a lot and drink plenty of water.
During those days, I'd constantly think about how I needed to care for my young daughter. I vowed that I'd help my wife get out of there. I never thought I would die in the hospital.
On March 1, 2020, I was discharged and went back home. By this stage, my wife was also out of danger. On March 14, she was transferred to another hospital to continue her rehabilitation treatment. At the end of the month, she was transferred to Wuhan Union Hospital.
Finally, on April 23, Guo was discharged from the hospital and transferred to a quarantine center for 14 days of observation. In May, she returned home.
But once she was back home, Guo became worried about her physical recovery. I had seen the X-ray of her lungs when she was ill — they looked like frosted glass, with many white spots. To help her recover, I cooked lots of healthy food for her — lotus root, chicken, and "bird's nest" soups.
Last September, doctors of traditional Chinese medicine from the southern Guangdong province came back to visit Wuhan. My wife was selected to receive a full physical with them. The doctors said her recovery had progressed better than they had expected. We were overjoyed to hear that.
When all of this is over, my wife and I hope to go traveling. My favorite place that I've visited is Greece. I still remember how blue the Aegean Sea waters were. Once the pandemic passes, I'll take my family to visit some Southeast Asian countries.
Editor: Dominic Morgan.
(Header image: A man burns paper money as an offering to the dead, in Wuhan, Hubei province, April 3, 2021. Shi Yangkun/Sixth Tone)