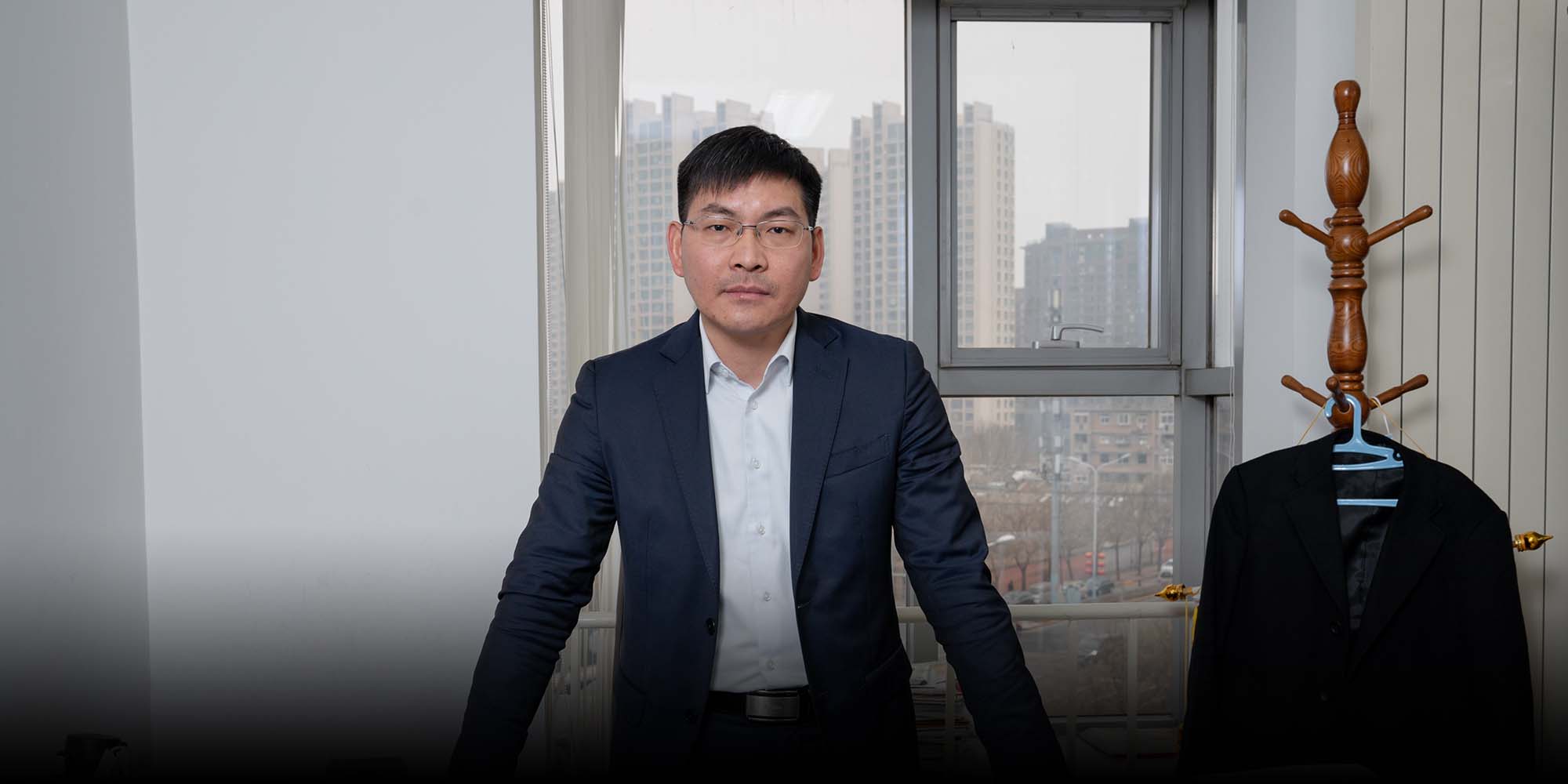 FEATURES
Fighting China's Wrongful Convictions, One Case at a Time
Wang Fei is the social justice warrior defending those who need his legal support most.
This story is part of Sixth Tone's five-year anniversary project Changemakers.
Wang Fei isn't just any lawyer: He's the one who helped acquit the man in China's longest wrongful conviction case.
Last year Wang defended Zhang Yuhuan, who was acquitted after spending 27 years in prison, wrongfully convicted of murdering two children over two decades previously. In 1995, the then-28-year-old from the eastern Jiangxi province was handed a suspended death sentence, which was reduced to 19 years by a higher provincial court over a decade later.
"His right to defense was then completely ignored," the 38-year-old lawyer says of the case, now nearly eight months after the Jiangxi High People's Court set Zhang free. The court had later awarded 4.9 million yuan (then $733,000) in state compensation, the largest sum granted for any wrongful imprisonment.
It's 2 p.m. on a March afternoon and Wang is at the Beijing Zebo Law Firm, where he is also a partner. His office is sparsely furnished. There's a desk stacked with files and books. A red banner is draped on a coat hanger, a gift from Zhang's family praising Wang's work. It reads: "Role Model Lawyer of Justice, Selfless Rescuer."
In China, Wang is part of a group of lawyers pursuing wrongful conviction cases with a shared goal of seeking justice for people who may be innocent. He often works with other lawyers — including for Zhang's case — either on a pro bono basis or for a lower legal fee, depending on the client's financial situation.
Wang says he first heard about Zhang in early 2017 after a local Jiangxi journalist approached him — by then, the lawyer had already successfully co-defended another wrongful detention case. He remembers being caught off guard upon learning the verdict was only based on Zhang's testimony for lack of any substantial evidence and the man wasn't even represented by legal counsel — a provision mandated by Chinese law.
He decided to look into the case.
Wang traveled to a prison in the provincial capital of Nanchang that March where Zhang revealed he had been subjected to a forced confession. The lawyer then spent days speaking to locals in Zhang's village to gather more evidence before writing to Jiangxi authorities. In June 2018, the provincial high court agreed to review the case and allowed Wang's team to access the legal files. It took another nine months for judicial authorities to decide the case would be retried.
According to legal experts, getting such retrials is usually difficult, as the parties involved in the cases — police, prosecution, as well as judges — not only want to avoid accountability on their parts but also prevent such verdicts from denting public trust in the judicial system.
Following Zhang's acquittal, Wang's name became widely known. One of China's most reputable magazines, Southern People Weekly, even bestowed him with the 2020 "charismatic character" award for his role in Zhang's case. The magazine described him as someone who "treats defendants as people, and their crimes for what they are."
"We just did what we ought to do," he says. "It's not about being noble, and there's not so much worth the attention and proclamation."
Chinese courts have a conviction rate approaching 100%, but judicial reforms in recent years have prompted authorities to pledge to address and reexamine potential wrongful conviction cases. Between 2017 and 2020 alone, 4,323 defendants were acquitted from the thousand-odd retrials every year, according to data compiled by the Supreme People's Court.
Wang says it's difficult to trace the history of courts overturning wrongful convictions. However, reports on such cases became more publicly available following calls in 2012 for judicial reform when the public security, prosecutorial, and judicial departments issued documents on guarding against unjust charges.
In 2014, the Supreme People's Court also issued guidelines on improving management and preventing potentially wrongful convictions to "achieve judicial justice." The same year, the country's highest court ordered a reexamination of a high-profile case, and in December 2016, acquitted Nie Shubin, who had been wrongfully convicted and executed for the rape and murder of a woman.
Revisiting decades-old cases requires a tremendous amount of digging, Wang says, but he shows no hint of exasperation while sharing anecdotes on his cases. He remembers joining a team of lawyers midway through litigation on his first wrongful conviction case in 2015 — dealing with four men who had been imprisoned in 2002 for rape and murder — that took almost two years to complete.
"It's like a marathon … but without a known finish line. You just have to run with full commitment," he says, referring to working on such cases.
Wang was drawn to social justice from his early days. As a teenager, he read martial arts novels and was charmed by the life of warriors fighting for justice and helping the weak. He particularly likes Guo Jing, the heroic character from acclaimed writer Jin Yong's "The Legend of the Condor Heroes," who he describes as "not smart, but always honest, upright, and chivalrous."
"Probably everyone who studies law has such an ideal: to use the law to maintain social justice and help those in need," says Wang, who received his lawyer's license in 2008. "Working as a criminal defense lawyer may be a lawyer's highest dream. To defend other people's lives and freedom is a very honorable thing."
In fact, Wang has adopted ideals from his action heroes since the early days of practicing law. In 2012, he started providing free legal advice to a nonprofit that counsels miners with pneumoconiosis, something he is still pursuing. Some 6 million people, most of whom work in coal mines, are affected by the illness also known as "black lung disease," which was only included in the government's work-injury insurance plan last year.
Prominent investigative journalist and founder of Love Save Pneumoconiosis Wang Keqin describes Wang Fei, who has so far helped nearly 50 miners with legal counsel and is unrelated to the journalist, as "kind-hearted, passionate, and responsible."
"This case was of typical and great significance to the protection of miners with pneumoconiosis from across the country," the journalist says, referring to the 36 miners Wang Fei helped in Leping, Jiangxi.
Asked about his track record of winning cases — Wang Fei says he hasn't counted them yet — the lawyer shyly brushes off such assertions. He says he instead likes sharing his failures and warns people who reach out to him online to be rational while choosing a lawyer.
"You choosing me doesn't necessarily mean success," Wang says, something he reminds his more than 90,000 followers on microblogging platform Weibo time and again.
Weibo, Wang says, has become a platform to interact with strangers seeking legal counsel and to virtually meet those who are pouring out their grievances — some family members who believe their loved ones have been wronged by the legal system. And the more he reads those stories, the more he is willing to act to prevent them from happening again and assist those in need.
"Behind the cases are people, living and breathing people," he says. "We should help them, otherwise they will fall into an endless cycle of appeals, which is excruciating."
Wang acknowledges that the work hours are long and stressful. Sometimes, he also finds himself at the receiving end of hate, which he has learned to tolerate with age and experience. He has been cursed by people when verdicts weren't in their favor and also vilified online for "saving murderers."
"Criminal defense is not defending a person's evil act, but defending the rights of a human being," he argues.
Some of his defendants and their families can attest to that.
In 2019, Li Sixia, a female engineer at a state-owned enterprise in the northwestern Shaanxi province was sentenced to two and half years in prison for "picking quarrels and provoking trouble." She was charged after petitioning against two factories in her native Shuangxi Village that were polluting the environment and damaging roads.
Zhou Ying, the woman's daughter, says another lawyer recommended Wang while she was in the process of applying for a retrial. It took more than a year of legal battles before she was set free last August.
"He's not just a lawyer but has become like a family friend now," says Zhou, who used a pseudonym due to privacy concerns.
But how do such wrongful convictions occur in the first place?
Wang says several reasons could be at play. For instance, wrongly recorded testimonies, use of torture to extract confessions, or simply a "presumption of guilt" — when an individual is considered guilty even without proof, in contrast with the adage "innocent until proven guilty" — may all lead to wrongful convictions.
In Li's case, Wang says his team found testimonies recorded by the police and filed to the court were inconsistent when talking to the witnesses again. Wang returns to Zhang's case, which according to him, had a "major procedural violation," as he wasn't represented by legal counsel during the first trial in 1995 when he was given the death penalty.
There also wasn't an open hearing in Zhang's second trial — under China's criminal procedure law, courts decide whether a case's second trial requires an open hearing — which the lawyer believes could result in missteps.
"If there was a hearing, such a mistake — a procedural bug — would be very easy to find out," he says.
However, Wang says the country's judicial system has made "gradual progress" in the past five years. Meanwhile, he also acknowledges there may be some shortcomings, and no justice system may be able to reach a "perfect state."
"But legal professionals should strive to promote such a system to reach a more perfect state," he says, "and then ensure that both the real perpetrators can be traced, and, as best we can, that innocent people are not prosecuted."
"If we work hard, we can make changes," he adds.
Wang is currently working on more than half a dozen cases, but has decided not to take any new ones for the next six months. It's taxing, but he often finds ways to relieve the pressure. Sometimes, he goes for a jog. Other times, he just prefers listening to folk and rock music to take his mind off work, though Japanese composer Joe Hisaishi's orchestral piece "The Sun Also Rises" particularly helps calm him.
"Whenever I get frustrated with a case, I play this music," he says.
Once the frustration passes, Wang again finds himself at his desk, flipping through files and making phone calls, ready to get back to work.
Additional reporting: Zhang Chaoyan; editor: Bibek Bhandari.
(Header image: Wang Fei poses for a photo at his law firm in Beijing, March 2, 2021. Shi Yangkun/Sixth Tone)