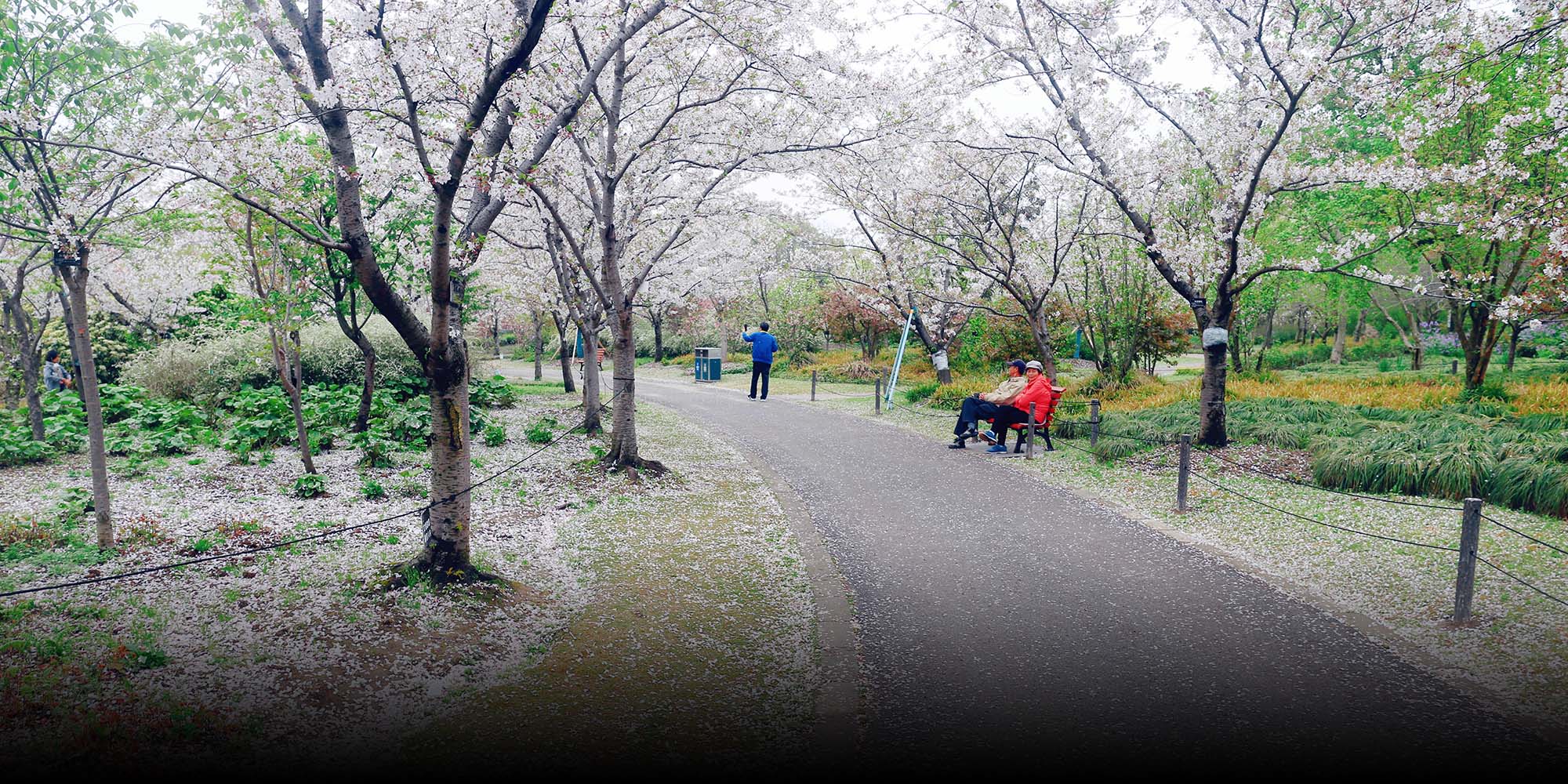 NEWS
Pink Pavements Permitted: Shanghai Embraces Cherry Blossom Season
At least half a dozen streets in the city will leave the fallen flowers uncleared to add to the seasonal ambience.
SHANGHAI — Cherry blossom season may be coming to an end, but authorities in Shanghai are determined to milk it a little longer.
For five streets in five districts — Baoshan, Jing'an, Songjiang, Pudong New Area, and Yangpu — street sweepers have been instructed not to collect the pink petals fallen from trees, according to the Landscaping and City Appearance Administrative Bureau. The aim is to provide residents with an opportunity to take in the seasonal blooms during late March and early April, as the natural phenomenon has become a social media staple.
Over the past few weeks, thousands of people have been seen photographing the cherry and plum trees in Shanghai's parks and streets. Several businesses are also cashing in on the time of year with various cherry-themed items — from local vendors selling flower-shaped popsicles to coffee giant Starbucks offering cherry-flavored drinks and seasonal merchandise.
Shanghai's initiative to promote its cherry blossoms was piloted last year in Yangpu District. The fallen petals from 189 cherry trees carpeted a 700-meter-long sidewalk of Jiangwancheng Road in the suburbs, providing a picturesque backdrop for photo-hungry social media users.
The decision to leave the fallen flowers untouched came after a similar directive in the fall, when authorities decided not to clear the golden-colored leaves from soapberry, gingko, and willow trees from local streets to add to the seasonal ambience.
Many passersby were happy to see splashes of color on the otherwise dull, gray sidewalks, while street cleaners who spoke to Sixth Tone said the initiative hasn't interfered with their daily work routines.
"When I was on cleaning duty last week, I encountered a crowd of residents who had come to take photos," said a worker surnamed Qiu in the city's central Jing'an District. "The fallen petals are certainly a bit difficult to deal with (during bad weather), but overall, our workload hasn't changed much."
While the cherry blossoms have cheered the public, experts are concerned about how changing weather patterns are affecting seasonal blooms in several countries. Japan, which is also well-known for its cherry blossoms, recorded its earliest bloom in 1,200 years, and more than half of the trees at the Shanghai Chenshan Botanical Garden are said to have flowered a week earlier than usual.
Additional reporting: Du Yannan; contributions: Cai Xuejiao; editor: Bibek Bhandari.
(Header image: People observe cherry blossoms in bloom at a park in Shanghai, March 31, 2021. People Visual)