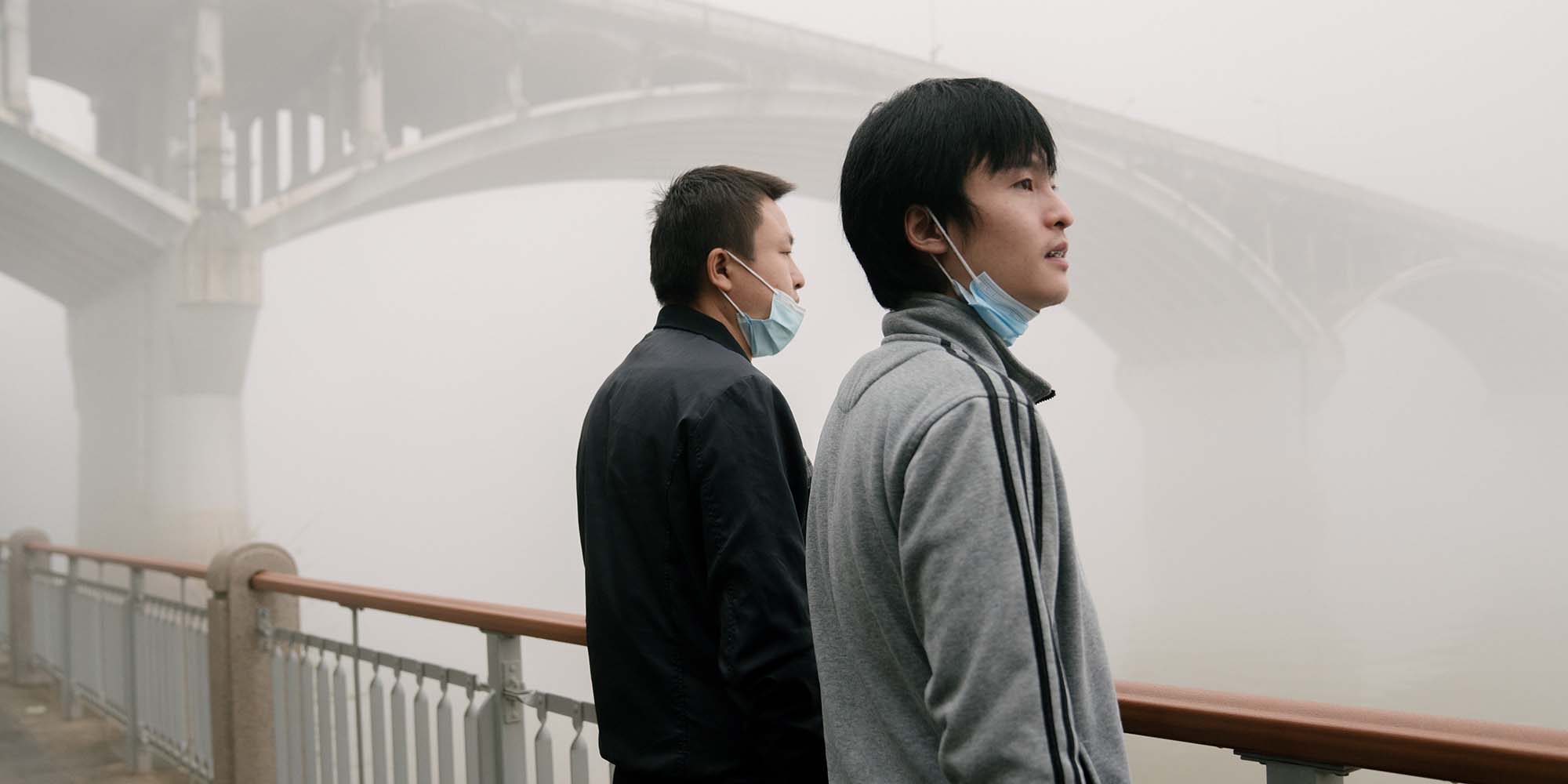 FEATURES
The Man on a Mission to Legalize Same-Sex Marriage in China
Five years ago, Sun Wenlin made headlines with his same-sex wedding. Now, he's advocating to legalize marriage for LGBT couples.
This story is part of Sixth Tone'sfive-year anniversary project Changemakers.
The wedding in the spring of 2016 was unlike any China had ever witnessed — two men stood shoulder to shoulder in matching purple tuxedos, professing love and promising to spend their lives together.
In China, where same-sex marriage is illegal, photographs of the symbolic union between Sun Wenlin and his partner Hu Mingliang invited a chorus of both cheers and jeers — but that moment marked a daring declaration of love and a monumental leap for marriage equality. The image of two lovers holding hands, making vows, and kissing became a poignant and pivotal step in galvanizing the country's same-sex marriage campaign.
"We wanted a full-house wedding to let the public know that gay people also have the desire to get married," Sun says on a recent February afternoon, reminiscing on the couple's wedding — hosted a month after a court in central Hunan province denied them a marriage certificate on the grounds that such unions only exist between a man and a woman. The couple had filed a lawsuit into their local civil affairs bureau in provincial capital Changsha in 2015 for refusing to register their marriage, with the case becoming the first same-sex marriage lawsuit accepted by a Chinese court the following year.
It was a legal defeat but defined Sun's purpose in life: to change policies and perceptions surrounding same-sex marriage in China. In that moment, the now-ardent 31-year-old marriage equality advocate was born.
Sun often thinks about those early — and lonely — days of activism. He says a shift in policies requires a shift in attitude toward same-sex couples among policymakers. So in 2016, he spent days calling provincial lawmakers one after another. He needed 30 signatures to file a petition to the National People's Congress for lawmakers to discuss the prospects of same-sex marriage.
Some of those went unanswered, others were either reluctant to speak or outright refused to listen. He ended up with no signatures.
"One of them said he would sign if some other delegates were willing to push for it, but he didn't want to lead the way," Sun says of one lawmaker, also the president of a local university, who patiently listened to him.
"Another one hung up as soon as he heard 'pro-gay marriage,'" he says of the conversation with another lawmaker, a monk. "That's pretty much the same thing with everyone else I've contacted since."
Activists say marriage equality in China is still a distant reality — globally only 30 governments have legalized same-sex marriage. Continuing blood lineage is as important as ever to families, while the law spells out marriage as the union between a man and a woman.
However, China doesn't criminalize the LGBT community anymore and homosexuality has been declassified as a mental illness, though references to this ideology haven't been entirely erased. Spaces for the LGBT community — clubs, ballroom events, and art exhibitions — exist, though are slowly vanishing. Voices from the community are louder, albeit increasingly restricted.
But countless LGBT rights activists, including Sun, have been relentless in refusing to be silenced again, continuing their advocacy despite the challenges.
In late 2019, Sun co-founded a nonprofit called the China Marriage Equality Advocacy Network — whose Chinese name translates to "love becoming family." That year, the organization spearheaded a national campaign lobbying for the legalization of same-sex marriage when China's top legislative body called for public feedback prior to updating the country's civil code.
The support Sun and his team received was overwhelming. Nearly 90% of the over 200,000 responses were in favor of legalizing same-sex marriage, making it among the most popular requests to be included in the new civil code. That moment, Sun says, he realized he was no longer alone but part of a family of thousands sharing a common purpose.
The proposal didn't make it into the civil code but served as a symbolic victory that snowballed into a much-needed national conversation, both online and offline. Sun says it was heartening to see so many sexual minorities come out to lawmakers for the first time. In those letters providing their feedback, they wrote about discrimination, hate, and love, too.
By publicly sharing his personal experience, Sun may have provided that much-needed visibility and emboldened many to speak out.
It's a story that begins with Sun first meeting his partner Hu in an online chat group in 2014. They were 24 and 34, respectively, and the couple agrees it was love at first sight. Soon, they started cohabiting, and then met each other's family.
But acceptance for Sun's sexual orientation wasn't always amicable. At age 14, when he professed his love for boys during his grandmother's 70th birthday dinner, he was shunned. His father didn't talk to him for years or attend his wedding that would become talk of the town.
The spotlight on the couple hasn't faded since, and they're still inundated with media interviews and appearances at LGBT rights events as the first same-sex couple to have filed a marriage equality lawsuit. Hu, now 41, says the uninterrupted attention makes them feel like celebrities.
"Many people ask if we are happy together, regardless if they are gay or (outside the LGBT community)," he says. "Our high-profile registration and wedding provide a strong source of encouragement for gay people who want to come out."
But the activism has taken its toll, Hu says with a tinge of sourness. He says Sun devotes much of his time to his advocacy, though he acknowledges its importance. He says his partner stays up late researching, reading, writing, and sharing LGBT-related issues in his personal and professional circles.
"But sometimes he neglects family life and my feelings," says Hu, who clocks in 12 hours a day as a security guard. "I will stand up for LGBT rights, but at the same time, I hope we can maintain our relationship and support each other."

Despite sporadic bursts of bitterness for being unable to spend much time with his partner, Hu still accompanies Sun to events advocating for marriage equality. The couple feels their contributions, part of the larger LGBT rights movement, is paying off, albeit at a glacial pace.
In a positive move over the years, several cities, including Beijing and Shanghai, have legally recognized mutual guardianship between people of the same sex. They are entitled to the same benefits as married couples, including power of attorney and inheritance rights.
However, these arrangements usually come with preconditions. Peng Yanhui, a co-founder at Sun's nonprofit, said some notary offices require the pair to be together for at least seven years, while others demand the two at least be out to their parents or show proof of a stable relationship.
"Compared with the marriage certificate, the guardianship can only protect a very small part of our rights and interests, but we see it like getting a treasure, reflecting in this respect our strong need," Peng says.
Peng says Sun and the nonprofit have been instrumental in educating both the public and policymakers involving matters not just related to marriage but also childbearing and raising kids. The latter topics, which often include discussions on surrogacy and custody in case of separation, have shed more light on LGBT couples and the evolving concept of a family.
"Since children have always been a mainstream topic, these cases will have a big impact on the push for same-sex marriage legalization," Peng says.
In the past year, Sun and the organization have also been conducting a study to gauge attitudes on marriage within the LGBT community. The unpublished report surveyed nearly 11,500 people, of whom about 90% intend to register their marriage if legalized in China.
That may take time, Sun says, and he's glad the advocacy work hasn't been brushed off by the authorities so far. He is now so committed to lobbying for same-sex marriage that he recently started online law classes and plans to take the bar exam to get certified to help in litigations.
"I wanted to study to better serve the community. I want to represent same-sex marriage cases in the future," Sun says.
Sun contemplates the statement, while charting his evolution over the years. Before meeting Hu, he didn't even want to get married, but later found himself planning a campaign to organize 100 LGBT wedding ceremonies, turning into the face of marriage equality in China. With time, he believes mindsets opposing same-sex relationships will change, too.
He remembers wandering the streets of Changsha five years ago, quizzing people on their perceptions toward same-sex couples — they were then dismissed as "disgusting" and "mentally ill." In 2021, Sun is certain the answers would be "more positive and supportive" in the wake of growing awareness, just as his once unsupportive father is now.
As Sun looks back on his years of advocacy, he is transported to that spring of 2016, to the wedding day that catapulted a campaign. He has flashbacks of the people who welcomed the couple with rainbow flags at the venue, the peach-colored flowers that decorated the platform where they took their vows, and the cover version of Bette Midler's "The Rose" that accompanied them.
Sun also remembers the official marriage certificate imitation gifted by his mother and Hu's father, endorsing their matrimony. Up until her death in 2019, his grandmother had treasured the certificate in her drawer along with her sons' academic certificates, jade bracelets, and goldware.
"Those were her most important possessions," Sun says. "It shows she approved of us."
But what about having their relationship approved legally? How long does Sun think it will be until he feels LGBT couples are treated equally?
"Considering how quickly people's minds have changed toward same-sex marriage in the past years, I don't think it will take as long as 20 years," Sun says.
Editor: Bibek Bhandari.
(Header image: LGBT rights activist Sun Wenlin (right) and his partner Hu Mingliang pose for a photo in Changsha, Hunan province, March 16, 2021. Wu Huiyuan/Sixth Tone)