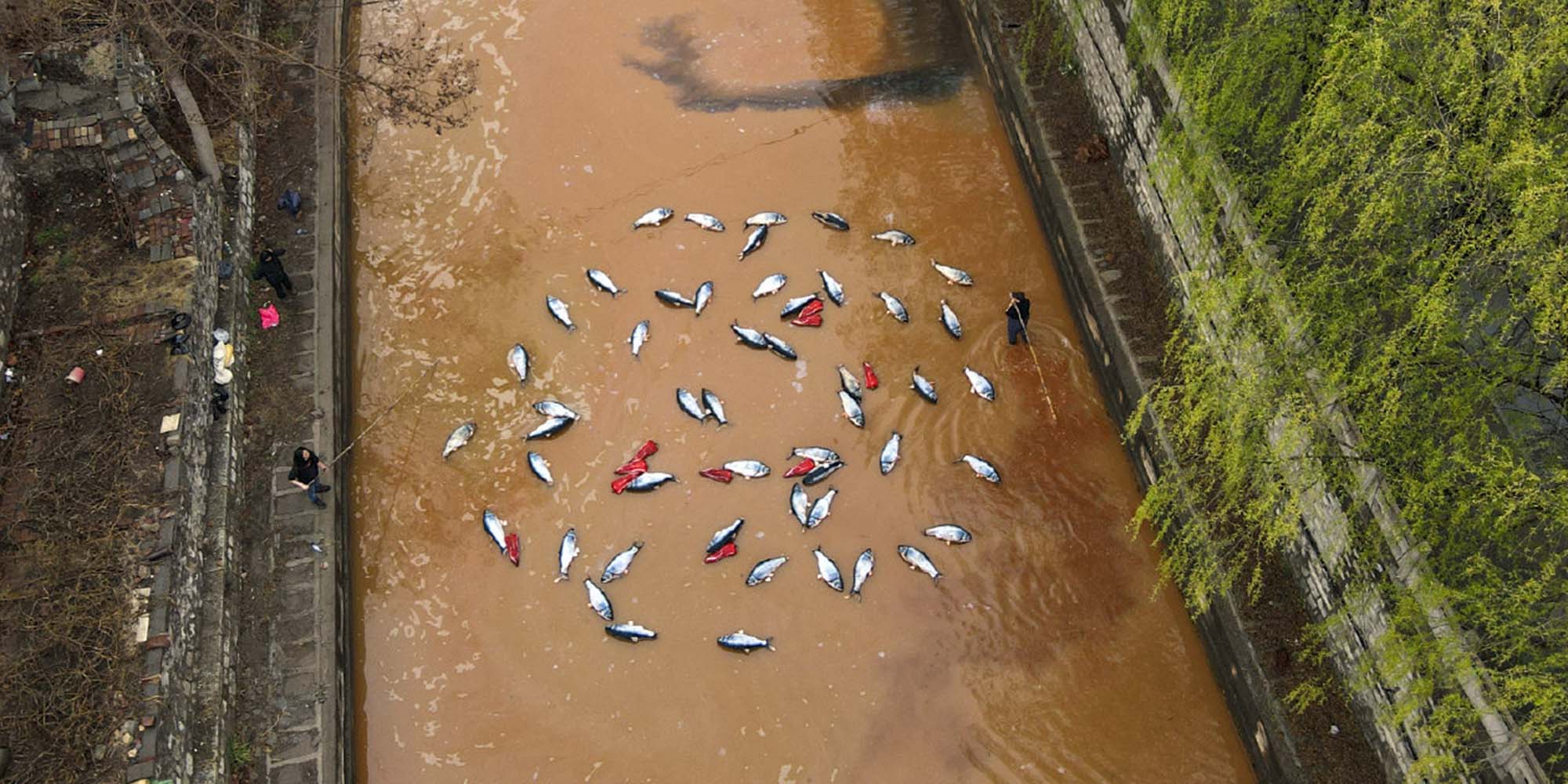 NEWS
Chinese Artist's Hotpot-Themed Piece Sheds Light on River Pollution
Nut Brother has frequently raised awareness about social and environmental issues through creative activism.
Activist artist Nut Brother is drawing attention to polluted waterways in eastern China's Shandong province with a new piece that may cause some observers to lose their appetites.
The piece, titled "Zibo Hotpot Fish," features 50 large, inflatable fish on a section of the Yueyang River that cuts through Zibo, a former mining town that is now an industrial hub of 4.7 million people. The performance piece, exhibited in late March, likened the polluted river to an unappetizing hotpot dish, the artist said in an article published Thursday on social app WeChat.
"The local villagers know about water pollution, but they don't know how to defend their rights," the 40-year-old artist, who prefers not to reveal his real name to the media, told Sixth Tone. "Through 'Zibo Hotpot Fish,' we hope to raise awareness and prompt the local government to investigate groundwater pollution and the problems with the river."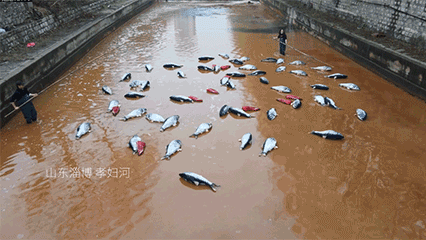 In Thursday's WeChat article, Nut Brother said the most polluted part of the Yueyang River is in the city's Boshan District, where it joins the Xiaofu River. Residents have dubbed this 2-kilometer section the "Little Yellow River" because of its odd color.
The Zibo exhibit is only the latest example of Nut Brother using his creativity to draw attention to social and environmental issues. In 2015, he became an overnight sensation by using a vacuum cleaner to collect dust from Beijing's polluted air, saying he wanted to condense the air pollution into solid bricks so people could visualize the gunk they were breathing.
In 2018, Nut Brother exhibited thousands of water bottles filled with brown and cloudy water from Xiaohaotu, a rural backwater in the northwestern Shaanxi province. But the piece, exhibited in Beijing, was shut down for copyright infringement because it had used bottles bearing the label of Nongfu Spring, a popular domestic brand.
The following year, Nut Brother debuted an installation pointing out the potentially detrimental impact of a redevelopment plan on the children of migrant workers in the southern city of Shenzhen. The performance piece involved a hydraulic excavator snatching up hundreds of dolls — each representing a child who might be affected by the local government's plan — and dropping them off in a separate, unfamiliar location.
For his latest piece in Zibo, Nut Brother was supported by fellow environmentalists who also participated in the project.
Zhang Wenbin, an employee with a domestic environmental nonprofit, said he has received multiple tips from locals about the polluted Yueyang River. Upon investigating official records, Zhang found that a local chemical company, Shandong Dongjia Group Co. Ltd., had been written up for dozens of environmental violations.
"The river is very dirty and smelly," Zhang said, adding that further investigation is required to determine the sources of the pollution.
As recently as 2019, the Zibo city government prioritized cleaning up the Yueyang and Xiaofu rivers with a three-year water pollution action plan that referred to them as "black, malodorous bodies of water." The plan is part of a national campaign to clean up some 2,900 such waterways in prefecture-level cities and above.
An official with Zibo's ecology and environment bureau told Sixth Tone that the purported pollution is being investigated. Meanwhile, an official with Boshan District's water resources bureau acknowledged that the rivers had turned yellow and red in recent years but denied the water quality was substandard.
"Previous investigations have shown that the color is due to high concentrations of iron," the official said.
With local authorities now investigating, Nut Brother said activist artists like him aim to raise important questions and alert the public through their works. While their efforts may not always bring about large, sweeping changes, sometimes they make a difference.
After Nut Brother's 2018 piece about polluted water in Xiaohaotu, local authorities not only investigated the matter but also dug deeper wells to improve the quality of local tap water.
Nut Brother said he hopes to connect with people as he pushes for change with his work, and he sees public space as the ultimate canvas for expressing his creativity and bringing his message to a large audience.
"Art is more obscure than, say, protests," he said. "It can be expressed in different forms, … makes people feel connected, and makes them realize they can still do something meaningful even without taking big risks."
Editor: Bibek Bhandari.
(Header image: An aerial view of the polluted Yueyang River with plastic inflatable fish in it, Zibo, Shandong province, March 27, 2021. From @坚果兄弟NutBrother on Weibo)