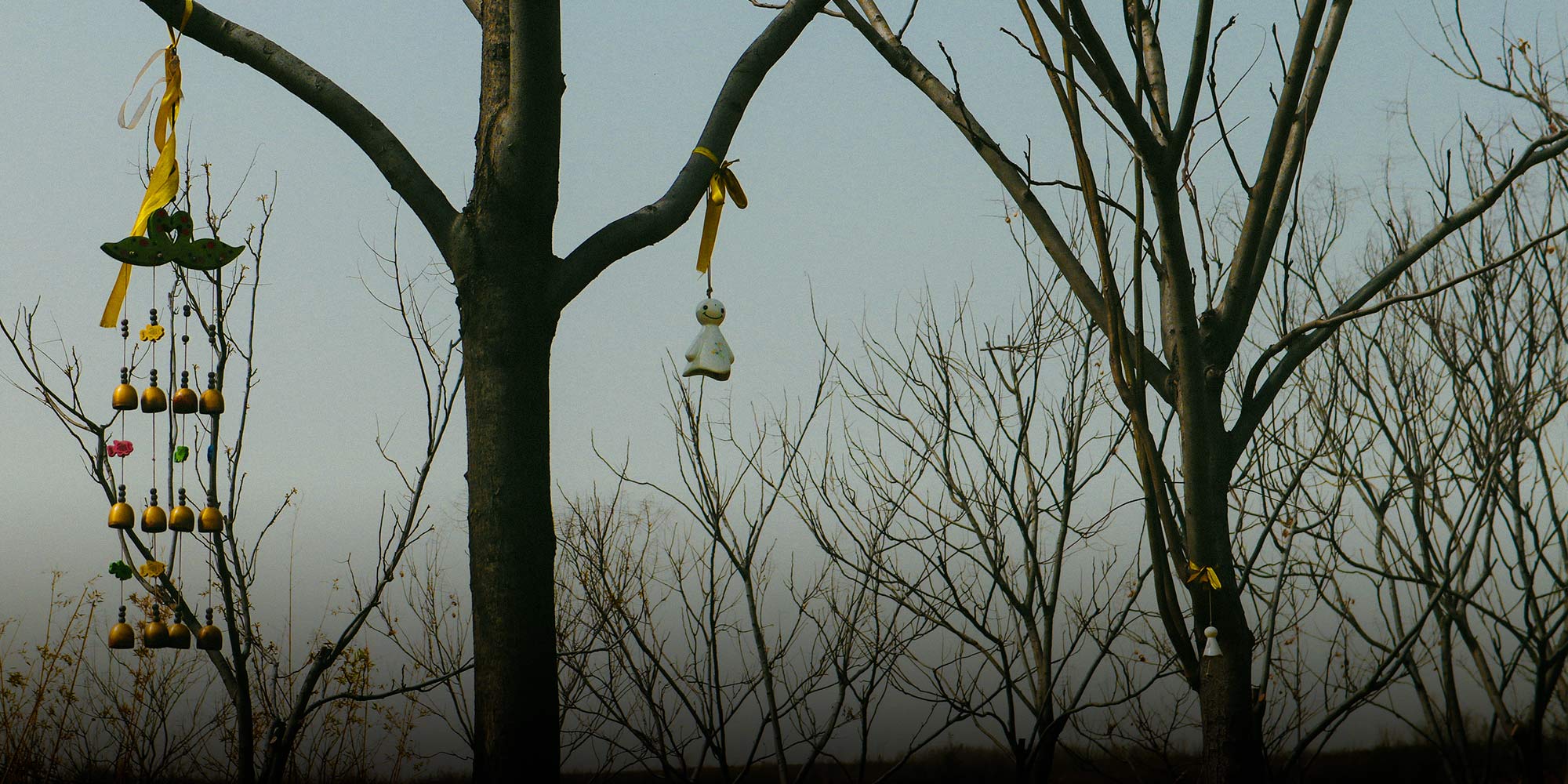 FEATURES
The Amateur Sleuths Trying to Identify China's Unclaimed Dead
China's metropolises are struggling to cope with a large number of anonymous corpses. But an underground database is helping uncover their true identities.
On a chilly day in January 1998, passersby strolling along the riverside in the central Chinese city of Luoyang made a grisly discovery. A female body lay in the long grass. She was wearing a red coat, her flesh badly charred.
For a few days, the incident became talk of the town. But police struggled to identify the deceased, as the burn damage was so severe. Public interest gradually faded. The woman's name seemed destined to remain unknown forever.
Zhang Dayong, however, couldn't let the case go. An intelligent man who had once dreamed of becoming a scientist, his life had been upended by contracting ankylosing spondylitis, a debilitating spinal condition.
Unable to move without great pain, Zhang spent his days in bed — "confined to a home prison," in his words. His thoughts often returned to the mystery corpse, wondering where the woman had come from.
Then, one day, Zhang spotted an ad in a local newspaper. The post was by a man looking for his missing wife, who was last seen wearing a red coat. Zhang reached out to the man, and Luoyang police later confirmed the body was in fact his spouse.
Zhang had found his vocation.
The 57-year-old has since dedicated decades of his life to identifying China's John and Jane Does — unidentified dead bodies languishing in city morgues.
From his bedroom in Luoyang, he built a website named Database of the Anonymous Dead, which contains records of over 3,300 corpses. Each entry includes a summary of what is known about the body, including any visual records available.
For hours each week, Zhang pores over newspaper archives, police notices, and public documents to update the site, moving himself around with the aid of a metal ring suspended from his bedroom ceiling. He runs the project entirely alone, and receives little remuneration for his work.
But Zhang says the website gives his life meaning. Though he rarely hears from users, he knows hundreds of people regularly check the database, scrolling through page after page of listings.
"I'm part of a disadvantaged group," Zhang tells Sixth Tone. "Finding people who are even more disadvantaged, it at least gives me some consolation."
There are many more families, however, that Zhang is powerless to help.
In China's megacities, the large number of unclaimed corpses has become a pressing issue. Though national figures aren't available, the total is in the tens of thousands at least. Urban morgues, funeral homes, and hospitals complain they're stretched to capacity.
The problem is partly a result of the massive internal migration China has experienced during recent decades. Many of the unknown dead are believed to be vagrants or unregistered migrants, who flooded into the cities during the height of China's economic boom. While some died violently, others drowned, were killed in accidents, or died in the hospital.
China's lack of a coherent system for identifying the dead and disposing of anonymous corpses has exacerbated the issue. All over the country, a large number of cold cases remain unsolved, with the bodies left to linger in refrigeration units.
The country doesn't yet have a nationwide database equivalent to the United States' National Missing and Unidentified Persons System. The Ministry of Public Security keeps its own internal records on missing persons and unknown decedent records, but they aren't interconnected and it's difficult running cross-checks on them, according to China Newsweek, a state-run magazine. They're also not accessible to the public.
When it comes to identifying victims, even Chinese police often feel helpless — especially those in less-developed regions. Though forensic technology has improved significantly over recent years, the outcome of an investigation will still ultimately depend on the records officers have access to.
"We will do lots of analysis and modeling, but in the end it depends on whether there are relatives providing a clue or DNA for us to match," says Winsome Lee, a forensic anthropologist based in Hong Kong who has worked on long-term cold cases. "Our role is actually limited."
Tian Sen, a police officer from Xining, northwestern China's Qinghai province, recalls an unsolved case he worked on last year. When a male body was found in a village courtyard, his team was placed in charge of identifying the deceased.
The officers collected biological samples, conducted a DNA analysis, and searched the provincial records on unidentified corpses and missing persons. They also put out missing person notices on Chinese social app WeChat and in local media. But none of these steps produced any leads.
"We can only check against the big data within Qinghai," says Tian.
After three months of fruitless work, the team was forced to close the case and cremate the body, as the local funeral home refused to store it. "The funeral homes here are full (of corpses)," says Tian.
These issues are far from unique to Xining. In cities across China, unclaimed and unidentified bodies are filling morgues and funeral homes, with authorities squabbling over how to dispose of them.
Yu Sihai, head of social affairs at the Luoyang Civil Affairs Bureau, says around 15% of the city's funeral home capacity is taken up by unclaimed corpses. Some of them have been there for a decade — becoming literal cold cases that the police have all but forgotten.
"The public security bureau just sent them there, then nobody bothered to follow up," says Yu.
Since 2012, Luoyang authorities have allocated 500,000 yuan ($76,000) per year to pay for refrigeration fees for these bodies, says Yu, which only just covers the costs. As a result, funeral homes are becoming increasingly reluctant to accept more unclaimed cadavers.
Even wealthy Shanghai is being stretched. As of 2016, over 40% of the funeral home refrigerators in the city were filled with unclaimed corpses. As in several other cities, funeral homes are forbidden from cremating the bodies unless public security officers provide a certificate stating they couldn't be identified — and issuing this paperwork is far from a police priority.
In 2020, Li Weiping, the dean of a leading Shanghai hospital, called on the municipal government to address the city's body problem, as corpses are "very commonly" held up in morgues, "bringing potential safety risks." Li blamed it on a lack of coordination among officials, which meant the enforcement of existing policies was "close to nonexistent."
In response, the Shanghai health authorities promised to improve coordination among departments, while assuring that China's central government was planning to implement nationwide reforms regarding the disposal of unidentified bodies. In future, policies are likely to resemble those in force in the southern city of Guangzhou, where funeral homes cremate bodies 60 days after a public notice has been issued if they remain unclaimed. The ashes are then stored by the funeral home, or scattered in a government-designated area.
For Chinese families with missing loved ones, the apparent lack of police action can be a cause of pain and frustration. Without access to official records, they can often do little except wait for updates from the authorities. Many hear nothing for years — sometimes decades.
The uncertainty over whether their relatives are alive or dead only adds to families' distress, making it hard for them to process their grief, according to Lee, the anthropologist.
"If the wounds aren't being taken care of, they can get worse and may never heal," says Lee. "Humans in this world all have an identity. … When we die, we need to be sent away with this identity, so we can pass away with dignity."
Lü Guoshi knows this angst all too well. It has been over 25 years since his father disappeared, and the mystery surrounding his fate still tortures him.
The last time Lü saw him was in 1994, when his father — then the general manager of a state water utility in central China's Huojia County — was arrested on corruption charges. Though the Huojia authorities withdrew the charges in 2008, Lü's father has never been heard from again.
Lü, now 50 and a successful businessperson, has spent years searching for his father. Through countless back-and-forths with Huojia officials, he learned his father was released after a few days in detention, but then disappeared without a trace.
Deep down, Lü knows his father is almost certainly dead, but he feels unable to move on until he knows for sure. When his brother set up a small shrine to mourn their father at his home a few years ago, Lü asked him to remove it.
"I feel guilty and sorry for my dad," says Lü. "Even if he's gone, I want to take him back and hold a funeral for him. … I don't want him to be adrift … still wandering even after he's passed on."
Like many in his position, Lü has also turned to unofficial channels to search for his missing father, as he didn't trust the authorities to crack the case.
Lü sought out several volunteer-run websites with lists of missing persons, offering a 500,000 yuan reward for any clues regarding his father's whereabouts. But these efforts led nowhere.
Then, in February, Lü came across an article about Zhang and his database. He immediately sent Zhang a text message using the contact information on the website.
When Zhang called him later that night, Lü cried uncontrollably. Though he is now approaching his father's age at the time of his disappearance in 1994, talking about him still brings the emotions flooding back.
Zhang was also moved by Lü's story. But he was uncertain how he could help the desperate man, apart from suggesting he complete a DNA test at the local police station.
Years of working on the database have taught Zhang the limitations of his work. Despite repeatedly reaching out to the authorities, he has never been granted access to official records on missing people or unidentified bodies.
In 2011, Zhang made his most dramatic bid to pressure the authorities to cooperate, embarking on a tour of China — a feat that required enormous physical effort on his part. He followed the route of the torch relay for the 2008 Beijing Olympics, trying to gain media attention for his website. But the journey ended after just three stops, as he ran out of money.
Today, Zhang's only source of funding is a 1,000 yuan monthly payment from a Chinese nonprofit, which supports people with disabilities who get involved in charity work. He has come close to securing investment to expand the database over the years, but people tend to be put off by the nature of his work. "They think it's something unlucky," he says.
Lü, however, sees Zhang's project as deeply meaningful. In early March, he paid a visit to Zhang at his home in Luoyang, offering to help him run the website.
After all these years, Lü says he is finally ready to accept he may never find his father. For the Tomb-Sweeping Festival this weekend, he plans to honor his father at his family's cemetery for the first time.
Even if he is unable to locate his father's remains, Lü says he can console himself by aiding others trying to do the same, and taking good care of his mother, who is now 82.
"I will not deceive myself anymore," he says.
Contributions:Zhang Shiyu; editor: Dominic Morgan.
(Header image: A wind-bell and Teruterubozu hang under a tree in an area inside a local cemetery designated for scattering the ashes of the nameless dead, in Luoyang, Henan province, March 2021. Yuan Ye/Sixth Tone)