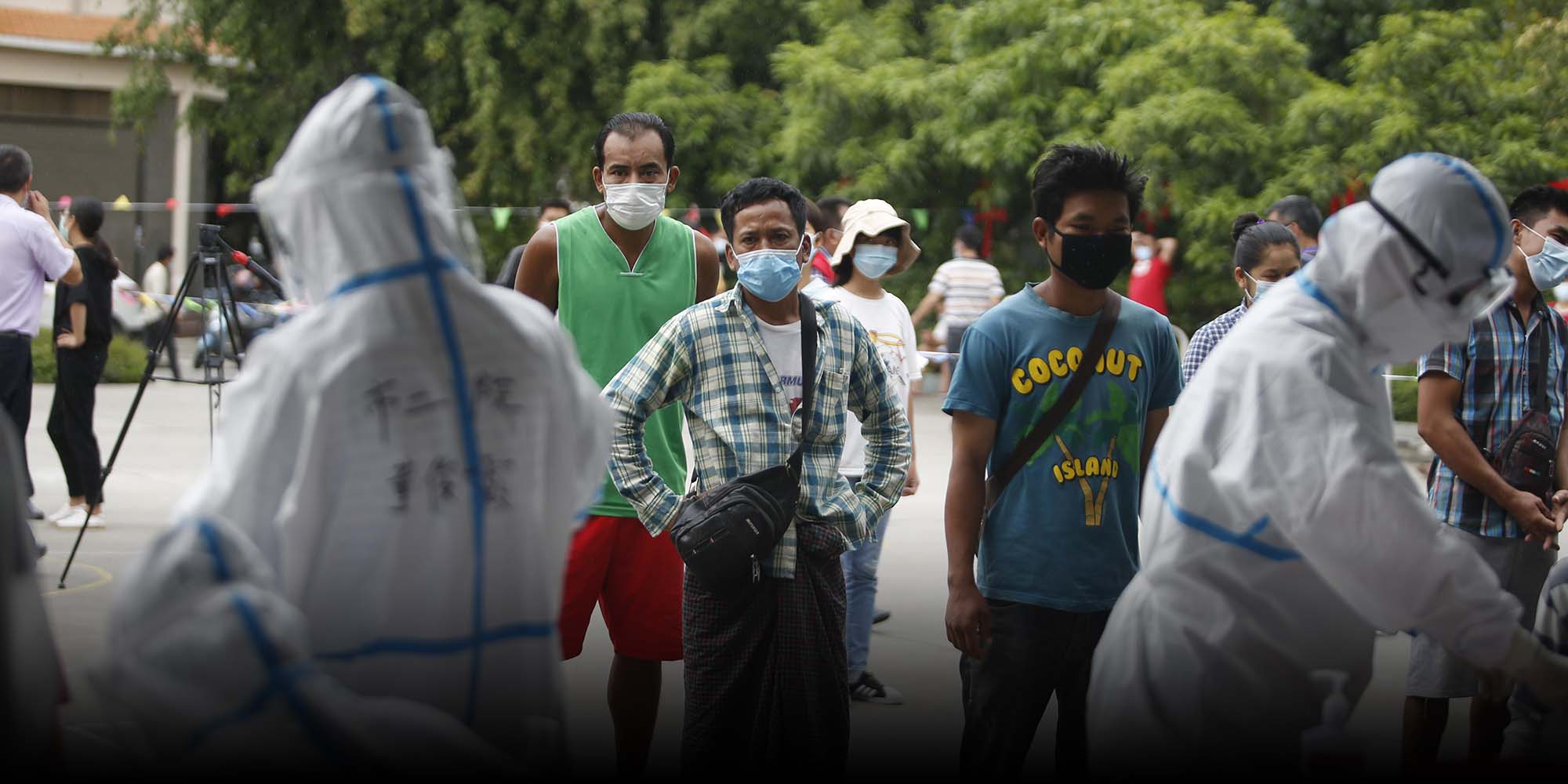 NEWS
Chinese Border City on 1-Week Lockdown Over 9 Coronavirus Cases
Several people in the southwestern city of Ruili, including four Myanmarese nationals, tested positive for the coronavirus on Monday and Tuesday.
Update: Authorities in Yunnan will begin a mass vaccination campaign targeting four border cities including Ruili on April 1.
A city located along China's southwestern border with Myanmar has instituted a one-week quarantine and compulsory COVID-19 screening of its 200,000-plus residents after eight people tested positive for the virus on Tuesday.
The previous day, Ruili, a county-level city in Yunnan province, had recorded one positive result from routine testing of "key groups" of people at higher risk of exposure to the coronavirus. Typically, such groups have included cold chain workers, entry and exit bureau officials, wet market vendors, medical personnel, and public transport staff, among others.
By screening the close contacts of the first positive case and conducting more tests among the key groups, city officials discovered another eight positive cases Tuesday. Of the nine total positive cases, three were asymptomatic carriers from Myanmar, while the remaining six — five Chinese, one Myanmarese — showed signs of COVID-19.
Following the new cases, Ruili launched a citywide testing campaign Wednesday. Residents were asked to stay at home for one week, and all local businesses except markets and pharmacies have been ordered to temporarily close.
The city's COVID-19 prevention and control headquarters also warned that anyone facilitating illegal border crossings or sheltering illegal immigrants would be severely punished.
Along Ruili's southern border snakes a river of the same name, separating China from neighboring Myanmar. People on both sides speak the same language and frequently intermingle, which poses a formidable challenge to outbreak control efforts.
Apart from a few sporadic clusters, China has been largely successful in controlling the coronavirus — so much so, in fact, that many people in the country don't see an urgent need to get vaccinated. But authorities have warned that this mentality must change if the country is going to reopen its borders anytime soon.
More than 110 million doses of coronavirus vaccines had been administered in China as of Tuesday, according to the country's top health authority. At the nationwide vaccination campaign's current pace, herd immunity is still many months away.
Also on Tuesday, the World Health Organization released its report on the origins of SARS-CoV-2, which concluded that an intermediate host was the most likely infection route to humans. While the report further said that a lab origin theory was "extremely unlikely," the WHO's director, Dr. Tedros Adhanom Ghebreyesus, later said during prepared remarks that "this requires further investigation."
Editor: David Paulk.
(Header image: People from Myanmar wait to get tested for COVID-19 in Ruili, Yunnan province, Sept. 17, 2020. People Visual)